Oppo and Realme both have recently announced 125W fast-charging solutions for their smartphones. In this article, let's have a quick look at the new 125W Flash Charging technology, its features, and how it works.
125W Flash Charging- Things You Must Know
On July 15, Oppo publicly unveiled its 125W Flash Charging technology. At the same time, the company also exhibited its next-gen 65W AirVOOC wireless charging alongside other solutions.
Just a day after, Realme announced a similar 125W UltraDART Charging, which is not surprising at all given that the company originated as a sub-brand of Oppo.
In short, Realme's UltraDart is precisely the same but comes under different branding. OnePlus, too, is expected to adopt Oppo's innovation in the coming time.
Technical Details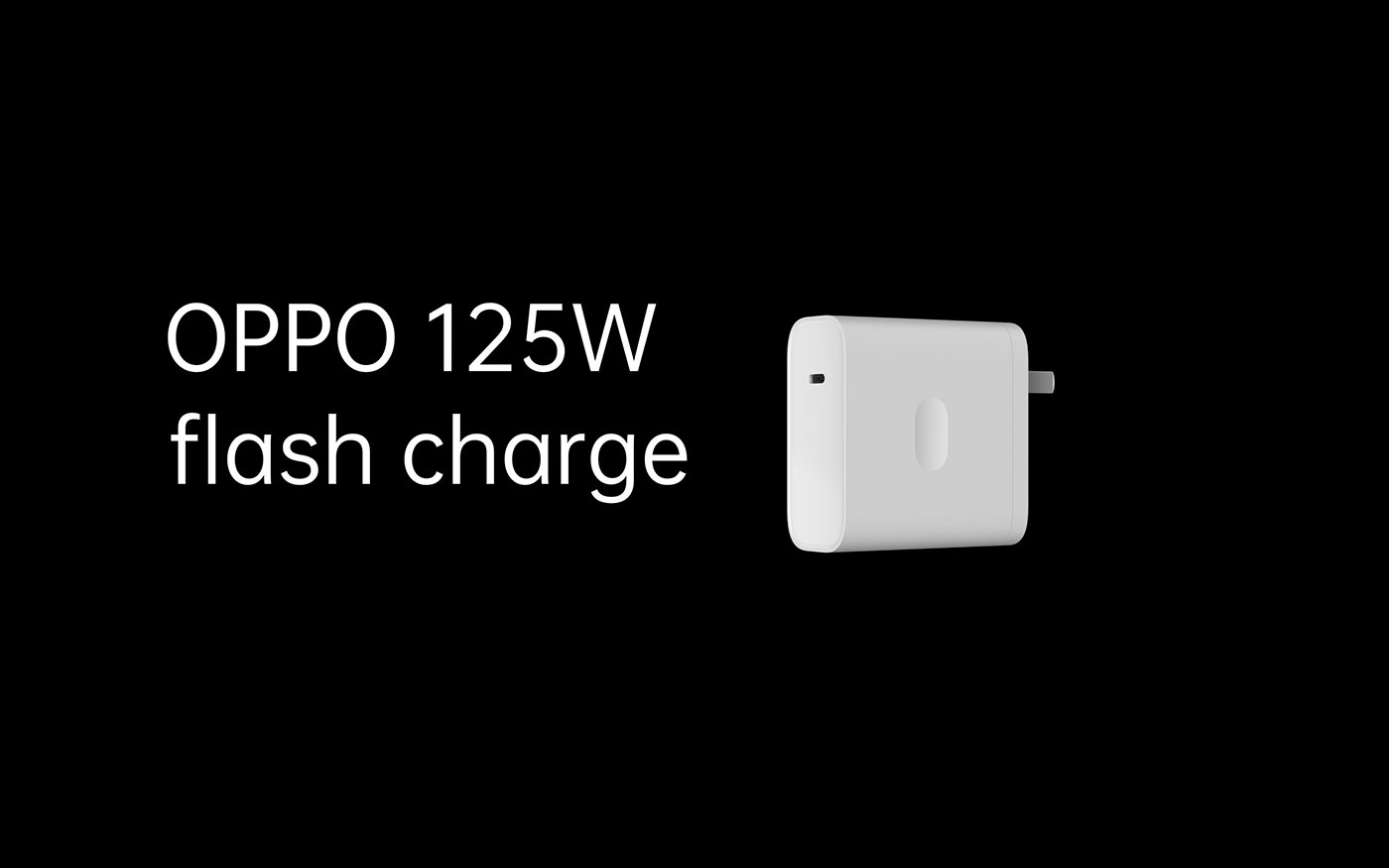 The Oppo's 125W Flash Charge technology is evolved from the existing SuperVOOC and VOOC technical design. However, it has gone through a complete hardware architecture upgrade to achieve extra-ordinary speeds.
The high-power charger supports a 6.25 Amperes at 20 Volts over USB Type-C to Type-C interface. Oppo has deployed three parallel charge pumps with double-6C cells, alongside custom chips, and a 128-bit encryption algorithm to offer a faster charging experience.
The chips onboard include:
VCU Intelligent Control
AC/ DC Control Chip
MCU Charge Management
BMS Battery Management Chip
Custom Protocol Chipset
Charging Speeds
The new 125W charging technology is touted to juice up a 4,000mAh battery from scratch to 33% in just 3 minutes, and to 41% in 5 minutes. A full charge, on the other hand, is said to take about 20 minutes.
The charging time can be reduced to 13 minutes in ideal conditions.
Efficiency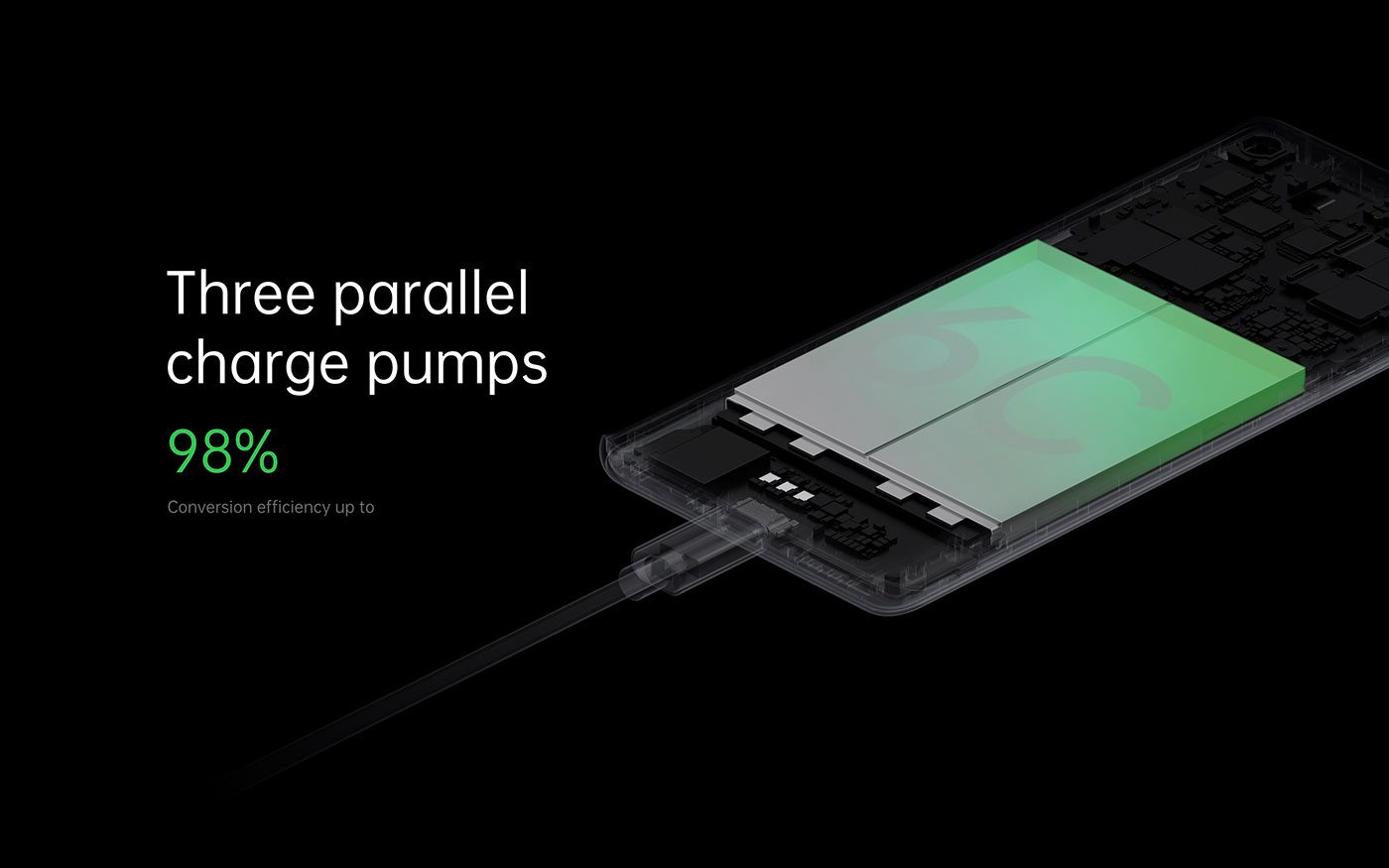 The technology allows 98% of electrical energy conversion, thanks to dual-6C cells. In the process, the charger transforms 6.25A at 20V of electricity through three parallel pumps at 12.5A over 10V. Hence, the two 2,000mAh batteries charge with high efficiency.
Temperature Control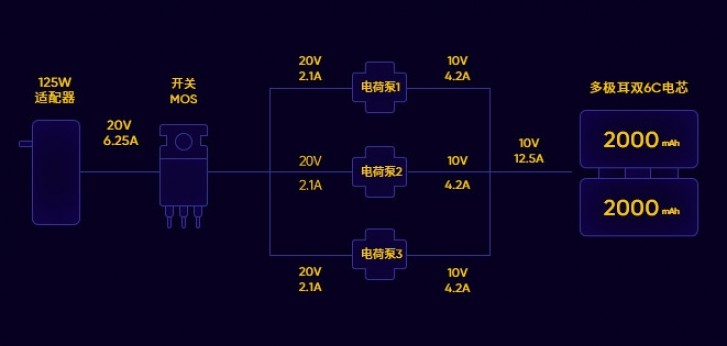 FlashCharge is capable of fully recharging a 4,000mAh battery in 13 minutes at the fastest. However, the temperature control kicks in to keep the device under 40-degrees, stretching the charging time to 20 minutes.
Oppo takes measurements from 10 additional temperature sensors to avoid overheating while also employing fuse overvoltage protection measures.
Compatibility
It is backward compatible with all the VOOC variations, previous Dart standards, and Warp Charge. It further supports 36W QC, 65W PD, and 125W PPS standards, meaning you can use it with all supported smartphones and laptops in the future.
Final Words
While Oppo and Realme have made headlines, Vivo's sub-brand iQOO too has reportedly unveiled its 120W fast charging, said to charge a 4,000mAh battery in 15 minutes.
According to a leakster Digital Chat Station, Qualcomm's upcoming Snapdragon 875 chipset, too, may bring support for 100W fast charging.
Anyway, this isn't the first time we're seeing a remarkably high power output charging solution for phones. To recall, Xiaomi previously announced 100W Super Charging that can fully charge a 4,000mAh battery in 17 minutes.
At a time when flagships max out at 40-65W charging speeds, the new protocols will indeed change in how we charge our phones. Nevertheless, let's wait for them to appear in mass production phones.
Also, read- Qualcomm Mid Range Phone Fast Charging Tech – All You Need To Know