Jio has revamped its Jio Fiber broadband plans to rope in more customers. The four new affordable Jio Fiber plans start at just Rs. 399, and the company claims to offer truly unlimited Internet to all users with these plans. The company is also offering a 30-day Free Trial of Jio Fiber in which it will offer 150 Mbps speed, 4K Set Top Box, and subscription to 10 OTT apps.
Jio Fiber Free Trial
Starting with the free trial, Reliance Jio has announced that all new JioFiber broadband customers who activate their service from September 1, will get a 30-day free trial. Jio Fiber free trial will offer unlimited internet for one month without any conditions. "If you don't like it, we take it back, no questions asked", says the company's promotional banner.
JioFiber free trial offers:
1] 150 Mbps truly unlimited internet
2] 4K set-top box with access to top 10 paid OTT apps (No Extra Cost)
3] Free voice calling
If you don't like the service, the company will take it back after the trial period is over. The 30-day free trial is applicable for all new customers activating from 1st September. Also, customers onboarded between 15 and 31 August will also get the free trial benefit.
Jio Fiber New Plans
Reliance Jio has revamped its Jio Fiber tariff plans by making them more affordable. The company now offers plans starting at just Rs. 399/month.
The new plans offer truly unlimited internet and Symmetric Speed which means the same upload speed and download speed at up to 300mbps. These also come with unlimited voice calling and up to 12 OTT apps at no extra cost.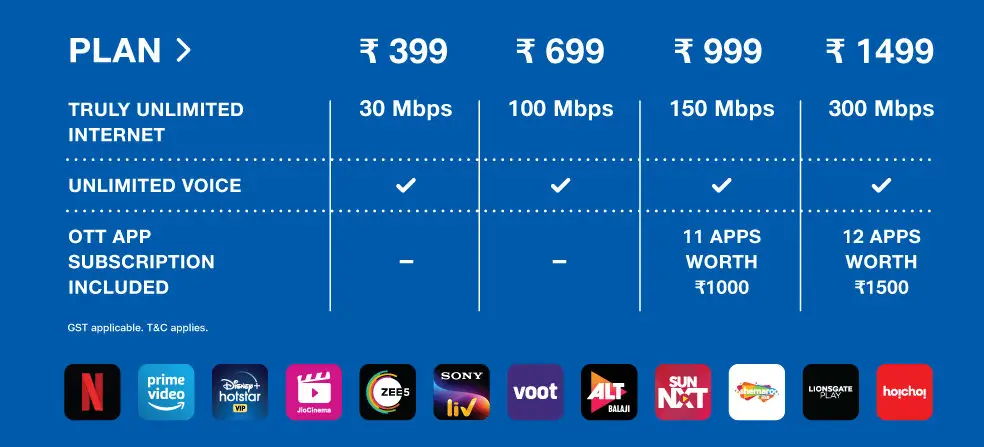 The plans of Rs. 399, Rs. 699, Rs. 999 and Rs. 1499 offer 30 Mbps, 100 Mbps, 150 Mbps, and 300 Mbps speeds respectively. Only Rs. 999 plan offers 11 OTT apps worth Rs. 1000 and Rs. 1499 plan comes with 12 OTT apps worth Rs. 1500. These apps include Netflix, Amazon, Disney+ Hotstar, etc.
Jio also confirmed that all existing JioFiber customers will also get upgraded plan benefits to match the benefits of new plans.
Frequently Asked Questions
JioFiber Plans
Q. Do we really get unlimited data or any limitations are there up to maximum usages
A. The fresh Jio Fiber monthly plans offer "truly unlimited data" starting at 30Mbps speed and going up to 300Mbps. There is no mention of FUP in these plans, so you will get unlimited data without any limitation.
Q. Any of the plans cost additional GST Charges or not?
A. No, as per the Jio official website, there are not any GST charges. However, we will have to confirm this once and then we will get this updated.
Q. If there a security deposit for the new connection?
A. Jio charges you a one-time refundable security deposit of up to Rs 2,500 for the process. Jio is offering two options here- a trial that includes a modem and 4K set-top box worth Rs 2,500 and a Rs 1,500 option where you will only a modem.
Q. As they are providing a set-up box how can we watch live channels?
A. You can watch only OTT apps bundled with the offer. For live TV, you will need a cable connection.
Q. The Free OTT apps content can be accessed only via the Jio 4K Set-top box right?
A. Yes, you can access the OTT apps using the set-top box on your TV.
Free Trial
Q. How can you avail of Jio Fiber free trial?
A. Go to the JioFiber website and share your name and mobile number. Then a company representative will reach out to you with all the details.
Q. Is JioFiber broadband free trial available for only new customers?
A. No, actually free trial is not restricted to new customers only. Existing JioFiber customers who joined the broadband between August 15 and August 31 will also get the 30-day free trial as a voucher in the MyJio app.
Q. Is JioFiber 30-day free trial really free?
A. Yes, all benefits you get as part of the JioFiber 30-day free trial are free. However, you will have to pay a one-time amount of up to Rs 2,500 which is refundable.
Q. How to check JioFiber availability in your area? 
A. To check JioFiber services availability, you can click here and register with mobile no. and name or simply send "Hello" to 7000870008 on WhatsApp. If JioFiber is available in your area, the company will get in touch.