If you recently switched from Windows to Mac then you may find the menu bar a bit colorless compared to the taskbar on Windows. So here we have some Menu Bar customization apps for your Mac which make it a bit more useful and informative.
Menu Bar Customization Apps For Mac
iStat Menus
iStat Menus is one app that comes in the top if you search for menu bar customization for Mac. You get to show a bunch of stats on your Mac's menu bar including disc usage, CPU load, temperature monitor, and more. You also get the option to enable date and time in a very detailed form with an extensive live weather widget as well.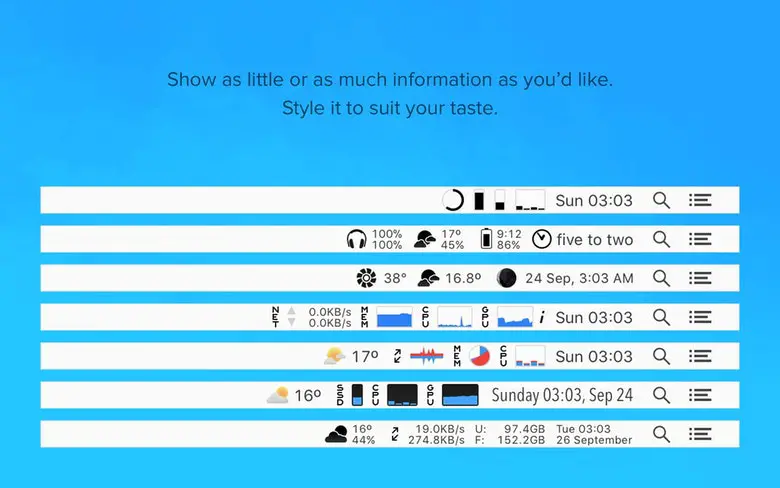 The iStat Menus app is free to try for seven days which is enough for you to explore almost everything in the app. After the free trial, you need to pay $9.99 per month to continue using the app.
One Switch
One Switch is such a useful app to get instant access to some of the most useful switches on your Mac. You get to switch to some of the settings which might take a bunch of clicks, in just one click. It opens a whole menu of switches and it also supports submenus as well.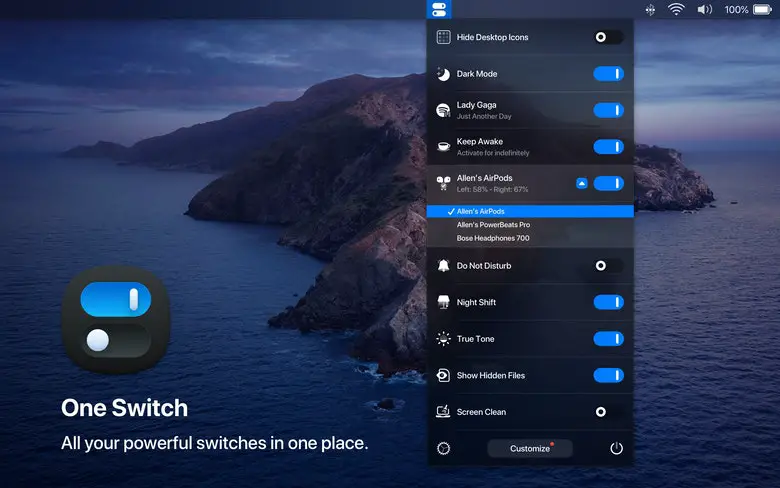 One Switch comes with a hide desktop switch as well, it hides all the icons in one click. If you want your Mac to never sleep then you can enable this functionality from this app as well. You can not just enable disable your Bluetooth, you also get the list of all the nearby accessories for instant connection.
BitBar
BitBar is a modular widget for your Mac's menu bar which can be used to show almost anything on the menu bar. You can even put some small playable game on there which can be popped up anytime you click on it. The app is completely free but needs a bit of work to install the app and the plugins.
The BitBar app is available on the Github for free and you can download and install it on your Mac. There is again a page for just the plugins so you have to install the app first. And then download the desired plugin to install those plugins after.
Download BitBar  Download Plugins
Wrapping up
These were the best Menu Bar Customization Apps For Mac that you can install on your machine to extend the functionality of the menu bar on your macOS. For more Mac OS related tips and tricks, follow GadgetsToUse on social media pages.