The new iOS 14 brings some really cool features to the table. One such feature is the much-needed picture-in-picture mode, which lets you watch videos while writing notes or chatting with friends. However, by default, it won't work with YouTube unless you have a premium subscription. Anyway, there's still a working hack to use picture-in-picture mode with YouTube on any iPhone running iOS 14. Read on.
Also, read | How to Pin Messages to Top in iOS 14
Use Picture-in-Picture Mode with YouTube on iOS 14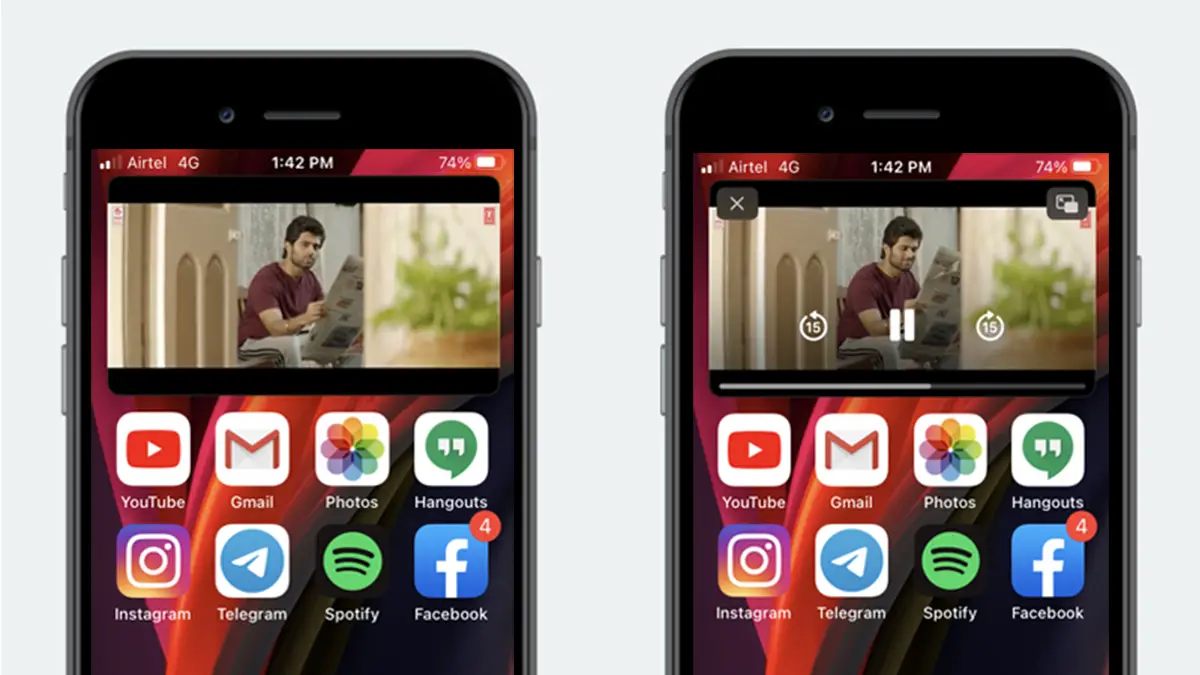 For starters, YouTube's picture-in-picture mode is exclusive to YouTube premium members (although still not available on the YouTube app). Previously, you could play a YouTube video on Safari, make it full screen and tap the PiP toggle to play it in a small window. However, that doesn't seem to be working now.
So yeah, iOS 14's PiP doesn't work for non-premium YouTube members on Safari. It seems to be working on iPads, though. Anyway, you can still enjoy picture-in-picture for YouTube on your iPhone through a simple hack using the Shortcuts app.
Update: The regular method has started working again- you can open YouTube on Safari and tap the PiP button to enable picture-in-picture for YouTube.
Steps to Get PiP for YouTube on iPhone running iOS 14
Now, the whole process is a tad lengthy. However, it'll be easy to go if you follow each step one by one. Once you finish the setup, you can enable picture-in-picture mode with a few simple taps in Safari. Below, we'll be using the iOS 14's shortcut app to make it work.
Creating a Picture-in-Picture Shortcut
1. Open the Shortcuts app on your iPhone.
2. Click the '+' icon on the top right corner to create a new shortcut. Tap Add Action.
3. Select Web. If you don't see it, swipe left to reveal all available options.
4. On the next page, scroll down to 'Safari' and tap Run Javascript on Web Page.
5. Do you see the heading "Run Javascript on Webpage?" Yes, click that blue-colored 'Web Page' and change it to Shortcut Input.
6. Now, erase all the existing Javascript code from the window. Once you're done, copy and paste the following code:
let v = document.querySelector('video');
v.addEventListener('webkitpresentationmodechanged', (e)=>e.stopPropagation(), true);
setTimeout(()=>v.webkitSetPresentationMode('picture-in-picture'), 3000);
completion()
7. Next, tap the three-dot menu on the top-right corner. Give the shortcut a name- PiP or  Picture-in-Picture, just for your understanding.
8. Right below, enable the toggle for Show in Share Sheet.
9. Click on Share Sheet Types, tap Deselect All on the top right and then select Safari web pages.
10. Go back to the Details page and tap Done.
Using Picture-in-Picture with YouTube on Safari
Once the shortcut has been created, you can use it to play YouTube videos in PiP mode on Safari on your iPhone.
1. Open the Safari browser on your iPhone.
2. Head to www.youtube.com and play the video of your choice.
3. During playback, click the Share button, scroll down and tap the PiP shortcut (or whatever name you gave it).
That's it. As you click the shortcut, the YouTube video will start playing in picture-in-picture mode- no need for any modded apps or YouTube premium subscription. Every time you want to play a video in PiP, click on share and select the shortcut.
The PiP window works smoothly and has all the options to play/pause, seek forward and backward, and switch to the standard view. The only downside is that it'll close automatically once the video ends.
Wrapping Up
This was a quick trick to use picture-in-picture mode with YouTube on any iPhone running iOS 14. We tried it on our device, and it worked perfectly fine. The process may seem tiresome, but it's a one-time job. Anyway, feel free to reach out in case of any doubts or queries.
Also, read- How to Check for Leaked Passwords on iOS 14