Whatsapp has revamped its storage management tool which will now allow you to clear your storage more easily. The new tool is already rolling out to many users worldwide and will reach all by the end of this week. The redesigned tool will be available in the app settings, just like the current version. Here we will tell you how you can clear WhatsApp storage using the new storage management tool.
WhatsApp Storage Management Tool
To recall, the current storage version on WhatsApp simply sorts all your chats by as per the space they take up on your device. It also lists elements such as the number of messages, photos, gifs, and lets you delete each category with just a few taps.
Also, read | [Solved] Storage Full- WhatsApp Stops Working Issue
This version, however, doesn't let you browse the content that you are going to delete. For, example, if you want to delete a family group chat but not the important photos in it, the current storage management tool won't let you see the content.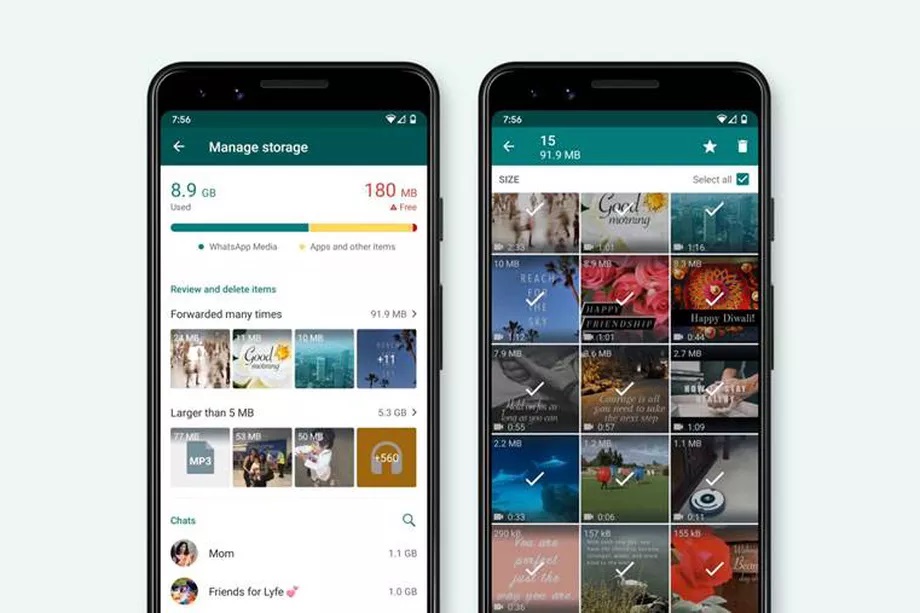 This is why  WhatsApp has updated this feature with more granular settings. The new version will show you thumbnails of content to be deleted, and will also group the data in categories like "Forwarded many times" and "Larger than 5 MB." This will make it easier to identify content that you don't need and it can simply be deleted.
How to Clear Space
First of all, update your WhatsApp to see if you have received this feature and follow these steps below:
1] Open WhatsApp and go to Settings by tapping on the three-dot menu in the right corner above.
2] Now tap on the Storage and data from the menu. 
3] It will open a new page, and here choose the new Manage storage option. 
4] This will show you WhatsApp chats and how much space they are taking. But moreover, you will see two new options- 'Forwarded many times' and 'Larger than 5 MB'.
You can select here the files that you want to delete and with a few taps, it will be done.
This is how you can use the new storage management tool to clear WhatsApp storage easily. For more such tips and tricks, stay tuned with Gadgets To Use.