Update- December 07: Netflix StreamFest has now been extended till December 9. If you were unable to signup for the first time on December 5 and 6, now you will be able to watch free Netflix starting from 9 am on December 7 to 8:59 am on December 9. Read on to know more!
Earlier: You can watch Netflix free for two days in India. Back in October, the company announced that it would let all users stream without a subscription for 48 hours. Dubbed as Netflix StreamFest, this free subscription service will go live in India on December 5 and will be valid till midnight on December 6. This will let users watch any show or series at no cost and without even entering the payment details. Some of your favorite shows and movies are always available for free.
To join StreamFest, users can simply enter their phone number or email address, and they will receive a reminder to join it. Here are all the details!
Watch Netflix Free For Two Days
1] First of all open any browser and go to www.netflix.com/in.
2] Here, you will see a banner of 'Netflix StreamFest' after scrolling.
3] Click on 'Learn More' and it will take you to the StreamFest page.
Or you can directly enter www.netflix.com/in/streamFest on your browser to go to that page.
4] Here, enter your phone number or email ID in the given box and that's it.
5] You will receive a reminder on the given phone number or email to join the StreamFest.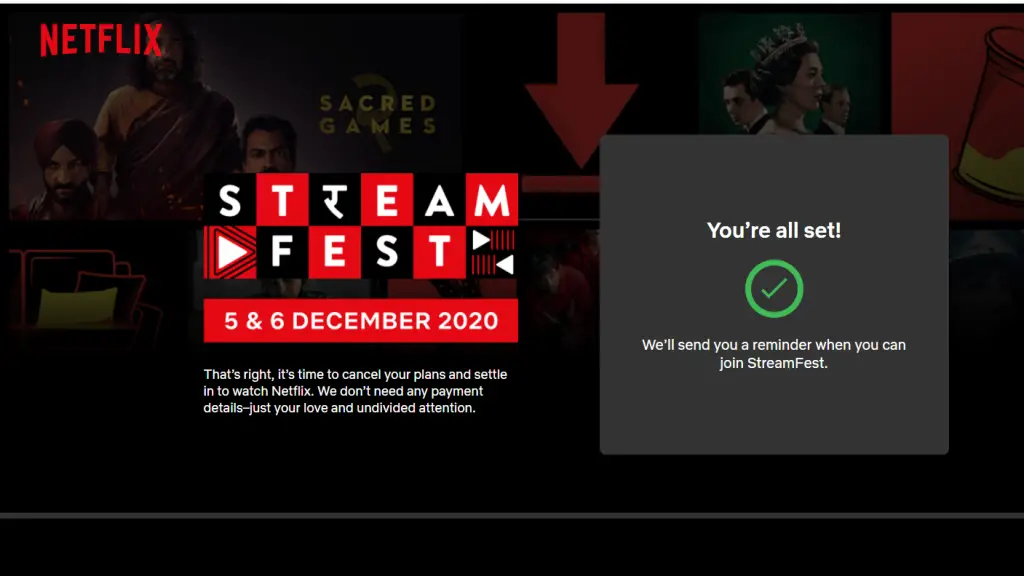 6] You can then come back once you get the message and create your account to start watching for free.
Netflix StreamFest FAQs
Q. Do we have to enter card details to watch? 
A. No, it's completely free and you don't need any card details. Simply go to Netflix.com on 5 December and create your account to start watching the free content.
Q. Can we watch on any device? 
A. Yes, you can watch Netflix on any device like smartphones, smart TV, gaming console, Chromecast, or in a browser.
Q. When can I start watching free Netflix?
A. Netflix will give you free access starting from 12:00 AM, 5 December up until 11:59 PM on 6 December.
To recall, Netflix had stopped offering a 30-day free trial in India and all the other markets earlier this year. Now, this free subscription for two days will surely attract some more subscribers to the streaming service. Netflix plans start at just Rs 199 in India.