Audible is a subscription service by Amazon that provides audiobooks and audio versions of magazines, TV, and radio programs. It is a paid service that requires a monthly recurring fee payment. If you accidentally subscribed to it or unknowingly ended up paying for it, follow the guide below to cancel your Amazon Audible membership quickly.
How to Cancel Amazon Audible Membership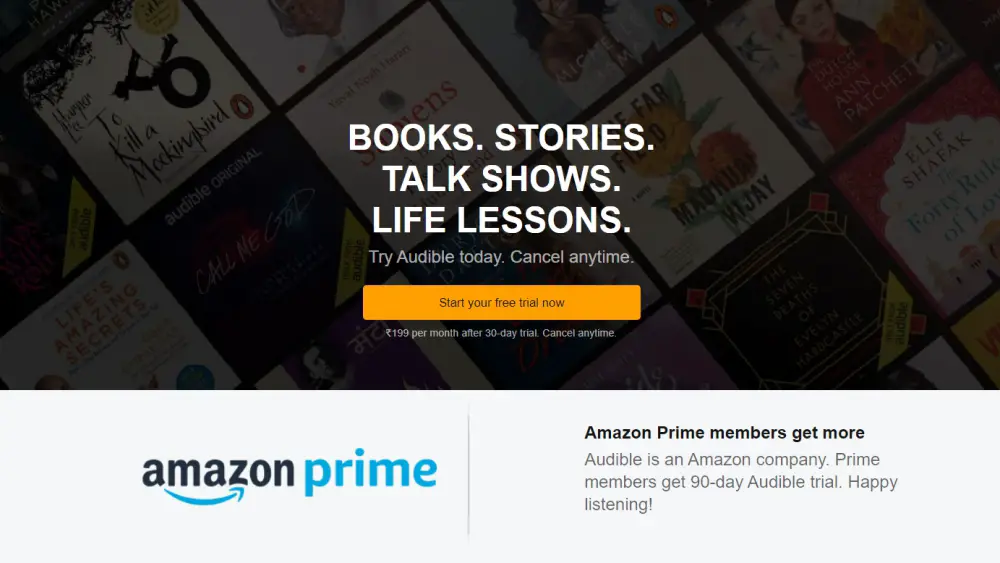 Audible comes with free 30-day and 90-day trial periods. After which, it automatically renews the membership and starts charging you the monthly fee. So, if you unknowingly subscribe to the trial and forget canceling, it'll start charging you on your default Amazon card.
If you enroll in the Audible Plus free trial, it'll automatically charge you $7.95 once the trial period ends. In India, the Audible subscription costs Rs. 199 per month (roughly $2.70).
Steps to Cancel Audible Subscription
If you didn't mean to enroll in the membership, follow the steps below to cancel your Audible subscription.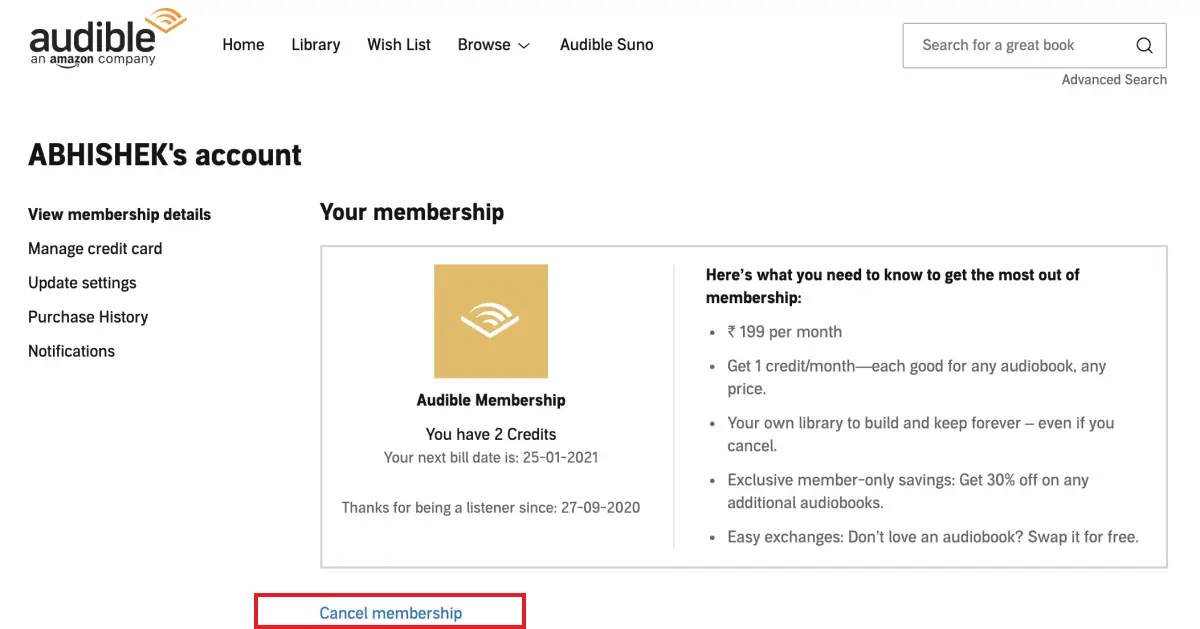 Open the Audible desktop site and log in with your Amazon account.
Go to the Account Details page. You can do it by hovering on your name and clicking "Account details" from the drop-down menu.
On the next page, click on Cancel Membership under the "View membership details" section.
Follow the on-screen instructions with the next few pages to proceed with canceling your Audible subscription.
You will receive an email once your Audible membership is canceled.
OR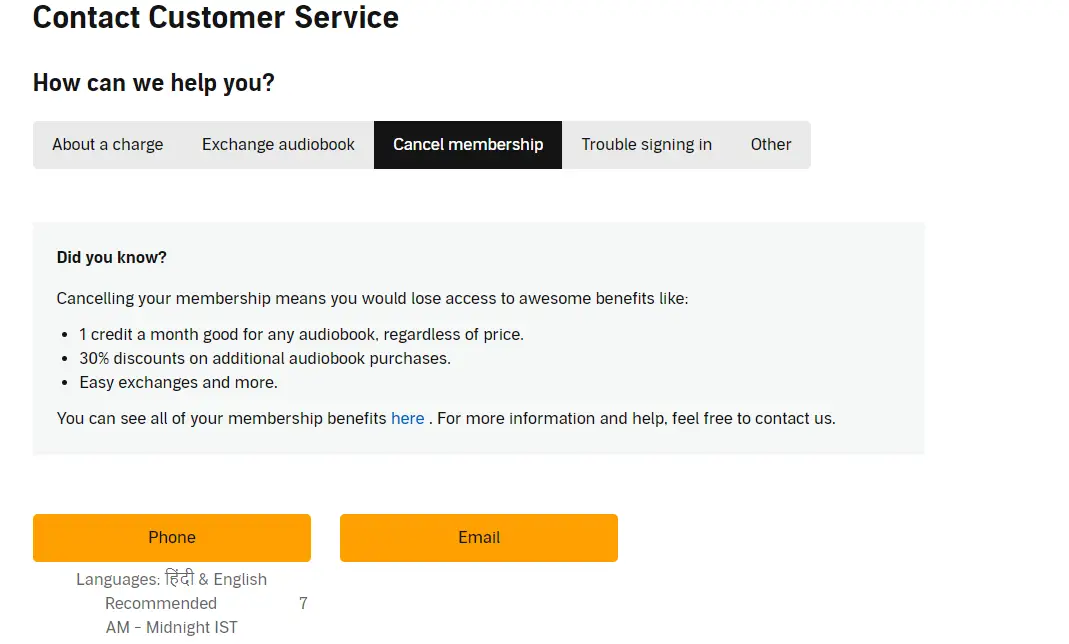 Visit the Audible Customer Care page.
Here, click on Cancel Membership.
Then, either click on Phone or Email based on your choice of communication.
The customer support team will help you with the cancellation.
Can I Pause My Audible Subscription instead of Canceling it?
Yes. Audible Plus and Audible Premium Plus members have the option to put their account on hold once every 12 months. You can pause your account on hold for up to a 3-month period. All you need to do is connect to customer support.
Note that only Audible Premium Plus members will be allowed to access their library in the hold period.
Things to Note Before You Cancel Your Audible Membership
You can only cancel the Audible subscription from the desktop site. There's no option to do it in the Audible mobile app, be it on Android or iOS.
Any title you purchased will stay in your library. You can listen to them at any time, even after canceling the membership.
All the Audible Plus Catalog titles in your library will be locked. You will need to subscribe to Audible again to listen to Plus Catalog titles.
Any unused credits will be lost with cancelation. So make sure to use the credits before you cancel the subscription.
One can only cancel a monthly recurring subscription. Prepaid plans cannot be canceled- they will expire once the period ends.
Cancel the subscription before the next billing cycle so that you don't get charged.
Deleting the Audible App will not cancel the membership. You'll have to cancel it from the desktop site.
Didn't Subscribe to Audible But Still Getting Charged?
Verify that the charge is actually from Audible. Any charges will appear with the name Audible in your credit card statement.
Check if someone has unauthorized access to your Amazon account.
Also, check if your family members or friends have subscribed to Audible while intending to get the kindle version of a book.
Contact Audible customer support if you don't remember opting for the membership.
And finally, contact your bank and report the fraudulent transaction. Someone may have used your card details to apply for the membership.
Noticed unknown transactions? Here's how to determine which apps are charging money on your Credit Card On Android & iOS. 
Did Audible Charge $1 On Your Card?
This $1 charge is a temporary authorization charge to ensure that your credit card is valid when applying for a free trial. The same will be released back to your account after it's processed- it may take 7-10 business days to reflect in your account.
If you didn't intend to enroll for the membership, make sure to cancel your subscription before the trial ends. Otherwise, it'll automatically charge the subscription fee on your card.
Wrapping Up
This was all about how you can cancel your Amazon Audible subscription. We've also mentioned how you can pause your membership and the steps to follow if you don't remember subscribing to Audible. If you have any other queries, please feel free to reach out via comments below.
Also, read- How to Get Amazon Prime Membership Free For 14 Days Without Card Details