Are you tired of asking others about what's the best smart TV available in the market? Won't it be better if you could figure that out on your own? Well, it's very much possible– all you need to do is know what things to keep in mind while buying a smart TV. To make things easier, here's a detailed Smart TV buying guide that'll help you find the best smart TV for your home within the required budget.
Also, read | Your Guide to Buy Best Smartphones in Amazon and Flipkart Sale in 2021
Smart TV Buying Guide 2022 for India: Find the Best Smart TV for your Home
Buying a smart TV isn't as easy as buying a smartphone- there are hundreds of options to go for, available in confusing models and varying specifications. Since it's something you'd likely use much longer than a phone, you need to be careful while making a choice.
While buying a smart TV, you need to consider several things to decide whether a television set is good for you or not. Below is the complete Smart TV buying guide with key things to check while choosing the best budget smart television for your home.
1. Brand, After-Sales
The brand is the first thing to decide while buying a smart TV. You need to be clear about what smart TV brands you can opt for. Usually, people stick to market leaders like Samsung, Sony, and LG. However, one can also consider companies like VU, TCL, Iffalcon, Xiaomi, and Realme if you don't want to spend too much.
It would be best to consider the warranty offered, the quality of after-sales services, including the service center network, and the additionals like installation and accessories.
If buying from an offline store, avoid choosing a brand solely based on the sales executive's advice. Doing a little homework like checking reviews online will help you make a smart decision.
2. Screen Size
The next major thing to consider while buying a smart TV (or any TV) is the screen size. It very much depends upon where you want to place it, the room size, and how many people will be watching at a given time. One can measure the distance to the bed, chair, or couch from the TV to find the approximate screen size.
If viewing distance is less than 5 feet, go for a 32-inch TV. If the distance is between 5-6 ft, opt for 43-inches. Furthermore, a 46 or 50-inch set would be ideal for viewing distances from 6-7 ft. For more than 8ft, you can move on to 50 and 55-inch panels.
Normally, a 40-inch TV would be good for the living room. However, larger rooms will be better off with 46-50 inches or more– there's no compulsion; it all depends on what you're comfortable with. The larger the screen size, the costlier the TV will be.
Commonly available sizes: 32-inch, 40-inch, 42/43-inch, 49-inch, 50-inch, 55-inch.
3. Display Type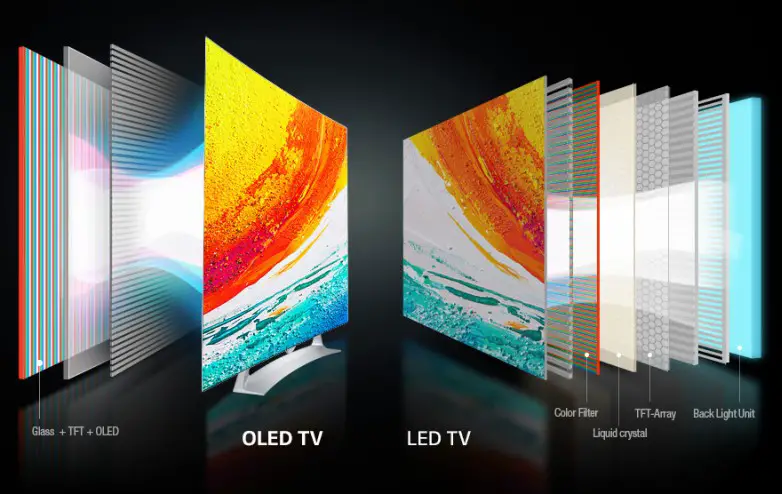 Modern-day smart TVs are available in three major display types- OLED, QLED, and LED. The display type plays a key role in the overall display quality, and hence, you must know the differences between them.
OLED TV (Best)
For starters, OLED is the most expensive display type for television sets. The technology relies on individual organic pixels that emit light in response to electric current. Since these pixels can turn off individually, you get excellent black levels, high contrast ratio, and vibrant colors.
Picture quality is top-notch as a whole and viewing angles, too, are great. OLED television sets are quite thinner and have narrower bezels than others since there's no backlight.
When to consider: High Budget, Best Picture Quality.
LED TV (Cheaper)
You'll generally find LED panels in affordable Smart TVs. This technology uses backlight, which means that blacks are never truly black. The picture quality may not match OLEDs or QLEDs, but they usually have better brightness.
When to consider: Low Budget.
QLED TV (Middle-Ground)
QLED or Quantum Dot LED TVs are essentially a middle ground between OLED and LED panels. This new screen technology uses a quantum dot layer between the LED backlight and LCD layer. This results in better colors and brightness than LED panels.
They come close to OLEDs in terms of overall performance. The pricing is still expensive but a tad lesser than the former. You'll generally find QLED TVs from Samsung, OnePlus, VU, TCL, etc.
When to consider: Medium to high budget, Good Picture Quality.
4. Screen Resolution, HDR
Screen Resolution defines the number of pixels on the screen, i.e., how sharp and crisp it is. A higher resolution means more pixels and sharper picture quality. Currently, we don't recommend buying HD-ready smart TVs. Instead, go for at least Full-HD or 4K panels if your budget allows.
Ultra-HD (4K) panels have four times the number of pixels over Full-HD. Hence, the objects on the screen will appear richer and have more detail. With advancements in technology, we now also have 8K televisions, but you'd require actual 8K content to get the most out of it.
Additionally, you should also check whether the TV has HDR. HDR or High Dynamic Range helps deliver more colors, more contrast levels, and also increased brightness. Most 4K TVs support the HDR10 standard, and the same shall be mentioned on the set.
5. Refresh Rate
The refresh rate is the number of times a display refreshes its content per second. It is defined in Hertz (Hz). The standard refresh rate for TV displays is 60Hz. However, if you're buying an expensive television set, you should look for a higher number.
A higher refresh rate like 90Hz, 120Hz, 144Hz, or more provides smoother motion– you won't see blurriness in rapidly moving objects, usually the case with standard panels. It isn't a must-have feature but important if you plan to play games or use the TV as a monitor for your computer.
Related- Difference Between 60Hz, 90Hz, and 120Hz Displays
6. Software, Apps, and Other Features
Despite having a "Smart TV" tag, a particular model may have its proprietary operating system instead of Android. The TV may run some apps and offer certain smart functions but may not support Android's features like access to Google Play, Assistant, voice control, etc.
So, check carefully whether it's actually an Android TV or has its own ecosystem. Most Android TVs usually have their own skin on top, like Xiaomi, OnePlus, etc. You can check reviews on YouTube and Google to see the overall user interface and if it's fast enough.
Other software features to check while buying the TV:
Licensed media streaming apps like Prime Video, YouTube, Netflix, Hotstar, and others.
A built-in universal search engine. Also, voice control or voice search.
Access to an app store that offers a variety of applications.
Built-in DLNA, Miracast or Chromecast support- you can use it to mirror content from your smartphone to the TV.
7. Audio
Audio is one of the things that are usually overlooked while buying a smart TV. The general thumb rule is to check the audio wattage (mentioned in Watts). The higher the number, the louder the TV will be. However, this doesn't clarify whether the audio will distort at higher volumes- you'll have to check it in the reviews or in-person at the store.
Expensive television sets usually have clear and loud audio with high-wattage speakers and offer extras like Dolby Audio, Surround Sound, etc. But in general, most television sets, especially the slim ones, tend to have mediocre speakers.
For a better audio experience, we'd advise purchasing a good home theatre or speaker system. You can also opt for soundbars with or without sub-woofers.
8. Connectivity Features
You must also pay close attention to the no. of ports on the TV. Look for at least four HDMI ports– this will ensure that you don't have to change wires every time you want to connect a device. It should also have enough USB ports on offer. A 3.5mm jack and Bluetooth support would be nice to have.
If buying a UHD TV, look for HDMI 2.0 or HDMI 2.1, which would be beneficial in the future while for higher bandwidth connections. HDMI 2.1's more immediate benefit will be support for 4K video at up to 120fps.
Most 4K TVs support something called HDCP (High-bandwidth Digital Content Protection), but only the recent ones have HDCP 2.2. Check for it in the spec sheet so that you don't have any issues while streaming from a 4K source device (like a Blu-ray player) or service that is HDCP 2.2 compliant.
9. Price
Last but not least, you should also check whether the price of the Smart TV justifies its features and performance. The easiest way to do so would be to check the competition, i.e., other TVs in the segment.
Smart TVs from Samsung, Sony, and LG are usually expensive. In contrast, brands like Xiaomi, Realme, OnePlus, VU, TCL, etc., will offer slightly better value for money. But then again, you'll always have to shell out extra for brand value and after-sales.
Wrapping Up
This was our detailed Smart TV buying guide for 2022. We've mentioned all the important things you need to consider or look for while buying a Smart TV, be it in any budget.
So, check out the available options in offline and online markets, analyze all the specifications and features, compare with the competition, check for any offers applicable and then make the buying decision. We hope this article made it easier for you to find the best Smart TV for your home.
Also, read- How to Turn Your TV into a Smart TV
You can also follow us for instant tech news at Google News or for tips and tricks, smartphones & gadgets reviews, join GadgetsToUse Telegram Group or for the latest review videos subscribe GadgetsToUse Youtube Channel.