Want to send money to someone with no internet on your phone? The internet has been a major barrier for digital payments in India as not everyone has proper connectivity on their phones. However, thanks to USSD-based mobile banking, it's very much possible to send and receive money via UPI on your Android phone, iPhone, or even a basic feature phone without any data connection. In this article, let's have a quick look at how you can make offline UPI payments without internet on any phone out there.
Related | How to Send and Receive Money Using WhatsApp
Make Offline UPI Payments (without Internet) on your Android, iPhone, or Feature Phone
Want to make a payment but don't have access to the internet in your area? Or do you have a basic feature phone with no option to access the internet or UPI payment apps? You need not worry about anything since one can also make payments using the USSD-based *99# offline mobile payment service.
USSD-based mobile banking was initially launched as a NUUP (National Unified USSD Platform) service by the NPIC (National Payments Corporation of India). Later, NPCI introduced UPI payments with an upgraded USSD 2.0 facility, launched along with BHIM in December 2016.
The service grants mobile banking services to every common person across the country. And using the same, you can send and receive money without any data connection, even on a basic feature phone running a 2G network.
Features of *99# Offline UPI Payment Service:
No data or internet connection required for doing transactions– uses voice connectivity.
Provides basic features like sending money, checking account balance, and changing the PIN.
Accessible through a common code *99# across all telcos.
Works across all mobile phones on GSM service providers.
Available round the clock, 24 x7.
It can be accessed in multiple languages.
Requirements:
You can use the *99# service to make UPI payments to local shops and vendors– just ask them the UPI ID instead of the QR code. One can also use it for emergency payments without the internet.
Steps to Make Offline UPI Payments using *99#
Below is a detailed guide on how you can make offline UPI payments without the internet on your phone using the USSD-service. But before we start, make sure to download the BHIM app and complete the one-time registration. Once the SIM card and phone binding are done with your bank account, proceed with the steps given below.
Step 1- Dial *99#
Open the dialer and dial *99# on your phone. A menu will soon appear on your screen with seven different options, including Send Money, Receive Money, Check Balance, My Profile, Pending Requests, Transactions, and UPI PIN. The use of each option is detailed below:
Send Money – To send money to any customer using various options provided.
Request Money – To collect money by entering UPI ID or Mobile No. of a UPI registered customer.
Check Balance – To check your bank account balance.
My Profile – To know your UPI details, change language, manage UPI ID and beneficiaries.
Pending Transaction – To check pending UPI requests (if any).
Transaction – To know about the last 5 transactions performed via UPI.
UPI PIN – To set/change your UPI PIN.
Step 2- Select Send Money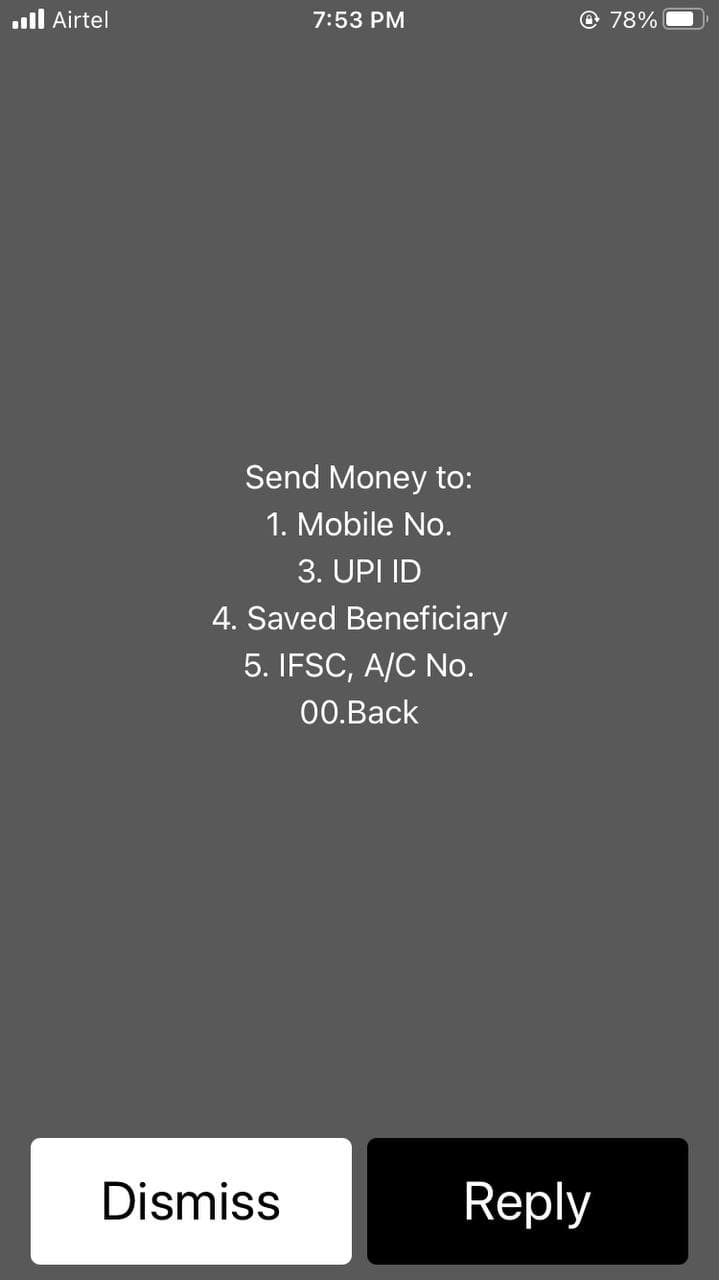 Reply with 1 to select 'Send Money' from the available options. You'll now see the options to send money using a Mobile number, UPI ID, or Account No. & IFSC code. Select your desired option to make payment.
Step 3- Choose Beneficiary
If you have selected Mobile No: Enter the mobile number of the person you're sending money to.
If selected UPI ID: Enter the other person's UPI ID, for example- [email protected]
In the case of bank payment: You'll have to enter the valid 11-digit IFSC code of the beneficiary bank account. Then, enter the complete account number of the person.
Step 4- Enter Amount
Once you've entered the beneficiary's mobile number, UPI ID, or bank account details, you'll be asked to enter the amount. Reply with the exact amount you want to send in rupees. In the case of UPI payments, you'll also see the name of the beneficiary. Add remarks if you want to.
Step 5- Enter Your UPI PIN
Now, enter your six or four-digit UPI Pin. Then, click on Send. You'll now get the transaction status along with the reference ID on your screen. It'll also give you the option to save the beneficiary if the transaction was successful.
FAQ: Commonly Asked Questions
1. How to Change Bank Account in *99#?
You can use multiple bank accounts with the *99# service. To change the bank account used by default, dial *99#. Select option 4 for "My Profile." Reply with 1 for Change Bank Account.
Then, enter the first three letters of your bank's name or the first four letters of your bank IFSC. It will then fetch and show you the linked accounts. Select the one of your choice to use as the default account for USSD-based payments.
2. Are there any Charges for using *99# Service?
Usually, a nominal charge of Rs 0.50 per transaction is charged by the mobile operator for using the *99# service. TRAI has capped the maximum charges at Rs. 1.50/ transaction.
3. What's the Maximum Amount I can Transfer?
At present, you can transfer a maximum of Rs. 5000 per transaction using the *99# service.
4. What if My Phone is Lost? Is it Secure?
It requires you to enter the 4-digit UPI PIN for any transaction to go through on *99#. This makes it fairly safe and secure. However, if you lose your phone, ask your operator to block the SIM card and get a replacement for the same. Also, ask your bank to disable mobile banking services temporarily.
5. What if My Account is Debited, but the Transaction Fails?
As mentioned, *99# works on UPI, which provides real-time reversals for technical declines. Any amount that has been deducted but failed to go through is usually transferred back to the payer account immediately.
6. How to Disable *99# Service?
To disable the *99# service, open the BHIM app. Click the hamburger menu at the top-right corner and select Settings. Here, tap the toggle next to USSD Service (*99#). Now, enter the default bank account number to disable the *99# USSD service.
Once disabled, dialing *99# will prompt you to enter the complete bank account number again to enable the service.
Wrapping Up
This was all about how you can make offline UPI payments without an internet connection on any phone in India. We've also mentioned additional queries and tips and tricks around NPCI's *99# service. We hope this helps you tackle emergency payments with ease. Do try it and let us know your experience in the comments below.
You can also follow us for instant tech news at Google News or for tips and tricks, smartphones & gadgets reviews, join GadgetsToUse Telegram Group or for the latest review videos subscribe GadgetsToUse Youtube Channel.