Most budget laptops these days have below-average cameras. And with increasing work-from-home meetings, online classes, and exams, people have started looking for dedicated webcams for their desktops and laptops. Now, if you're looking for a basic webcam, a budget of Rs. 2000 would offer a sweet balance between features and affordability. In this article, we bring you the list of best PC Webcams under Rs. 2000 in India in 2022.
Related | Use Your Phone as Webcam for Zoom Video Calls
Best Webcams Under Rs 2000 in India– 2022
External webcams are a great way to boost your video call quality. While the affordable segment may not offer you the best performance, it's decent enough with quite a few good options. Below, we've cured out a list of best webcams under Rs. 2000 that you can buy for your PC on Amazon and Flipkart in India.
1. Logitech C270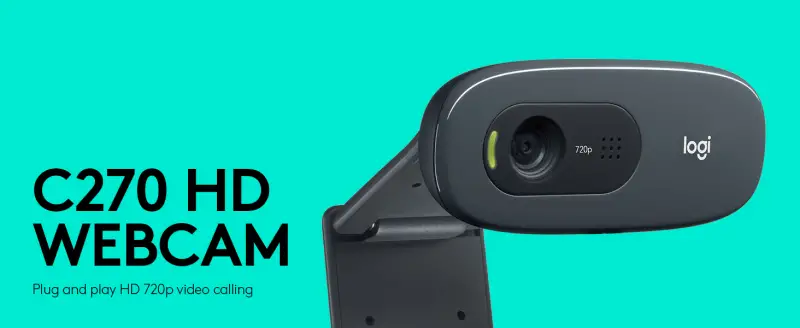 The Logitech C270 webcam lets you click 3MP photos and make widescreen video calls in HD 720p at 30fps. The lens offers a 60-degree field of view, and you get features like automatic light adjustment and a built-in noise-reducing microphone.
It gets a universal clip- you can either use it to attach the camera to your screen or stand on a shelf or desk. Plus, it is flexible to change the video angle. The Logitech C270 webcam compatible with Windows 10, Windows 8, Windows 7, Mac OS 10.10 or later, and Chrome OS.
Key Features:
HD 720p Video at 30fps, 3MP Photos
Fixed Focus
60-degree Field-of-view
Automatic Light Correction
Built-in Mic
Plug and Play
Warranty: 2-year
Price: Rs. 1499
2. HP w200 HD Webcam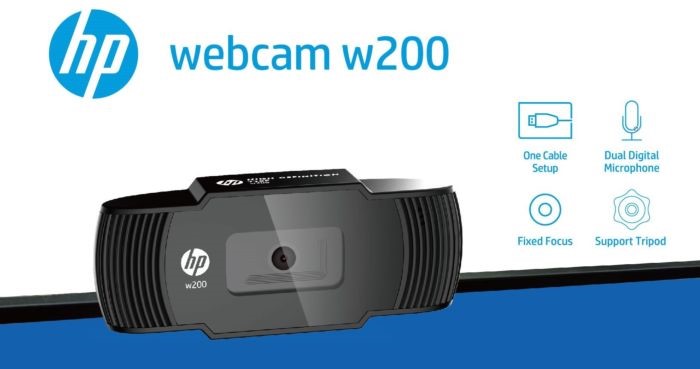 Similar to Logitech C270, the HP w200 is a plug-and-play webcam with an output of HD 720p. It's a fixed focus camera with a built-in digital microphone and can be used for video calls on Skype, Zoom, Google Meet, etc.
You get a flexible universal clip that can be clipped onto screens with different thicknesses. Also, it supports a tripod, meaning you can mount it on a tripod if you want to.
You can use it with Windows XP (SP2, SP3), Vista, Windows 7, 8, 10, and Mac OS X 10.6 or high. Overall, it's one of the best webcams to buy for PC under Rs. 2000 in India.
Key Features:
HD 720p Video at 30fps
Fixed Focus
Built-in Microphone
Universal Clip, Support for Tripod
Plug and Play
Warranty: 1-year
Price: Rs. 1825
3.
Logitech C310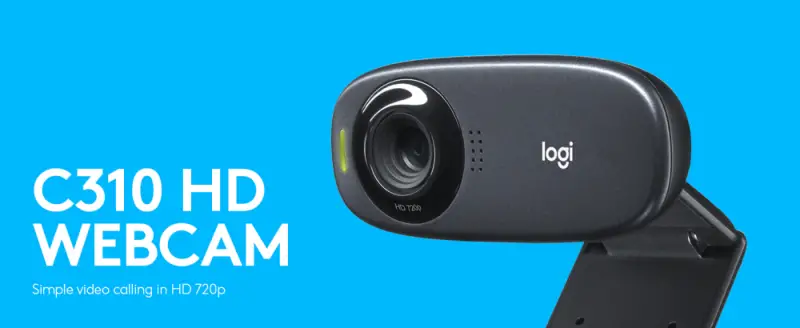 For a little over Rs. 2,000, the Logitech C310 offers a higher picture quality of 5MP and widescreen video at HD 720p at 30fps. It is fixed focus, and the 60° field of view means you'll be the only one to fit in the frame.
In well-lit conditions, the image quality will be sharper and better than the C270. Besides, it gets a built-in mono microphone with a noise-reduction feature. You also get automatic light and color correction.
The webcam is currently available at around Rs. 2,200, including additional discounts on Amazon. For those who can extend their budget, it'll be a better option over the C270.
Key Features:
HD 720p Video at 30fps, 5MP Photos
Fixed Focus
60-degree Field-of-view
Automatic Light Control
Built-in Mic
Plug and Play
Warranty: 2-year
Price: Rs. 2200
4. Mi Webcam HD
It's the same webcam that Xiaomi sells as an accessory for the Mi Notebook. It's a plug-and-play unit that offers HD 720p video quality. Plus, it's lightweight and looks quite sleek and portable.
The webcam has a runner strip that can be plugged onto any laptop. However, folks having a desktop might have trouble as there's no clamp, and the cable length, too, may seem short.
It's well built and offers decent video quality– an ideal choice if you're looking for a cheap webcam for casual use.
Key Features:
HD 720p Video at 30fps
Plug and Play
Lightweight
Suitable for laptops
Cable length∼ 0.5m
Warranty: 1-year
Price: Rs. 1075
5.
Zebronics Zeb-Ultimate Pro 
The Zebronics Zeb-Ultimate Pro is a Full HD web camera that gets a 5P lens and records in 1080p at 30fps. The webcam comes with a built-in microphone and features an automatic white balance.
You also get a night vision feature and a manual switch for LED lights- yes, it has in-built lights for dim or low-light conditions. Then, there's a universal clasp that can be used to attach to the laptop.
Key Features:
1080p Full HD Webcam
Built-in Mic
Auto White Balance
Night Vision, LED Lights
Universal Clasp
Cable length∼ 1.58m
Warranty: 1-year
Price: Rs. 1599
6.
CASE U HW1 Webcam
The Case U HW1 is a full-HD webcam that yields 1080p video at 30fps. It uses a 6-layer lens and 1/2.8″ CMOS image sensor to output good quality video. The webcam features Autofocus, Automatic Light Correction, and HDR technology auto-adjust the color and brightness.
It comes with a built-in noise reduction microphone that can automatically eliminate background noise and capture clear sound within 5 meters. There's also a privacy shutter that you can use to cover the lens when you're not using the camera.
It is compatible with Windows 7/8/10, Windows 2000, Windows XP, Mac OSX 10.7/, and Mac OS X. You can also use it with Android TV and Android 4.0 or higher version operation systems. It certainly deserves to be on the list of best webcams under Rs. 2000 in India for the features it offers.
Key Features:
1080p Full HD Video at 30fps
Auto Light Correction, AutoFocus
Built-in Mic with Noise Reduction
Privacy Shutter
Plug and Play
Universal Compatibility
Warranty: 3-month
Price: Rs. 2199 (occasionally comes below Rs. 2000)
Webcam Buying Guide: How to Choose the Best Webcam for Your PC?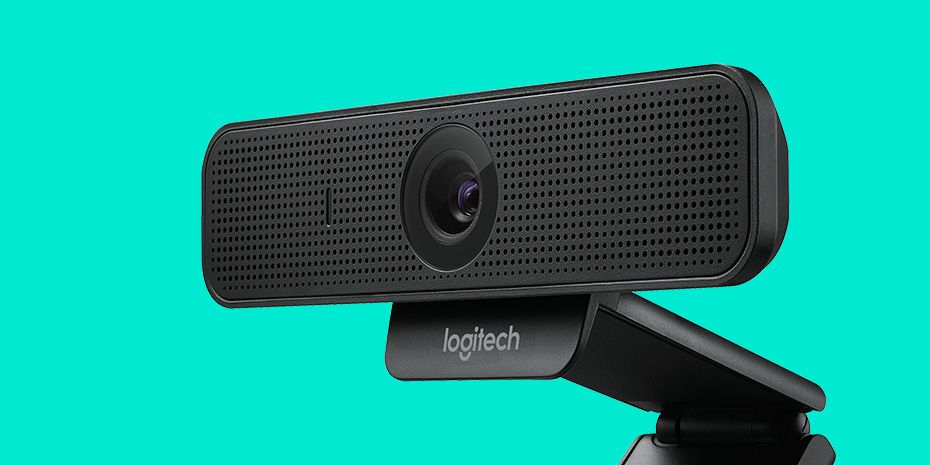 Are you wondering about what things look one shall look for while buying a webcam for a PC? Well, below are some important points that will help you make a more informed buying decision.
Resolution
The resolution governs the video's overall sharpness and level of detail. You'll usually find HD 720p webcams in the entry-level segment. We'd advise getting at least a 720p webcam if not Full-HD.
Frame Rate
The higher the frame rate, the smoother the video will be. Always choose webcams that record 28-30 fps or more. Although, a 60fps webcam will give you much more realistic and natural footage.
Lens
Most entry-level webcams have plastic lenses. However, it's best to stick with a glass lens which provides better performance.
Image Quality
Go for webcams that click at least 2-megapixel images. Most budget webcams click decent still images.
Focus (Auto/ Fixed)
Inexpensive webcams generally have fixed focus cameras. This means they have a fixed area to focus and will likely work fine if you directly sit in front of the camera. However, it's easy to get blurred if you go out of the focus range.
In contrast, webcams with autofocus adjust their lenses to make sure you're clear at any distance from the camera. So, prioritize webcams with autofocus, especially if buying expensive ones.
Microphone
Does the webcam have an in-built microphone? If yes, is it stereo or mono? Does it have any noise reduction feature? Although mics are less of a priority, they can make your voice sound better in the meeting.
Attachment
You should also focus on the attachability of the webcam. Please make sure it can easily be attached or plugged onto your device. Usually, webcams with clamps and tripod support are better in this regard.
Reviews
Only real-life reviews can help you judge the actual quality of the webcam. So, before you finalize the decision, look for reviews on Amazon or YouTube to have a fair idea of its pros and cons.
Warranty
Warranty can be an important aspect for a lot of people. To be on the safer side, it's better to go for branded webcams that offer a decent warranty period so that you can claim for manufacturing defects if any.
Wrapping Up
These were some of the best Webcams under Rs 2000 that you can buy in India on Amazon and Flipkart. Besides, I've also mentioned key things to look for while buying a webcam for your laptop or desktop. Do go through the list and let me know your favorite webcam in the comments below. Also, let me know if you have any other suggestions to add. Stay tuned for more.
You can also follow us for instant tech news at Google News or for tips and tricks, smartphones & gadgets reviews, join GadgetsToUse Telegram Group or for the latest review videos subscribe GadgetsToUse Youtube Channel.