A lot of people have upgraded to the new Windows 11 through the Insider program. While the beta version has been getting regular updates, they're still not perfect. Many people are facing issues like Bluetooth not working, audio lag with Bluetooth earphones or headphones, and related connectivity problems on their computers. Thankfully, these issues can be resolved with some simple troubleshooting steps. In this article, let's see how you can fix Bluetooth not working or audio lag problem on your Windows 11 PC.
Related | 2 Ways to Check Laptop Battery Health in Windows 11
Fix Bluetooth Not Working, Audio Lag, and Connection Issues on Windows 11 PC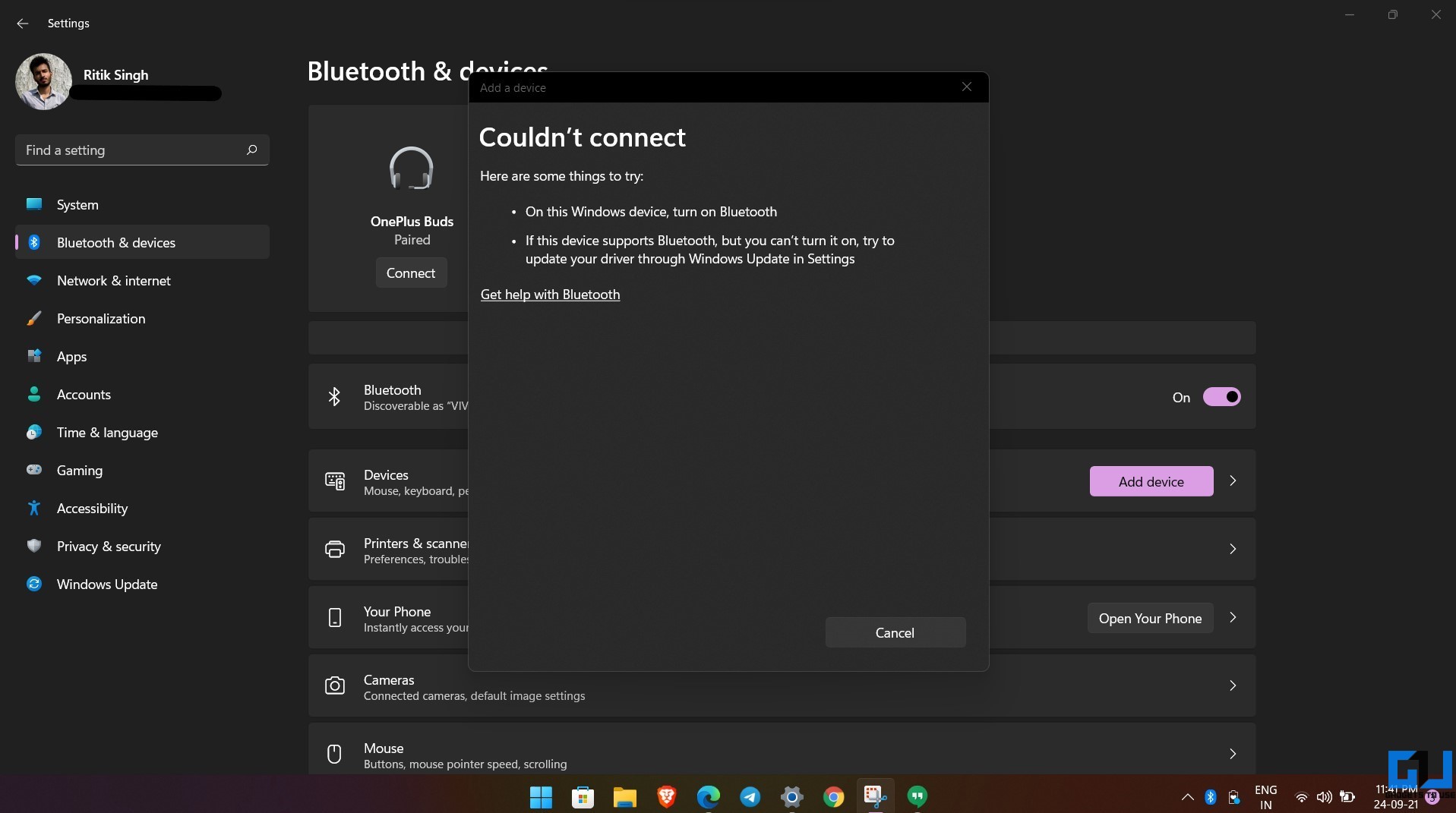 1. Make Sure Bluetooth is Turned On
To begin with, ensure that the Bluetooth device is turned on and paired with the other device. You can follow the steps below to enable Bluetooth and pair a device with your Windows 11 computer.
Open Settings on Windows 11. You can do it either from the Start menu or by pressing Win + I simultaneously.
Select Bluetooth & devices from the sidebar at the left.
Here, enable the toggle for Bluetooth if not already.
Click on Add Device and select the device type.
It'll now show you the list of available devices, which you can click to pair and connect.
Make sure the other device is turned on and discoverable.
2. Disable and Enable Bluetooth on PC
One of the easiest ways to fix any Bluetooth connectivity issues on Windows 11 is turning it off and turning it on again. Doing so will clear any temporary bugs or glitches.
Open the action center, click on Bluetooth to turn it off, and click it again to re-enable it. You can also do it from Settings > Bluetooth & Devices.
3. Turn Off Airplane Mode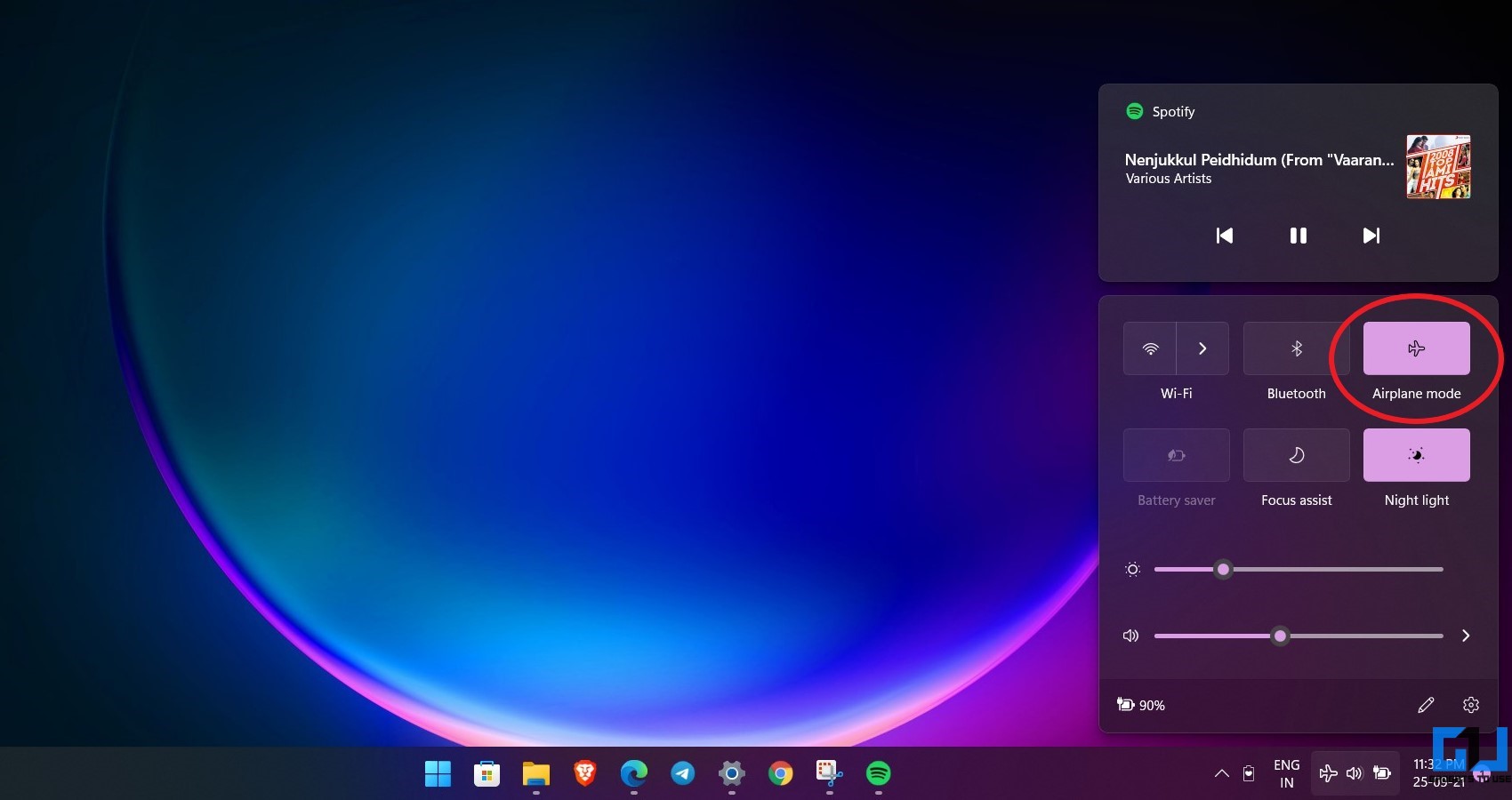 Like Android and iOS, Windows has a built-in airplane mode which turns of all connectivity features, including Wifi and Bluetooth. Every time you enable airplane mode, it will automatically disable Bluetooth on your Windows 11 PC.
So, check whether airplane mode is enabled. If yes, disable it. You can also enable Bluetooth even when in airplane mode.
4. Disconnect Other Bluetooth Devices
Connecting to multiple Bluetooth devices at once may cause audio lag or connectivity problems on your Windows 11 device. To disconnect other devices:
Open Settings on your Windows device.
Go to Bluetooth & devices.
Click the three dots for connected devices that you don't want to use at the moment.
Finally, click on Disconnect.
5. Check the Distance & Interferences
Bluetooth devices typically have a range of about 10 meters. So, make sure the device is within the operating range. If you're using Bluetooth earphones or headphones, going too far from the computer can cause audio lag and other connection issues.
Furthermore, do check out for interference from other objects. Bluetooth operates over the 2.4GHz band and can interfere with other devices running at the same frequency, like your Wifi.
Although quite rare, if you feel that Bluetooth and Wifi signals are interfering with each other, consider changing the router channel or switch to the 5GHz frequency. Or move closer to your router and avoid barriers like metal and building.
This would resolve problems like audio lag or delay and connection issues with Bluetooth devices on Windows 11.
6. Remove and Pair Bluetooth Device Again
If you're facing issues with particular Bluetooth devices, be it not connecting correctly or having audio problems, try removing it and pairing it from scratch.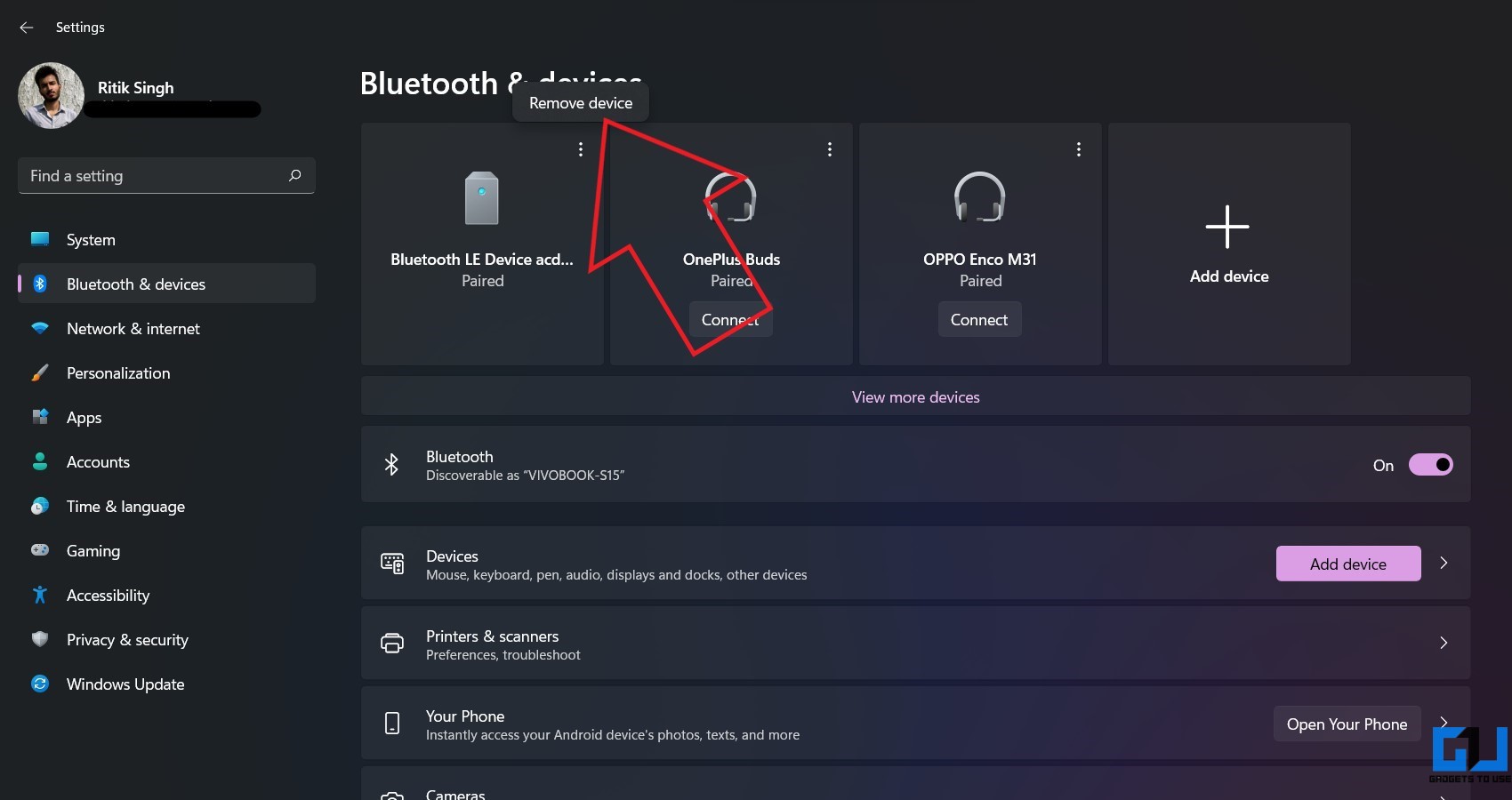 Open Settings on Windows.
Go to Bluetooth & devices.
Click the three dots for the Bluetooth device.
Tap on Remove.
Then, click on Add Device and select the device type.
Pair and connect with your Bluetooth device.
7. Allow Bluetooth Discoverability
You will not be able to connect to your Windows 11 PC if Bluetooth discoverability is turned off. Follow the steps below to check and enable it:
Open Settings on your Windows computer.
Go to Bluetooth & devices.
Here, click on Devices.
Scroll down and tap More Bluetooth Settings.
Check the box for Allow Bluetooth devices to find this PC.
Furthermore, enable the checkbox for Notifications.
8. Restart Your PC and Bluetooth Device
If Bluetooth is still not working correctly or you're facing audio lag problems, try restarting both your computer as well as the Bluetooth device. This should fix any temporary glitches causing the problem.
9. Update or Reinstall Bluetooth Drivers
If nothing works out, it could be an issue with the Bluetooth drivers on your PC. The software component allows your Windows PC to communicate with a Bluetooth device and vice-versa. It could be buggy or outdated, so try to update or reinstall the driver.
Please wait for it to find and update the required drivers automatically. If it still does not work, uninstall the driver by selecting Uninstall device from the right-click menu. Then, download Bluetooth drivers from your manufacturer's website and install them afresh.
(Solved) Windows 11 Bluetooth Not Working Issue
This was all about how you can fix Bluetooth not working, audio lag, or related connection issues on your Windows 11 computer. I hope you're able to connect and use your Bluetooth earphones or headphones properly now. If you still have any doubts or queries, let me know in the comments below. Stay tuned for more such articles.
You can also follow us for instant tech news at Google News or for tips and tricks, smartphones & gadgets reviews, join GadgetsToUse Telegram Group or for the latest review videos subscribe GadgetsToUse Youtube Channel.