If you use your Android phone to record videos, you must be familiar with the significance of stability and background noise. To create engaging videos for your viewers, you need to ensure proper video stability and minimize unnecessary background noises. In this article, you will learn five ways to record stable videos with no background noise. You can also learn to record videos with screen off.
Also, Read| 7 Ways to fix Android Phone not Charging When Plugged in
Record Stable Videos with No Background Noise in Android
Video Stability and reduced background noise features are offered by only flagship Android devices. However, you can achieve the same on your device too with the help of some third-party apps. We have shortlisted a few of these apps that offer better stabilization and less background noise while recording.
Open Camera Android App
Open Camera Android app is a completely free application that offers flawless camera recording capabilities. It provides enhanced tools such as Video Stabilization and background noise filtering while recording the video. Follow these easy steps to record videos using this third-party app.
Open Google Play Store, search for the Open Camera app and install it.
Open the app and provide the necessary app access permissions.
To switch to video recording, tap on the Camera Recorder Button at the bottom.
Tap on the Gear icon in the top right corner of the screen to open Settings.
Scroll Down and open Video Settings.
Turn on Enable Digital Video Stabilization to apply better video stability while recording.
Further, scroll down on the same page to locate Audio Source and open it.
To achieve minimum background noise, tap on Optimized for voice recognition.
That's it. Navigate back to the main screen and tap on the Video recorder icon to start capturing videos using the updated configurations.
Protake Mobile Cinema Camera
Protake Camera is another free third-party Android application that offers a professional filmmaking experience on your device. It offers numerous tools to enhance the quality of video recording including better video stability and noise reduction. Follow these easy steps to try video recording via this app.
Open the app and provide the necessary access privileges.
Tap on the Gear icon to access app Settings.
Turn on Stabilization and Noise Reduction.
That's it. You can now start capturing video using this app with reduced noise and better image stabilization.
Hedge Cam 2 Android Camera App
Hedge Cam 2 is an open-source Android application that offers multiple modes for video capturing. You can pick from various modes such as focus mode, scene mode, and many more along with video correction tools to record stable videos and reduce background noise. Follow these easy steps to start capturing video from your device using this app.
Open Google Play Store, search for Hedge Cam 2 and install it.
Provide the necessary access privileges to the app.
Tap on the Gear icon to open Camera Settings.
Scroll down to locate Video Settings and tap on it.
Enable Video Stabilization by checking the box.
Scroll further down to locate Audio Source.
Choose Voice Communication to reduce unnecessary background noise while recording video through the app.
Navigate back and start capturing the video by tapping on the Record button.
Lumio Cam
Lumio Cam is a full-featured camera application that offers the looks and functions of a professional DSLR camera. Using this free android app, you can capture amazing videos with better video stability and minimal background noise.
Open Google Play Store, search for Lumio Cam and install it.
Open the application and provide the necessary permissions.
Tap on the Try it button to start the app in trial mode.
Open Menu by tapping on Menu button.
Tap on the Video Camera icon on the left to open up Video Recording Settings.
Scroll down to locate Stabilization and ensure that it is enabled.
You can also connect a dedicated microphone to your device and switch to it by using Audio Source.
Tap on the Menu button again to save changes and start capturing video using the app by pressing the record button.
ProCam X -Lite (HD Camera Pro)
Procam X Lite is another free android camera application that provides the feature of video recording with powerful tools to stabilize videos and control over exposure, focus, white balance, and other factors defining the quality of the video.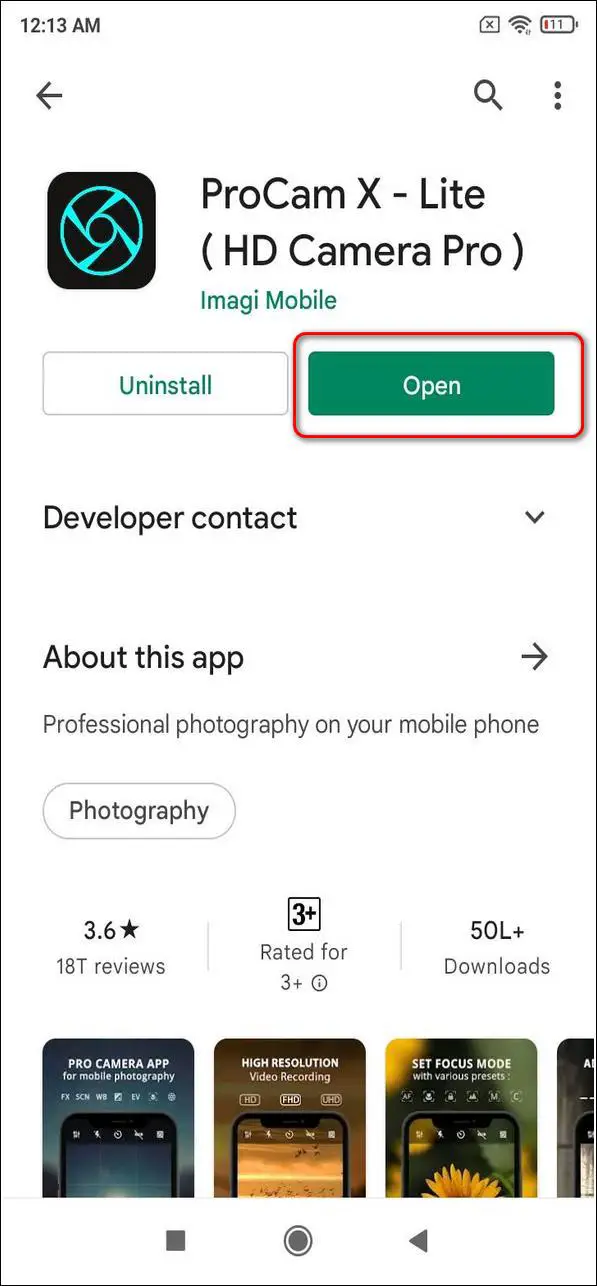 Open the app and tap on Allow to provide necessary access permissions.
Tap on the Settings icon in the bottom left corner of the screen.
Tap on the Anti-Shake icon to enable it.
This feature will ensure that the video recording remains stable throughout the entire recording.
Wrapping Up
In this article, you have learned 5 ways to record videos with better stability and no background noise in Android. If this article has helped you in creating better videos then, hit the Like button and share this among your friends to help them with their video creation projects. As always, stay tuned for more productive articles like this one.
You can also follow us for instant tech news at Google News or for tips and tricks, smartphones & gadgets reviews, join GadgetsToUse Telegram Group, or for the latest review videos subscribe GadgetsToUse Youtube Channel.