While exposure to the outer world has a key influence on your child's life, it also makes them prone to bullying and kidnapping. This is where Wondershare's FamiSafe parental control app comes to the rescue. It lets you keep an eye on your kid's real-time location, app usage, and if they're safe. Here's how you can use FamiSafe to track your kid's GPS location.
Related | Share Your Location With Family Members or Find Them on iPhone
What is FamiSafe?
Wondershare Famisafe is a parental control app available for Android, iPhone, and PC. It works without rooting or jailbreaking and can help you get the real-time location of your child, followed by alerts if they cross the predefined periphery.
You get to know your child's app usage, browsing activity, driving habits, and YouTube consumption. It further alerts you of inappropriate content and possible bullying, followed by blocking websites, setting limits on screen time, and controlling app usage.
It gets you rid of everyday worries associated with children:
Your kid got lost in an unfamiliar place? Check.
Suspicious of the child skipping school and going somewhere else? Check.
Worried about the kid consuming inappropriate content? Check.
Apart from kids, you can also use FamiSafe to keep a check on your spouse, friend, or any other family member.
What Can FamiSafe Do For You?
From tracking location to blocking apps, here's everything that FamiSafe can do on your child's phone:
Real-Time Location: Check the real-time GPS location of the kid automatically, without having to call or message them.
Location History: Know where the kid has been throughout the day on Google Maps.
Geofencing: Create geofences. You get an alert if the child crosses the geofencing or moves into an area you object to.
Low Battery Alert: FamiSafe will alert you if the battery on your kid's phone is about to run out of power. This helps you contact them before their phone is dead.
Activity Report: Monitor your child's online activity and app usage through FamiSafe. It also shows you the search queries and browsing activity.
Block Apps: Some apps are not meant for children. With FamiSafe, you can block inappropriate apps on your child's phone to make them invisible. You can also block apps for a limited period, say, blocking games until the study hours are over.
Screen Time: More like a digital wellbeing dashboard that shows your child's device usage. Learn about which apps they spend the most time on, what time they usually use the device, and how much time is spent on the internet per day, week, and month.
Smart Schedule: Set time restrictions and remotely block your kid's device once the schedule kicks in. This can help you reduce the child's on-screen usage. Although, you do have the option to whitelist certain apps.
Web Filter: Restrict access to dangerous websites, including adult content, crime, death, drugs, gambling, religion, games, etc. You can also add exceptions in each of these categories.
Browser History: Learn about your kid's browsing history- the searches made and websites visited even in incognito mode. FamiSafe saves up to three months of browsing history.
Monitor YouTube History: Keep a tab on your child's YouTube activity. You can also restrict certain content or even YouTube channels.
Suspicious Photo Detection: FamiSafe detects whether your child sends or receives explicit content from someone via social media. It alerts if the child is watching pornographic content. You can view and delete the content in the case of Android.
Suspicious Text Detection: You'll get an immediate warning if someone tries to bully or sends inappropriate messages to your child on Facebook, Gmail, Instagram, Messenger, SMS, Twitter, Whatsapp, etc. You can also add specific trigger words to FamiSafe.
Driving History Reporting: If you have a teen who drives, you can monitor their driving habits without traveling with them. After each trip, FamiSafe generates a report with stats like average speed, maximum speed, and total driving distance.
PIN Lock: Keep your child from tampering with settings by setting a 4-digit PIN lock.
How to Use FamiSafe to Track Your Kid's Location
Using FamiSafe is a rather simple process. All you need to do is set up your parent account. Once done, install the app on your child's phone, pair it, and you're good to go.
Step 1- Setup Your FamiSafe Dashboard
1. Visit famisafeapp.wondershare.com or get Famisafe from Google Play or AppStore.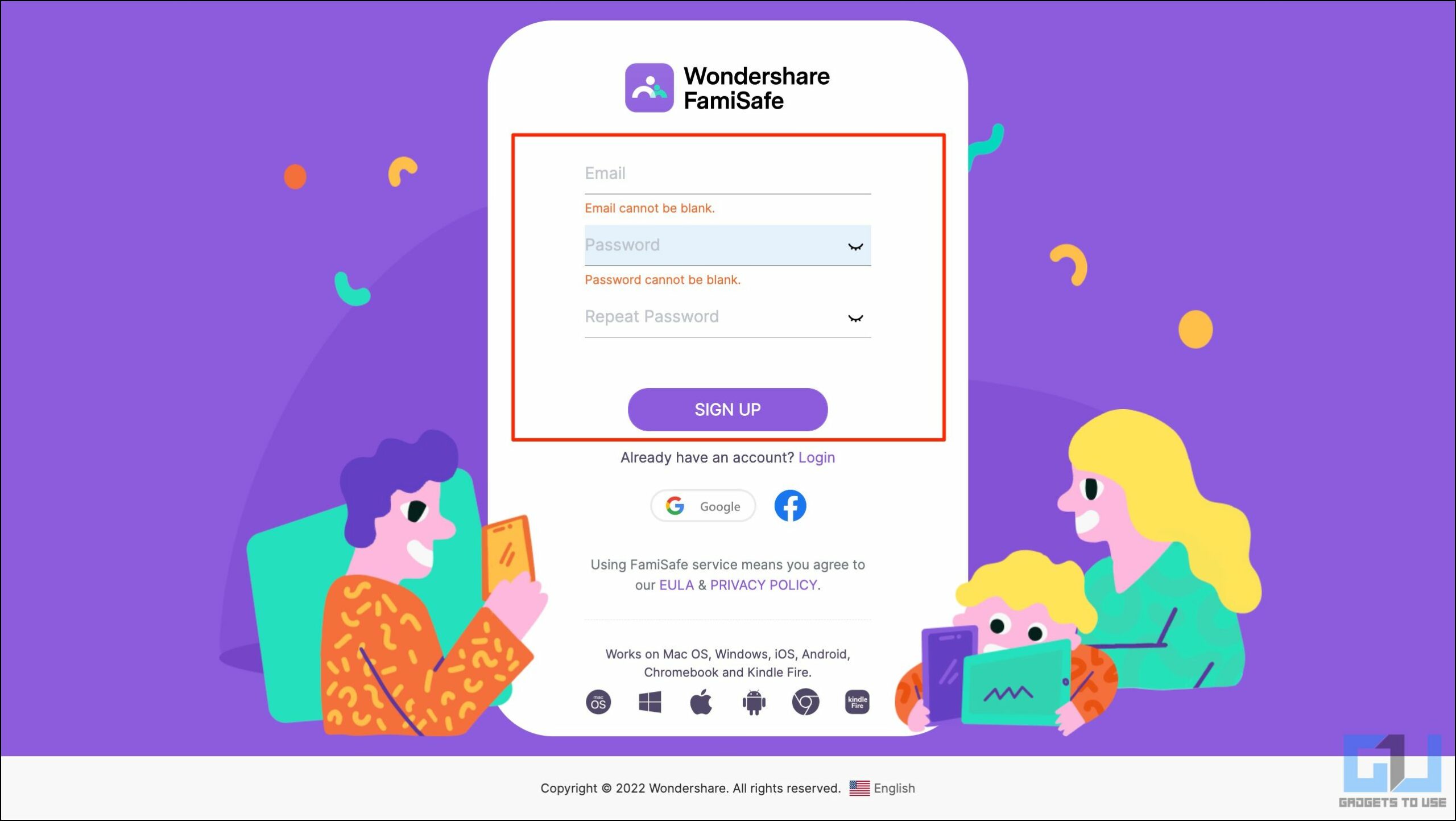 2. Create an account using your email address. Choose a plan or continue with the trial.
3. Choose parent as your identity when asked. Tap Connect a New Device.
4. You'll see a six-digit code. Note it down.
Step 2- Install the FamiSafe Kids App
1. Visit this link on the child's phone and install the FamiSafe Kids app.
2. Open the app and tap Pair with Code.
3. Enter the six-digit code.
4. Type the child's name and age. Allow the permission to display over other apps, access notifications, and accessibility.
5. Furthermore, allow device administrator access to set screen time limits.
6. Complete the on-screen instructions to complete the setup.
Step 3- Begin Tracking Your Kid's Location and Online Activity
That's it. You have successfully set up the FamiSafe Kids app and connected it with your account. You can control and check the kid's phone either via the FamiSafe web dashboard or install the parent's app from here.
On the main dashboard, you can see your kid's real-time location, followed by today's screen time and suggestions to check other features.
Click Features in the sidebar menu, and you can check the Activity Report, YouTube control, Browsing History, Screen Time, Web Filter, Geofencing, Inappropriate Pictures, Driving Safety, and more.
You can turn on or off these features and access the associated data in the same menu. The Notices tab will show you all alerts, including if the kid has tried uninstalling the app from their phone.
Pros and Cons of FamiSafe App
Things We Liked:
Doesn't require root or jailbreak. No need to tweak your device's firmware.
Can not only track accurate location but also set geofencing and check history.
It offers solid stats and control over screen time and what's on screen.
Protection against adult content and bullying.
Monitor and impose restrictions on multiple phones from a single device.
Things We Didn't Like:
FamiSafe is not invisible. Your child will be able to see the app installed on their device.
The web filters, at times, can be bypassed using a VPN.
No call monitoring.
Pricing & Compatibility
FamiSafe is available for Android (4.4 and newer), iOS (9.0 and newer), Kindle Fire, Windows, Mac, and Chromebook devices. There is no FamiSafe free version. However, you do get a free three-day trial with limited features.
To use the software past three days or get the full version, you'll have to upgrade to the FamiSafe Premium version; plans are as follows:
One month: $10.99 (up to five devices)
Three months: $20.99 (up to ten devices)
One year: $60.99 (up to ten devices)
Interestingly, Wondershare does offer a seven-day money-back guarantee. There's also a special plan for schools starting at $39.98 a month for 11-20 devices.
FAQs Around FamiSafe
1. Is There a Free Version of FamiSafe?
No. While there's a free three-day trial offered to new users, you'll have to purchase the full version if you plan to use FamiSafe to track and monitor your kid's GPS location and online activity for any longer.
2. Does FamiSafe Work on Kid's Laptop or PC?
Apart from Android and iPhones, FamiSafe is compatible with Windows, Mac, and Chromebook devices.
3. Can I Use FamiSafe on XBOX, Play Station, or Nintendo Switch?
No. FamiSafe does not support any video game consoles. You can use it only on mobile devices and computers stated above.
4. How Many Devices Can You Track Using FamiSafe?
You can track up to five devices using the FamiSafe monthly plan. On the other hand, the quarterly and yearly plans let you track ten devices at a time.
5. What is Geoconnection While Buying FamiSafe?
While purchasing FamiSafe, you may see an additional add-on by the name of Geoconnection. It costs an extra $1-2 a month and helps you easily share your location with friends and family anytime, anywhere.
6. Can Both Parents Use FamiSafe?
There is no limitation on the number of devices for the FamiSafe parent's app. You can install the app on both the parent's devices and log in with the same account and choose parent mode to monitor the kid's device.
7. Can You Set Up FamiSafe Remotely On Your Child's Device?
You will need one-time physical access to your child's device to set up the FamiSafe app. Once done, you can track it remotely from anywhere.
8. FamiSafe is Not Working Properly?
Here are things you need to check if the FamiSafe app is not working properly on your child's phone:
Ensure it has all the required permissions.
Make sure the FamiSafe app is allowed to run in the background.
GPS location should be enabled with location access set to "All the time" and not "Only While Using the App."
9. How to Uninstall FamiSafe from Kid's Phone?
Are you changing the kid's phone? In that case, you may want to uninstall the app from the current phone. Here's how to do it:
Open the app on the kid's phone.
Tap the Settings icon at the top right.
Select Uninstall Famisafe.
Enter your account password or PIN to remove the app.
Repeat the setup process above to install it on another phone.
You can also follow us for instant tech news at Google News or for tips and tricks, smartphones & gadgets reviews, join GadgetsToUse Telegram Group or for the latest review videos subscribe GadgetsToUse Youtube Channel.