From reading tiny little text to inspecting images, we all require zoom functionality in our day-to-day lives. Fortunately, you can also zoom or magnify your entire Android screen to get better visibility of your screen contents. In this quick walkthrough, we have demonstrated three effective ways to easily magnify or zoom the Android phone screen.
Ways to Magnify or Zoom Android Phone Screen
Configure Accessibility Settings to Enable Magnification
Android phones natively offer the feature of magnification through which you can zoom in on your chosen view to observe its contents clearly. This tool displays an enlarged view of the current screen through an overlay pane.
Here's how you can enable this feature on your Android smartphone to magnify or zoom in on your phone's screen:
1. Open the Settings app on your Android device and search for the magnification option to configure it.
2. Next, tap on Magnification and press the Shortcut toggle to turn it on.
3. You will now be prompted to select the method that you wish to use to trigger magnification on your current screen namely via, the accessibility button, hold the volume button, and triple tap the screen. You also have the option to choose the type of magnification for your screen e.g. full screen, partial screen, or a window.
4. Now, navigate to the screen that you wish to zoom in on and invoke magnification by doing the magnification action selected earlier.
5. You can now see a magnified window with the enlarged image of your current screen.
6. To turn off the feature, repeat the magnification action that you used earlier to activate it.
Use Free Third-Party Tools to Zoom on Your Android Screen
Another nifty method to easily zoom in on your current Android screen is through the help of various free third-party tools such as Magniffect available on the Google Play Store. You can also use this tool to zoom in on any website or app like Twitter, Instagram, Facebook, etc. while using it.
Follow these simple steps to install and try this app to magnify or zoom in on your Android phone screen.
1. Install the Magniffect On-Screen Magnifier app from Google Play Store and open it.
2. Provide the necessary app access permissions including the system overlay permission for this app to work.
3. Next, tap on the Magniffect icon to activate the tool on your Android device. A floating icon will appear instantly on your phone's screen.
4. Navigate to the desired screen where you wish to magnify and tap on the Magniffect toggle to magnify and zoom in on the current screen view.
5. Press the Start Now button to start the Magniffect tool.
6. You can now view the enlarged image of your current screen. You can also adjust the zoom level by tapping on the – and + buttons at the bottom right corner.
Magnify Photos Using Google Photos App
If you wish to magnify a photo to view its contents closely, then you can make use of the Google Photos app to zoom in on it. This app works just like the native gallery app where you can zoom and magnify any image by making a 'pinch-out' gesture.
Here's how you can achieve it:
1. Open the Google Photos app on your Android device and tap on your desired photo to magnify it.
2. Next, perform a 'pinch-out' gesture on the area where you wish to zoom in on the photo. You will instantly get an enlarged view of the desired area where you performed the gesture.
3. Similarly, you can zoom out the enlarged photo by performing a 'Pinch-in' gesture on your Android screen.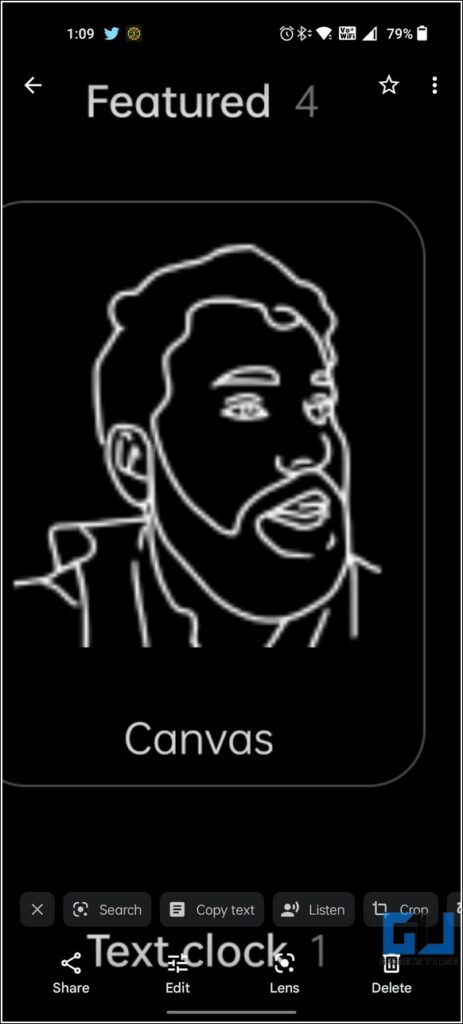 Bonus Tip: Increase Font Size for Better Readability on Android
If you are having issues while reading text on your Android smartphone or find it too small to read, then you can adjust its font size to enlarge it to your preference.
Follow these steps for a quick fix:
1. Open the Settings app and search for the Font Size option to configure it.
2. Next, adjust the slider at the bottom to your desired size and click on the Apply button to save changes systemwide.
3. Voila! You've successfully increased the font size on your Android phone.
Final Remarks
We hope that you've now successfully learned to magnify or zoom your Android phone screen to view its contents using the above-listed methods. If this detailed read has helped you to provide better visibility by zooming in on your desired content, then hit the Like button and share this guide with people who might need it. Also, subscribe to GadgetsToUse for more informative write-ups.
You can also follow us for instant tech news at Google News or for tips and tricks, smartphones & gadgets reviews, join GadgetsToUse Telegram Group, or for the latest review videos, subscribe GadgetsToUse YouTube Channel.