Sometimes when you want to post something on social media and type it but the need to post that suddenly fades away for any reason. However, that's why there are draft options available on most social networking sites. Recently, we've taken you through the steps of creating and finding Twitter drafts, today we'll focus on Facebook. The Meta-owned social network doesn't have a dedicated option to access drafts right away, however, there are some tricks to save drafts, and find these saved drafts or unpublished posts on Facebook.
Save Drafts on Facebook Android App
As mentioned, there is no direct option to save a draft on the Android app, you can do so with a simple trick:
1. Open the Facebook app and tap on "Write something here…" to create a post.
2. Now type your post content and then tap the "back" button.
3. On the pop-up, tap "Save as draft".
That's it, your draft will be saved and you will also get a notification about it. You can access it by tapping on the notification.
Find Saved Facebook Drafts on Android
If you don't delete the notifications of your drafts, you can access the drafts directly from there. However, if you have deleted the previous drafts, follow these steps:
1. Tap on the latest "You have a saved draft" notification.
2. This will open up the last draft you saved.
3. Here, you can also access all your previous drafts.
5. Tap on three dots next to the draft you want to edit or delete.
Next, open the draft to publish or discard it.
Note: You can access saved drafts from the past three days only and any drafts older than that will be deleted automatically.
Save Facebook Drafts on iPhone
If you want to save a draft on Facebook's iOS app, you can do so easily there too. However, unlike Android, only one last draft is saved on the Facebook iPhone app. Here's how to save and access it:
1. Open the iPhone Facebook app, and start writing your post.
2. After typing, tap the "X" in the top left corner.
3. Now select the "Save Draft" option from the pop-up.
4. That's it, you will get a notification that your draft is saved.
Find Saved Facebook Drafts on iPhone
When you want to find your last drafted Facebook post on your iPhone, you can just do so by tapping on "What's on your mind" from the home page. Whatever you have typed last will appear in that box.
Unfortunately, you can't find any previous posts if you're looking for one.
Find Saved Facebook Drafts on Desktop
If you manage a page on Facebook, you can easily create, read, edit, or publish drafts easily. For personal profiles on Facebook on PC, the draft is available as the last post, just like on iPhone. Here's how:
1. If you're creating a post on Facebook PC and close the window, the post will be available on your homepage until you close the website.
2. When you try to access something else on Facebook and leave the home page, you'll be asked to either "Keep Editing" it or "Leave".
3. As long as you don't click on "Leave", your draft will be available in the "What's on your mind" section.
However, for Facebook pages, there's a different "Draft" section on the desktop site that isn't available on the app. Page admins can create, edit and publish drafts easily by following these steps:
1. Open Facebook on your PC's browser and click on "Pages" in the left panel.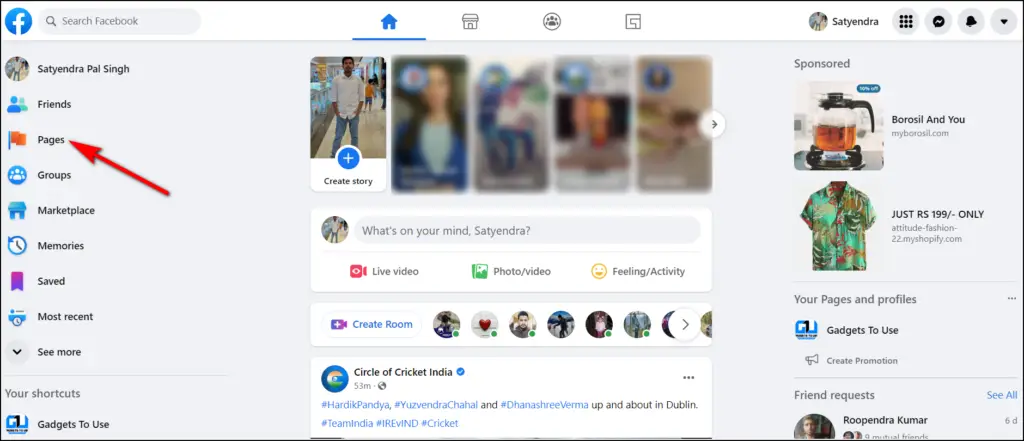 2. Now select the page for which you want to create or find saved drafts.

3. Then click on "Publishing Tools" in the left panel.
4. Lastly, click on "Drafts" and on the right, you'll see all your previous drafts.
You can select a draft from here and click on "Actions" to publish, schedule, backdate or delete it.
These were the ways to save drafts on Facebook and also how to find these drafts and unpublished posts on the Facebook app and web version. If you are interested in more such tips and tricks, follow us on social media at @gadgetstouse!
You can also follow us for instant tech news at Google News or for tips and tricks, smartphones & gadgets reviews, join GadgetsToUse Telegram Group or for the latest review videos subscribe GadgetsToUse Youtube Channel.