You may find an interesting or funny reel while scrolling through Instagram that you want to share with others. However, if the owner of that account has set up the account as private, then you won't be able to download the reel using conventional methods. So in this article, we will guide you through different ways to download reels or videos from private Instagram accounts.
How to Download Private Reels and Video From Instagram Without Login
Reels or videos that are shared by public Instagram accounts can be easily downloaded using several tools that are available online. However, you cannot do the same for reels shared by private profiles. We have come up with a few methods that you can use to download reels from private Instagram accounts.
Note: You need to be a follower of the said private account to view their reels or else they will not be visible to you. To follow them, go to their profile and press the Follow button to send a follow request.
Method 1 – Screen Record Private Reels
The easiest way to save or download reels from private Instagram profiles is by using the screen record feature on your smartphone. Let us walk you through how it can be done on Android and iOS.
Screen Record on Android
Here are the steps to screen record private reels from private accounts on Android.
1. Swipe to open quick settings and tap the Screen Recording shortcut.
2. Tap on Start on the prompt to start recording the screen.
3. Now open Instagram and play the reel from the private account.
4. After recording the clip, tap the Stop icon in the notification shade.
The recording will be automatically saved in your phone's gallery.
Screen Record Private Reels on iOS
Here are step-by-step instructions to screen record reels from private accounts on iPhone and iPad.
1. Swipe down from the top from the left side of the screen to bring up the Control Center.
2. Tap the Screen recording toggle and wait for the three-second countdown.
3. Go to Instagram and play the reel to record it.
4. Once you have recorded to reel, tap the small red stop button in the status bar.
5. Tap Stop on the confirmation prompt.
This will end the recording session. You can now view the recorded video in the Photos app.
Method 2 – Use SaveInsta to Download Private Reels
SaveInsta is an online tool that is your one-stop shop for downloading all your favorite content from Instagram. With SaveInsta, you can download images, videos, reels, stories, and IGTV clips. It also has a Private Downloader tool to save reels from private accounts by following these steps.
1. Go to the Instagram web using a desktop or smartphone browser.
2. Navigate to the reel that you want to download.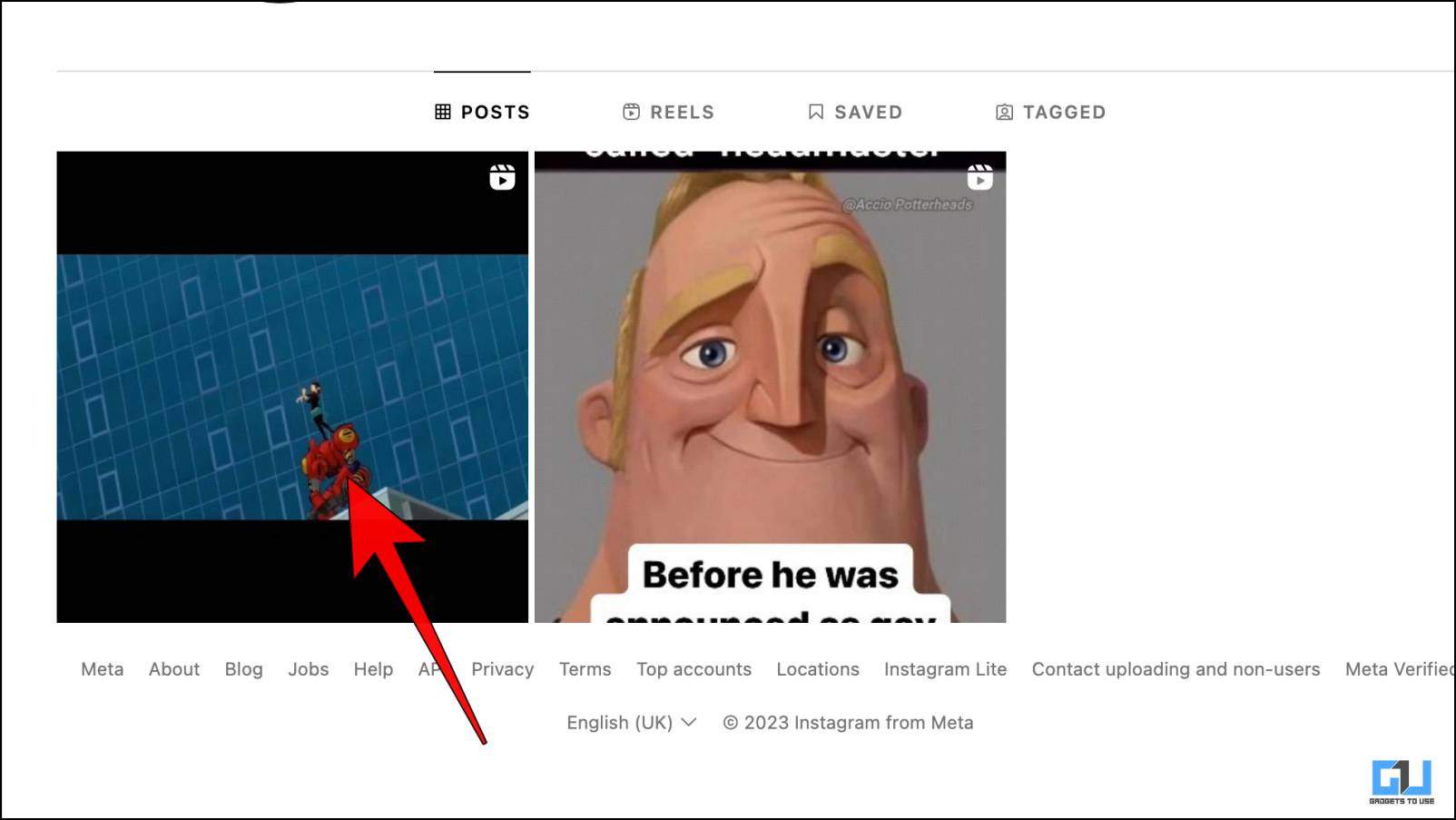 3. Next, copy the URL of the reel using the address bar above.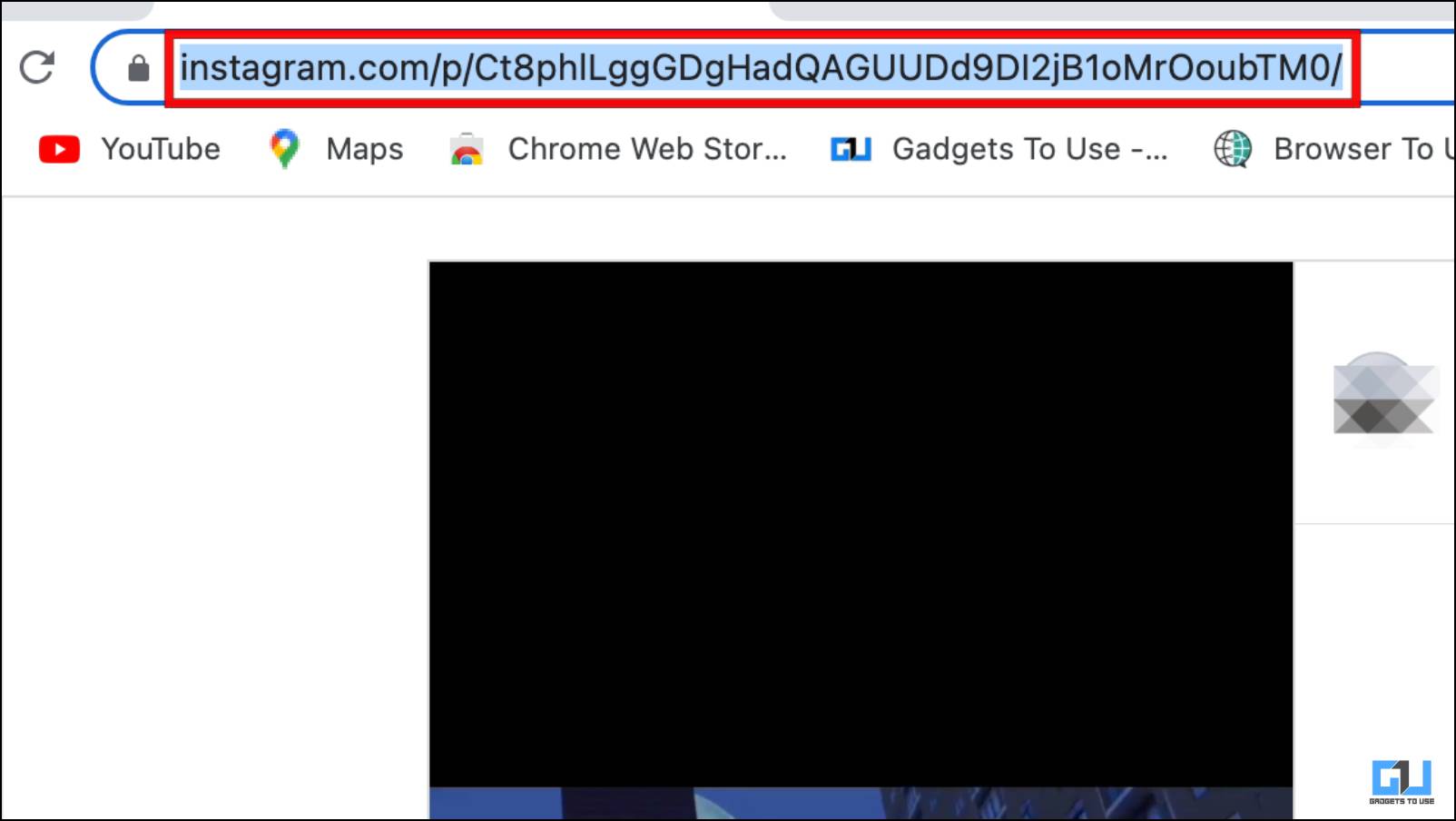 4. Now, open a new tab in your browser and visit the SaveInsta website.
5. Here, click on Private Downloader.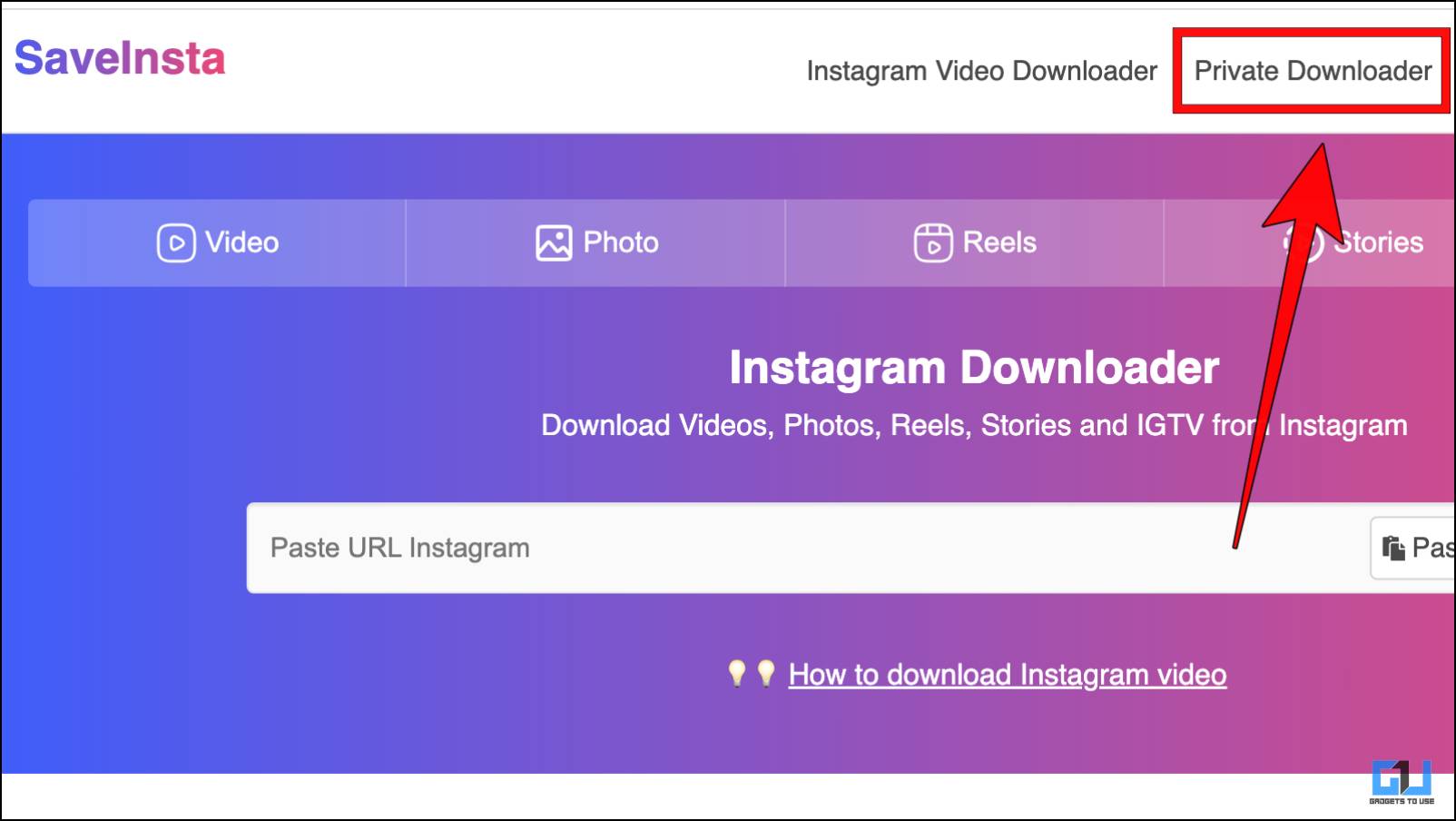 6. In the first text box, paste the URL of the reel or video you copied, then press Enter.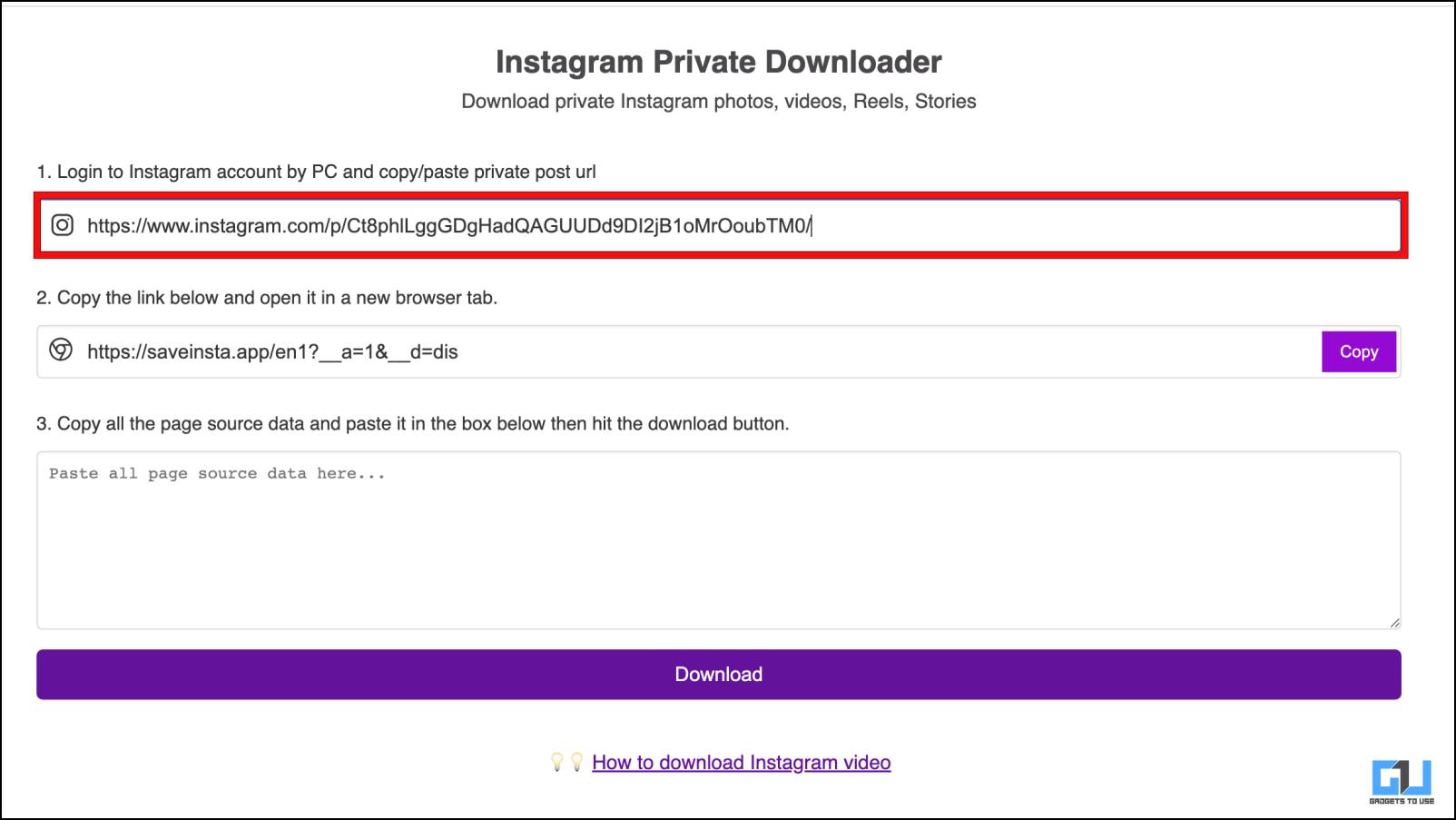 7. A new link will be generated below the box. Click on the Copy button to copy the link.

8. Visit the link you copied from SaveInsta in a new tab.
9. The page will display several lines of text. Copy all of it and go back to the SaveInsta page.
10. Paste the text you copied in the third box.

11. Click on the Download button.

SaveInsta will generate a preview of the reel that you want to save.
12. Click the Download Video button to save the reel to your device.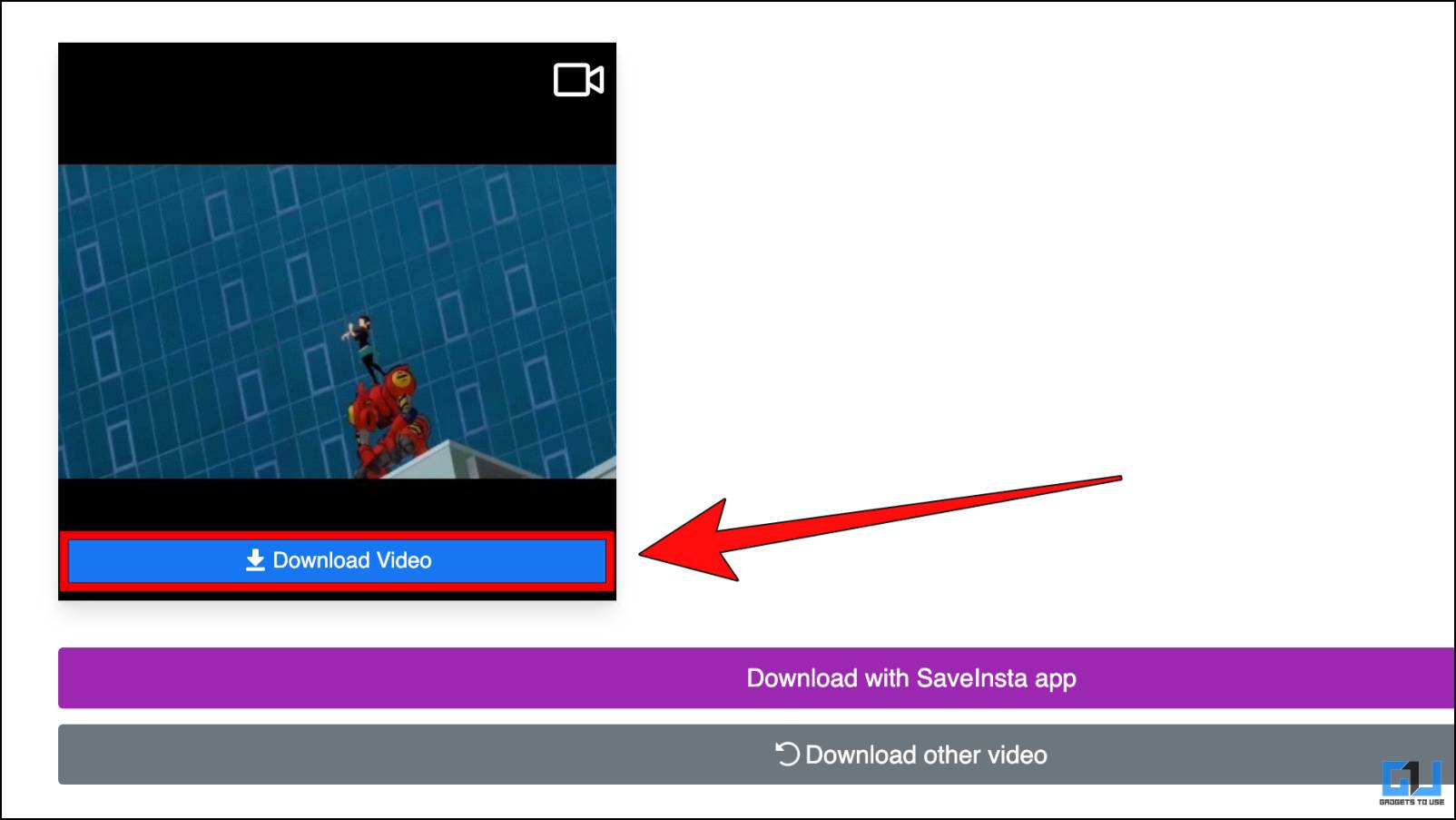 Although you can perform this action on your PC or smartphone, we had some issues replicating it on the mobile browser, so we recommend using a desktop.
Method 3 – Save Videos Using Private Reels Downloader
If the above method looks complex and longer, then you can try out this method instead. TricksndTips has a Private Reels Downloader to help you save videos from private Instagram accounts. The good thing here is that, although similar, its process is comparatively shorter. Here is how you download private reels and videos.
1. Using the web browser on your PC or mobile, copy the reel link you want to save to your device.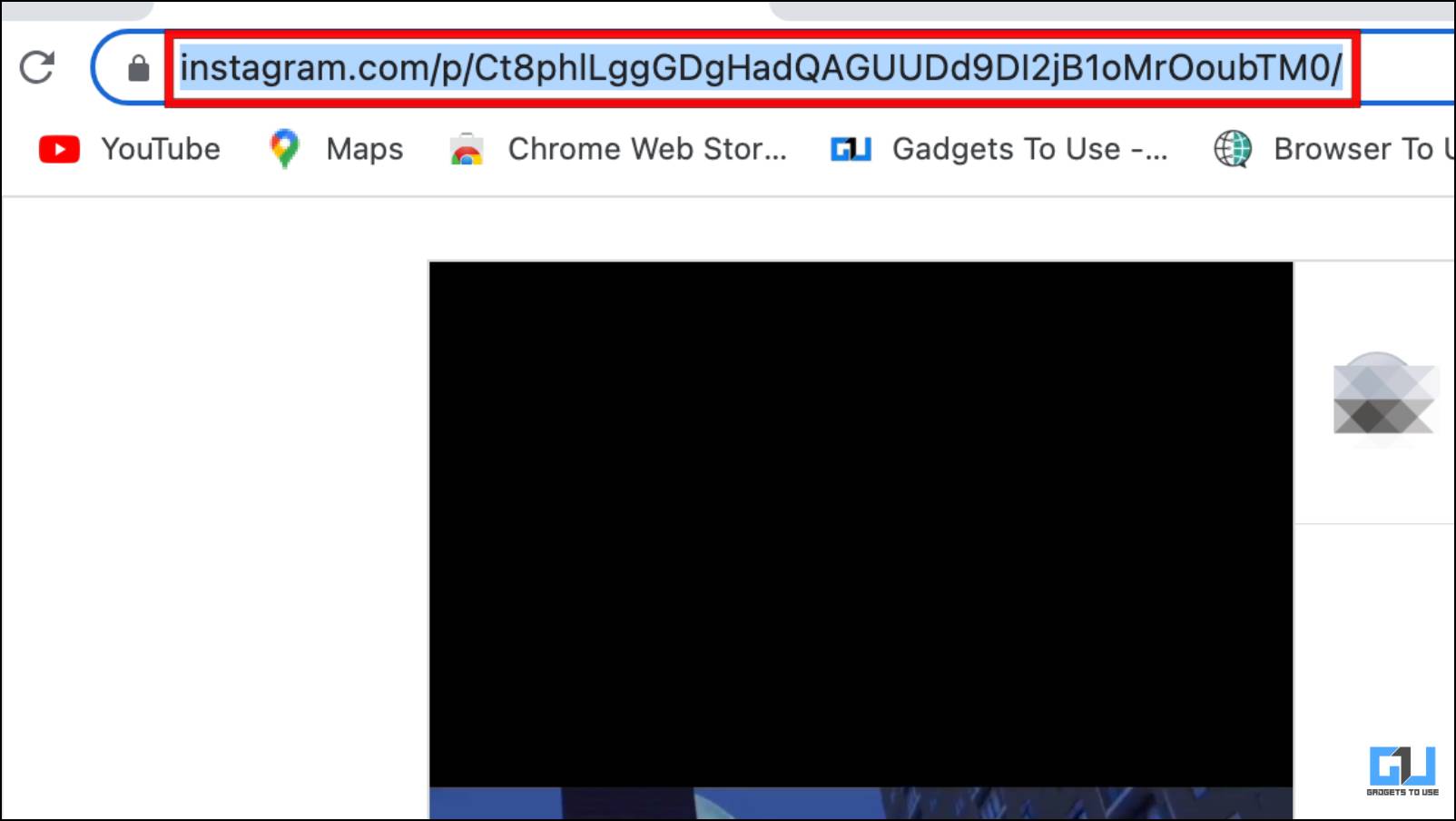 2. Now, open a new tab and visit the TricksndTips page. Then click on the Reels option.

3. Here, paste the link for the reel in the first text box.

4. Click on the Search icon next to the text box.

5. It will open a new tab with several lines of text. Copy all of it.
6. Go back to the previous page and paste the copied text in the second box.

7. Next, click on the Search button.

Scroll down, and you will be able to view the preview of the reel from the private account.
8. Click on Download Video below it.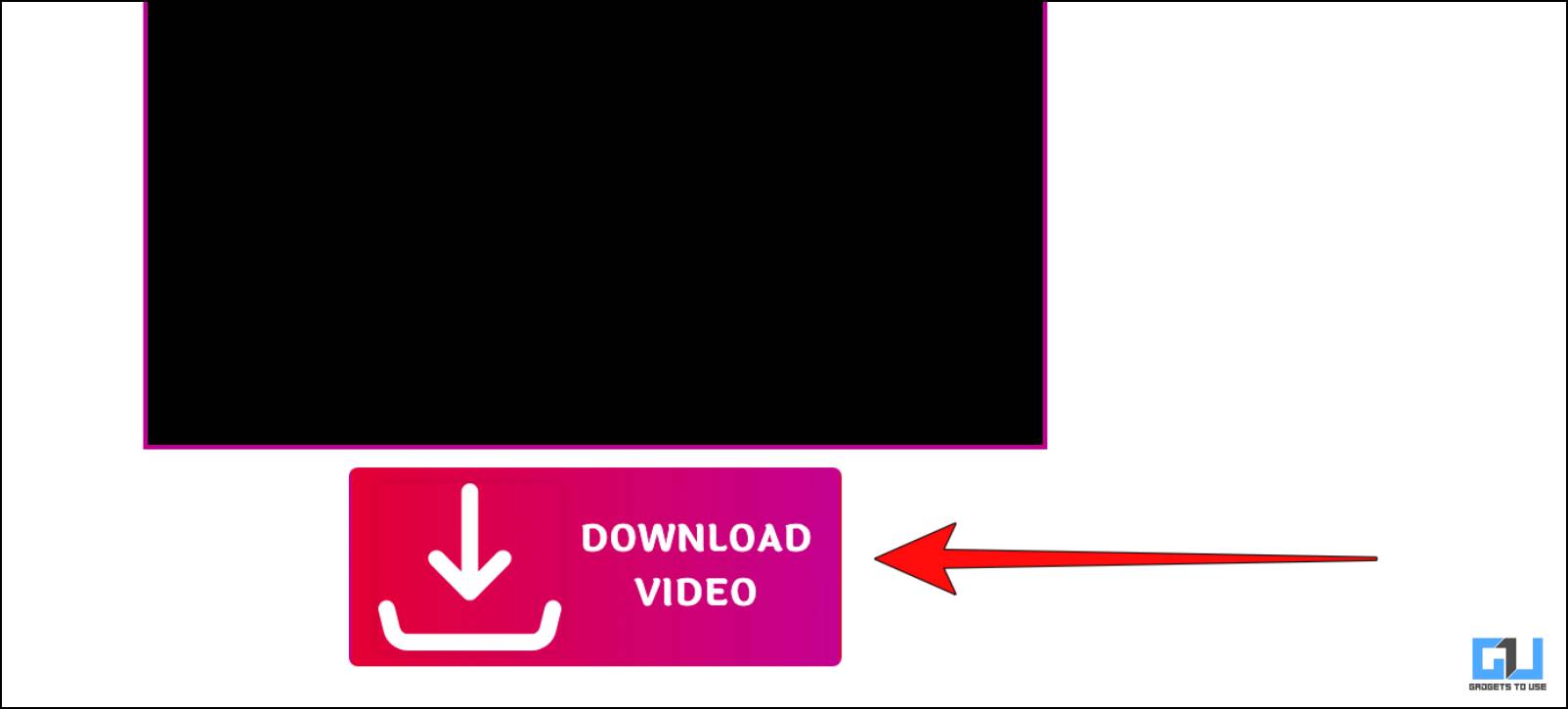 This method works well on both desktops and smartphones.
Method 4  – Download Instander App on Android
Instander is a modified version of the default Instagram app available on Android. It lets you download images, videos, reels, and IGTV clips, with some additional features that you might find useful.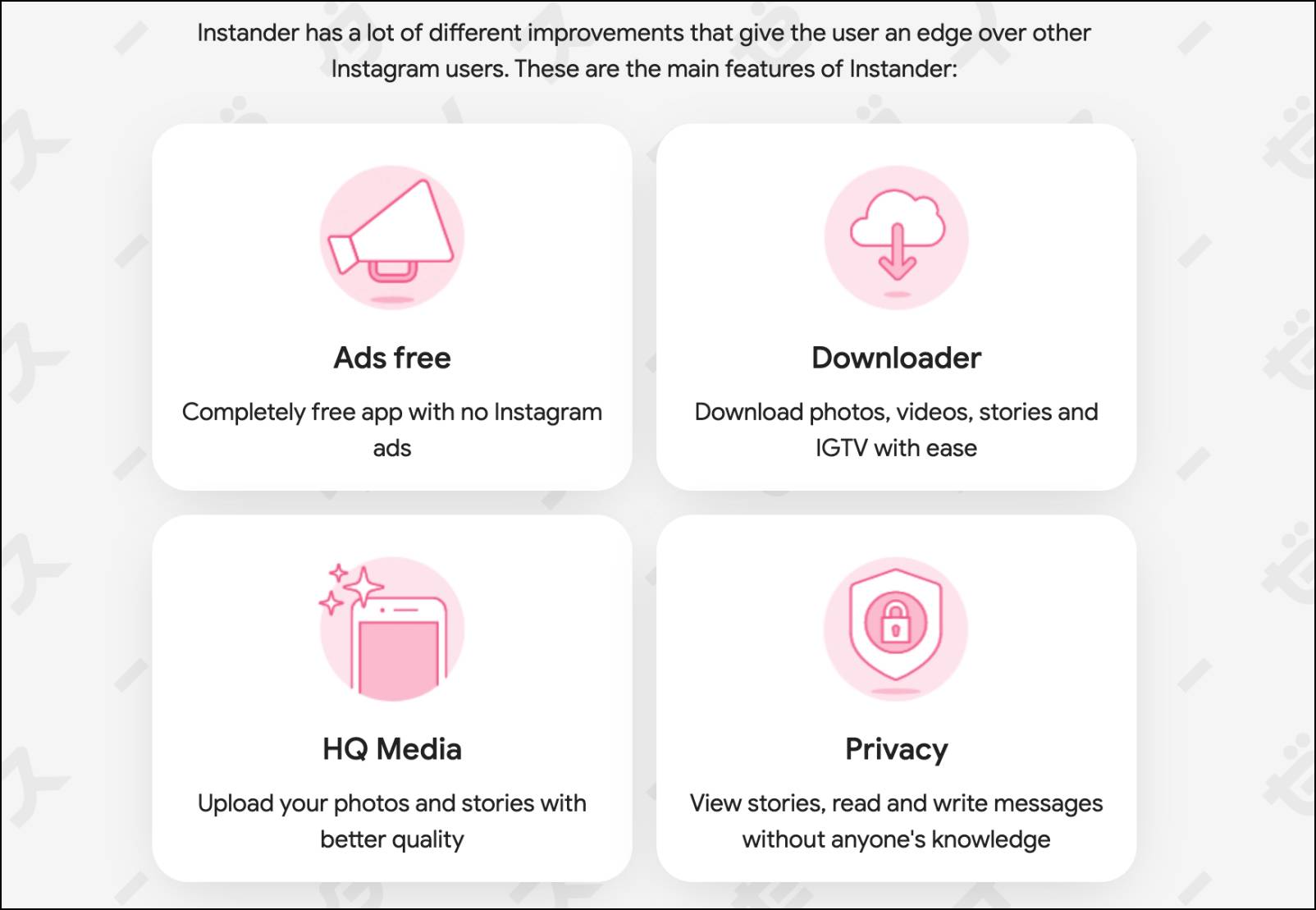 Instander comes in two variants, Original and Clone. The original version requires you to uninstall the Instagram app, whereas the clone version can be downloaded as a standalone app.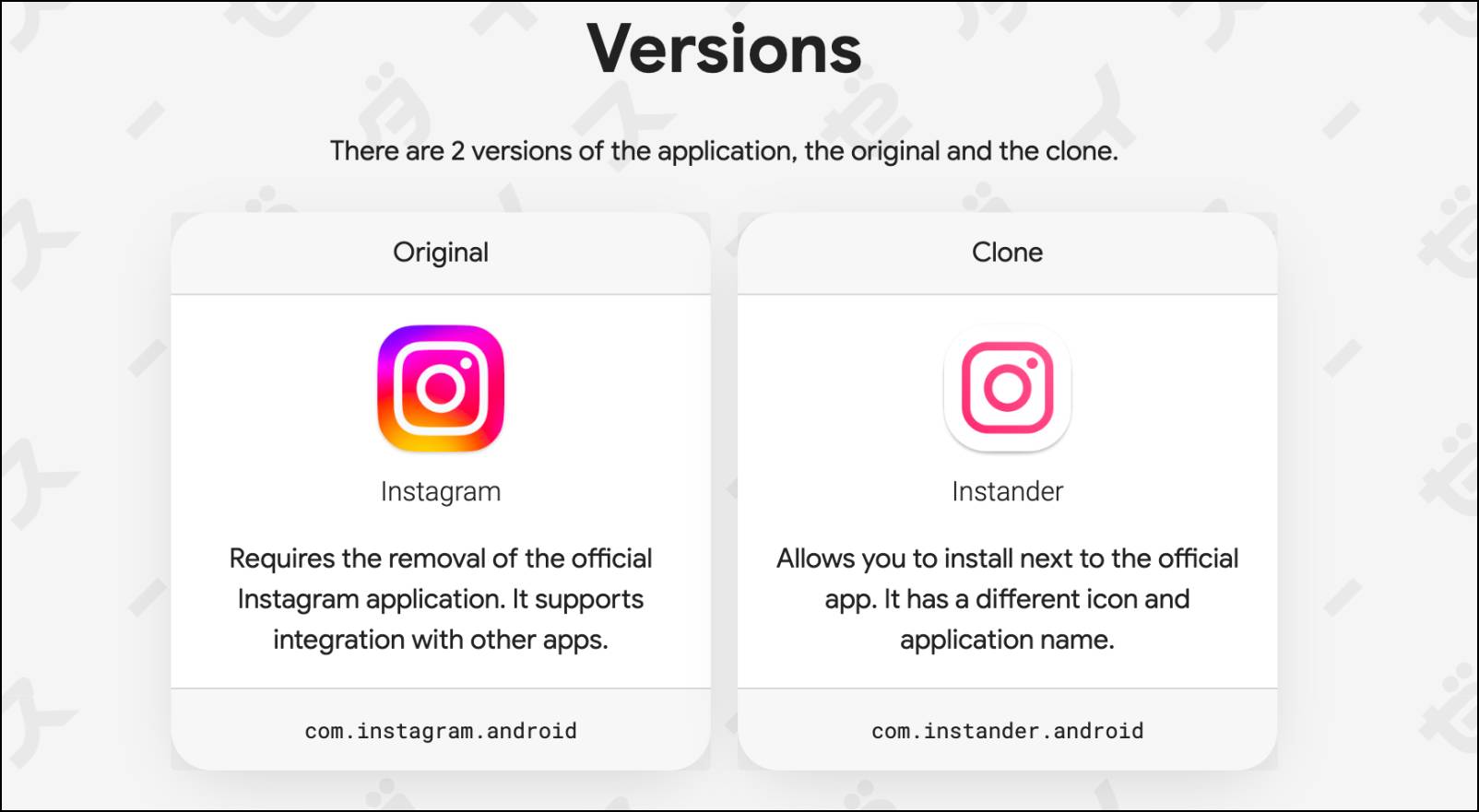 Download | Instander for Android
Disclaimer: Downloading an unofficial or modded version of the Instagram app on your phone puts your data and privacy at risk.
FAQs
Q. Can I Download a Modded Version of Instagram on iPhone?
Yes, but it is not as easy as it is on Android. To do this, you must first jailbreak your iPhone, and then you can download the modified version of the app from a third party.
Q. Is it Possible to View Reels from Private Instagram Profiles?
No. Reels or other videos posted by someone who has set their account to private can only be viewed by their followers. So you must first be added to their followers list to view the content posted by the private profile.
Q. Can Someone Download Reels From A Private Instagram Profile Using Stories?
No. When someone tries to share a reel posted by a private account, it only appears as an image and will be downloaded as an image.
Q. How Can I Download Photos and Videos from Private Instagram Account Without Following Them?
Without following them, there is no official way to view or download private videos or photos from a Private Instagram account. However, you can send a follow request if you are interested in their profile, then ask for their consent to download the post you want to. Alternatively, you can also use a fake account, but we would recommend against it.
Wrapping Up
This summarizes our article on ways to download private Instagram reels and videos. We recommend you use the above-mentioned methods wisely and refrain from using them for notorious purposes. Respect the privacy of others. Stay tuned on GadgetsToUse for more such articles, reviews, and How-Tos.
You might be interested in the following:
You can also follow us for instant tech news at Google News or for tips and tricks, smartphones & gadgets reviews, join GadgetsToUse Telegram Group or for the latest review videos subscribe GadgetsToUse YouTube Channel.