The 7th edition of India Mobile Congress (IMC) 2023, which concluded this Sunday, offered a glimpse into the future of telecom, technology, and IoT. Giants like Jio, MediaTek, and Ericsson dominated the event by showcasing their products and services alongside several new startups. Here are the six amazing tech innovations we loved at IMC.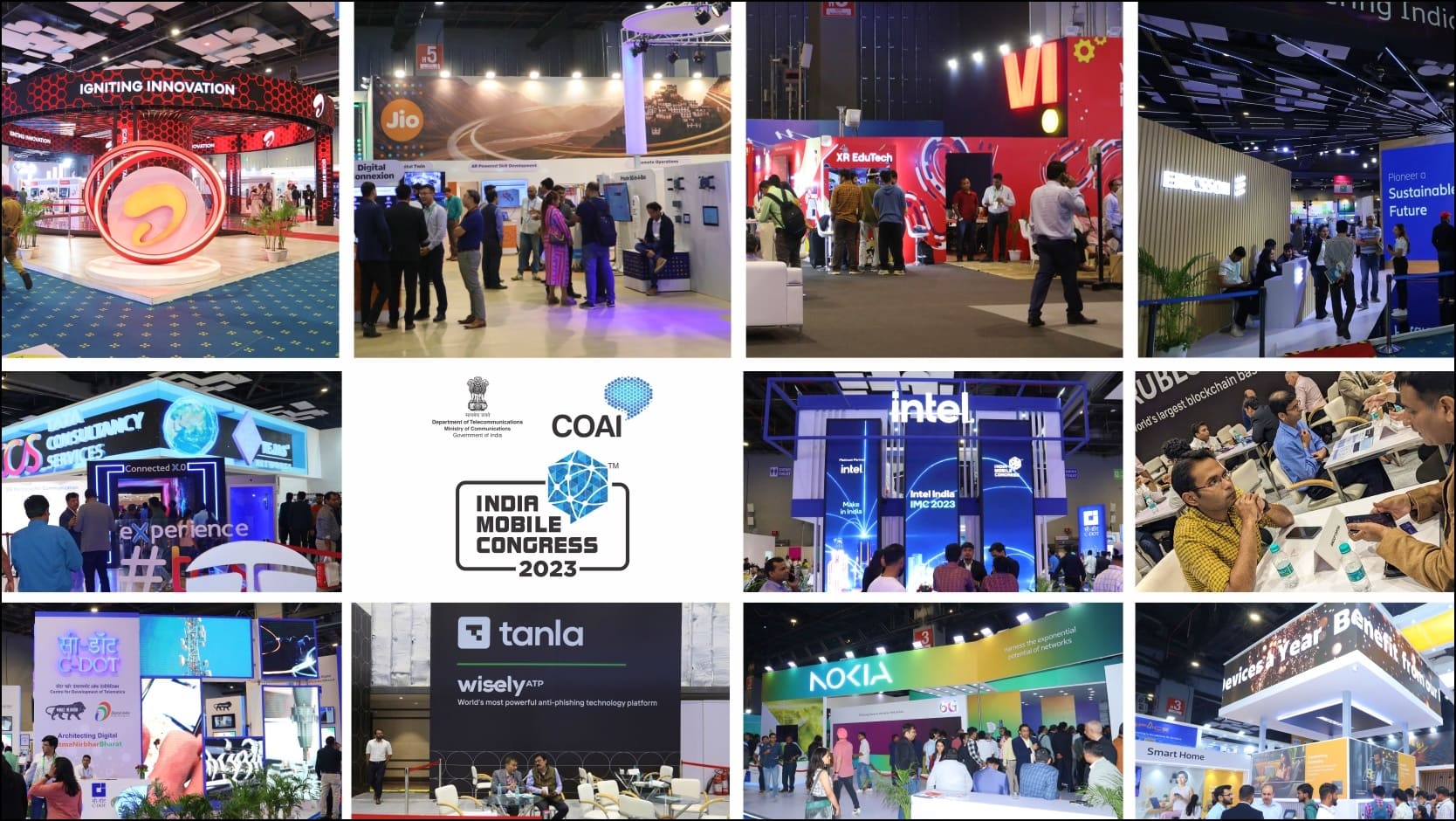 Jio Smart Tray & Plant Watering Equipment
Gradually transforming from a telecom brand into a 360-degree consumer technology company, Jio is now foraying into smart home devices and ecosystems.
During IMC, the company showcased its Jio Smart Tray. It's a smart scale with multiple slots wherein you can place different jars with cereals, pulses, dry fruits, sugar, etc., based on their contents.
The scale connects to your mobile app through WiFi and notifies you automatically when any of the items are running low. You can then re-order these items directly from Jio Mart.
Alongside, Jio displayed an automatic plant watering device that connects to the JioHome app via WiFi. Once set up, it automatically irrigates the plants at your home with a precise amount of water without any human intervention. This means you can go on a vacation without worrying about plants at home.
Jio Space Fiber (Satellite Internet)
Jio Space Fiber was another highlight from the telecom giant. It is a satellite-based internet service, similar to Elon Musk's SpaceX Starlink, and has been developed by Reliance's subsidiary Jio Space Technology Limit (JPL) in partnership with Europe's SES.
Jio Space Fiber aims to provide satellite data and services at Gigabit speeds (1Gbps) across India. As of now, it has been launched in select remote locations of the country, including Gir (Gujarat), Korba (Chattisgarh), Nabrangpur (Odissa), and ONGC in Jorhat (Assam).
The service uses a combination of GEO and MEO satellites to provide internet connectivity. Unlike traditional Jio Fiber, Space Fiber is wireless and requires no fixed-line broadband connection at your home. Instead, it connects directly to the satellite and can work in areas with no fiber lines or cellular connectivity.
Ericsson-Powered Loco Kavach
Starting in June 2023, Indian Railways started using Kavach- an indigenously developed Train Collision Avoidance System (TCAS). Developed during 2012-2022, Kavach is designed to prevent train collisions by automatically applying brakes if they are approaching each other at a dangerous speed.
Kavach uses a network of trackside sensors and onboard train machinery for communication. Ericsson is one of the vendors to develop the software for the Kavach system and showcase it at IMC 2023.
Ericsson-powered Kavach uses radio frequency and LTE for low-latency and high-speed data transmission. It offers trackside communication, real-time collision avoidance, and data logging & analysis to improve the services further.
Ericsson Kavach is not affected by obstacles such as bridges and tunnels or any other line-of-sight disturbances. This makes it reliable for all weather and railway line types. Furthermore, it is cost-effective and easily integrated with existing railway systems.
Jio TV Plus Shopping
At IMC 2023, Jio showcased its Jio TV Plus Shopping, a new e-commerce platform directly integrated with its Jio TV Plus streaming service. It allows you to shop what your favorite celebs wear on-screen by scanning the QR code from your mobile phone.
Alongside live shopping, you also get product recommendations and exclusive discounts. This can be a great play, considering Reliance has its in-house e-commerce platform Ajio and clothing brands, which can be promoted on Jio TV Plus.
Jio will also allow you to switch the movie playback from the JioTV app on your phone to your TV with a quick swipe. These, along with bundled OTT plans, make JioTV Plus an attractive proposition for high-quality streaming.
Volvo Ericcson 5G Road Safety Concept
Volvo and Ericsson developed and showcased a new 5G-based road safety concept at IMC 2023. It is designed to improve road safety and avoid accidents through communication, especially for heavy vehicles like trucks and buses.
It involves vehicle-to-vehicle communication, which allows vehicles to share their position, speed, and heading to avoid collisions with each other, and vehicle-to-infrastructure communication, meaning the car or truck can communicate with traffic lights and road signs to warn drivers of potential hazards.
The main highlight is ADAS (Advanced Driver Assistance System), which uses onboard and outdoor cameras and sensors. These sensors provide real-time data about the vehicle's surroundings, including people in blind spots and corners you cannot see until it's too late.
The system is supposed to reduce the element of surprise when driving on the road and reduce fatal accidents. However, it requires physical cameras and sensors to be installed at those locations, which is a costly affair and requires a lot of regulatory approvals.
Other Showcases at India Mobile Congress 2023
These were some unique and innovative technology products and services we saw at India Mobile Congress 2023. We also saw projectors, phones, and car dashboards running on the MediaTek platform, made-in-India phones showcased by Lava, the Jio Auto App Suite for electric bikes and cars, and Jio AR games and glasses.
Airtel and Vodafone Idea, on the other hand, displayed their existing communication and cybersecurity products, security cameras, and e-learning platforms.
Other technology companies, such as TCS, Intel, HFCL, RailTel, BSNL, KPMG, NetWeb Technologies, Route Mobile, Tata Elxsi, CP Plus, Nokia, BOSCH, AMD, and more, showcased their products, services, and enhancements for consumers and businesses.
You can also follow us for instant tech news at Google News or for tips and tricks, smartphones & gadgets reviews, join GadgetsToUse Telegram Group, or for the latest review videos, subscribe GadgetsToUse YouTube Channel.