Samsung have finally rolled out the much awaited Galaxy Tab 3 series, succeeding the previous generation of their tablets. The two new tablets launched in this series are the Galaxy Tab 3 10.1 inch and the Galaxy Tab 3 8 inch, with the Galaxy Tab 3 7 inch being unveiled earlier this year. In this post we shall be reviewing the Tab 3 10.1 inch based on the specifications and comparison with other devices in the same range.
Samsung proved to be game changers with their initial tablet offerings but fans have been left dejected with the low bump in specs when compared to the previous generation. When speaking of the Indian market, there are a few offerings from domestic manufacturers like Zync which honestly look to carry a better specs sheet along with them when compared to the latest offering from Samsung. Let us go ahead with the quick review.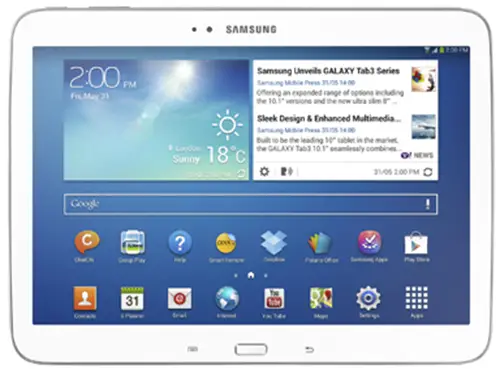 Camera And Internal Storage
The Tab 3 10.1 inch comes with rather low end cameras. To speak in numbers, the tablet carries a 3.15 MP rear shooter and a 1.3 MP front. This, honestly, sounds a like a thing of the past. In an age where tablets show up with 8MP cameras, 3.15 and 1.3 MP cameras don't sound excessively exciting.
We honestly expected something like 8 MP rear, since Samsung have been the one to raise standards every year. This makes us believe that the Tab 3 10.1 is going to be a budget device, which will target a specific section of the audience.
Storage is standard with an option of 16GB and 32GB storage options, and just like the other devices in the Galaxy series this one comes with a microSD slot as well, and can accept cards of up to 64GB in size so storage shouldn't be a problem.
Processor And Battery
Another segment where the Tab 3 10.1 inch could have been better; it comes with only a 1.6 GHz dual core processor. This might be the deal breaker for many, Indian manufacturers are offering dual core 1.5 GHz dual core processors in tablets costing as low as 7,000 INR. We would have liked to see a 1.7 GHz quad core Exynos, this tablet will surely fall short of your processing expectations.
This tablet is not comparable to even the Zync Quad 9.7 which comes with a quad core processor at 14,000 INR. However, the Tab 3 10.1 inch comes with 1.5 GB of RAM which should make the sound of things a little better. Multitasking should be good with quite some RAM left for further multitasking.
Samsung have done well with the battery, including a 6800mAh unit which should give you plenty hours of browsing the net and reading, and a little less with multimedia/graphic intensive stuff.
Display Size And Type
As the model name suggests, the Tab 3 10.1 inch comes with an obvious 10.1 inch screen. Yet again, Samsung chose to not bump up the specs in this department. There is only a 1280x800p display panel which provides for a paltry pixel density, at just 149 PPI. This should particularly be a problem for people who use their tablet for multimedia. It will not be a great tablet for web browsing and reading, since the aspect ratio is in 16:9, and this is widescreen used for multimedia and gaming, so hardly any people are going to use this tablet for reading.
We have seen Chinese tablets offering full HD and even higher resolution panels, so Samsung have clearly gone wrong here.
Key Specs
| | |
| --- | --- |
| Model | Galaxy Tab 3 10.1 Inch |
| Display | 10.1 inch, 1280×800 pixels |
| OS | Android Jelly Bean |
| Processor | 1.6GHz dual core |
| RAM, ROM | 1.5GB, 16/32GB with microSD slot up to 64GB |
| Camera | 3.15MP rear, 1.3MP front |
| Battery | 6800mAh |
| Price | To be announced |
Conclusion
As is pretty obvious, we aren't particularly impressed by the Tab 3 10.1 inch. Given the standards of this year, we expected a lot more than what is offered. So, all in all, we are led to believe that this is indeed going to be a budget device. We will have to wait for the price of this tablet but we expect it to cost around the 15,000 INR mark, so in a way it would be a competitor to Indian manufacturers, but has lesser to offer when it comes to specifications and hardware.