After quick reviewing ZTE Grand X Quad Lite, ZTE Blade E, ZTE Blade L and the ZTE Blade G2, we're back with another ZTE quick review; this time it is the ZTE Blade C. This device is a relatively small one, thanks to the 4 inch screen it sports. The device comes with standard specifications and can be regarded as an entry level Android smartphone.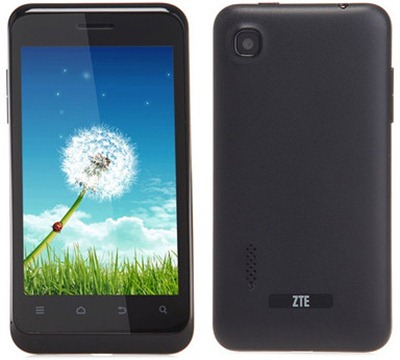 The phone features the MT6577 processor from Mediatek which was launched last year and garnered huge success.
Camera And Internal Storage
The phone features just one camera on the rear. This is a 3.15MP unit, capable of taking pictures at a maximum resolution of 2048×1536 pixels. Don't expect miracles from this shooter, and you'll be satisfied. At almost 8,000 INR you do expect your phone to have a secondary camera (especially when the phone is 3G enabled). ZTE is definitely going to lose on a few buyers due to this shortcoming. Other phones from domestic manufacturers at similar prices are offering not only a secondary camera, but also a better main camera, 8MP or 5MP, for example.
On the storage front, the phone does what you expect it to. Like any typical budget device, the phone comes with 4GB of on board storage. This is a trait we've seen on almost all low-cost phones, and it is something which does not impress us by any means. The phone has a microSD slot, which you can use to expand storage by up to 32GB.
Processor And Battery
The phone comes with the very popular MT6577 from the Mediatek bandwagon. The processor isn't the best dual core in the world, however, it does it's job most of the time. You can expect fluid UI transitions, and even lag-free gaming if you're not into hardcore gaming. However, the device might disappoint if you're looking for a full fledged multimedia device.
As a matter of fact, the MT6577 was one of the highlights of 2012; the processor made dual core phones affordable to all. Paired with 512MB of RAM, the phone will be a handy productivity unit.
The battery might let the phone down; there's a teeny 1600mAh unit which will have a hard time taking you through one day. A 2000mAh unit is fast becoming a thing of the past, with OEMs tending to a 2500mAh average. We would have liked to see a 2000mAh unit at the minimum.
Display And Features
The phone comes with a 4 inch display, with a WVGA resolution of 800×480 pixels. This makes it one among those phones with a slightly below average pixel density. Upon calculating the exact PPI for this 4 incher, we're returned a value of 233, which is in agreement with our rough estimate.
Again, all this makes the phone one among the low-cost dual core average smartphones, nothing exceptional about the device. For a few hundred more, you can avail a much better setup, that with the assurance of wide availability and service of a domestic brand.
Key Specs
| | |
| --- | --- |
| Model | ZTE Blade C |
| Display | 4 inches WVGA |
| Processor | 1GHz dual core |
| RAM, ROM | 512MB RAM, 4GB ROM, expandable up to 32GB |
| OS | Android v4.2 |
| Cameras | 3.15MP rear, no front camera |
| Battery | 1600mAh |
| Price | 7,599 INR |
Comparison
The phone has innumerable competitors from domestic manufacturers. However, at this price point, domestic manufacturers are offering better hardware. And if you're ready to shell out a few hundred more, you can get much better hardware.
Comparable phones include the Karbonn A29, A27+, among others.
Conclusion
The phone might just be another one which comes and goes without making any considerable impact. As we mentioned earlier, there are quite a few better options available in the market as of today. Domestic manufacturers offer a very good value for money, but even those devices are manufactured in China. This means that Chinese manufacturers should be offering even better; however that is not the case, especially with this device from ZTE.
We would have liked to see the device being priced about 1-1,500 INR lesser, making it more value for money. At this price point, we don't think ZTE will be able to catch the attention of many a buyer.