We learnt about the Tab 3 series from Samsung a few weeks back, and earlier today Samsung unveiled another variant from the same series– the Galaxy Tab 3 210 7 inch. As you probably would have guessed by now, the device is the low-cost WiFi-only version of the previously launched Tab 3 7 inch which comes with 3G as well. The device is priced at 12,399 INR and does offer a good value for your money.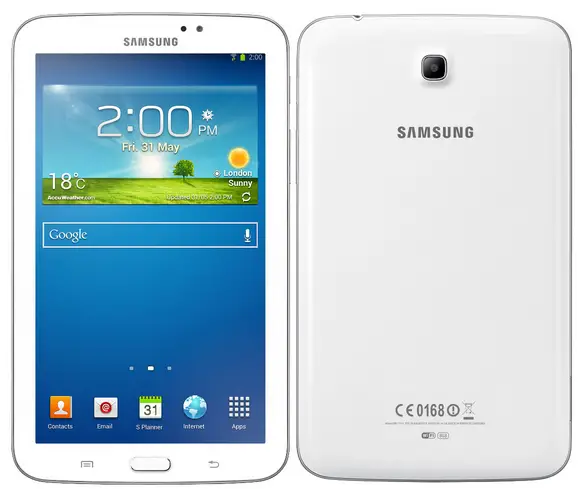 It would be interesting to see if customers prefer Samsung quality over domestic prices. The device does have some decent specifications as well, which makes us believe that going for Samsung over other domestic devices might be a good idea. Let us talk in detail, about the same.
Camera and Internal Storage
The set of cameras on this device consists of a 3MP main unit on the rear and a 1.2MP one at the front. You can expect the 3MP rear to be as good as any other 3MP unit you see on Samsung smartphones – however it might and probably will be much more difficult to take decent shots due to the large size of the device which might make it awkward for you to handle.
The front 1.2MP unit should suffice for video calls. The fact that most users have smartphones with better cameras which they can use for self-portraits will be a benefit. You simply cannot expect great picture quality out of a front unit on a tablet, since it's primary and probably the only use is during video calls.
The device packs 8GB of ROM on-board, which is ok for the price tag it comes with. The tablet will have a slot for expansion which will let you expand internal storage by 32GB using a microSD card, which should suffice for the most multimedia hungry users.
Processor and Battery
The tablet features a dual core processor clocked at a usable frequency of 1.2 GHz. The device most probably will be powerful enough for the average user who uses the device mainly for utility and productivity along with a light gaming. This can include email, IM, utility apps like BookMyShow, etc. and other games like Temple Run. This should also return a decent amount of run time on a single charge.
The Tab 3 210 will come with 1GB of RAM, which again is impressive for the amount. Buyers might say that there are phones offering 1GB of RAM which cost much lesser – but the fact that this is a tablet we're talking about needs to be understood.
The tablet will feature a battery of 4000mAh which sounds a little short of what people would've expected – a 4500mAh unit would've been perfect. We expect the device to give users about 5 hours of screen time, which might, however, vary with usage styles.
Display and Features
The device, as the name suggests, will come with a 7 inch display which can be assumed to be the same panel used in other Samsung Galaxy Tab series devices. It should be noted that the Galaxy Tab series does not feature Samsung's popular Super AMOLED technology, which means the display is not as crisp as what you find on, say, the Galaxy Note series.
The device might find it's use in multimedia as well, and with a 600p resolution (1024x600p), the device returns a so-so pixel density of 170 PPI.
The device will be quite thin, measuring just 9.9mm thick. The tablet will come preinstalled with Android v4.1, which will of course, be present in Samsung's own skin – the popular TouchWiz.
Comparison
Although domestic manufacturers are keen on producing low-cost phones at the moment, there do exist a handful of devices that might threaten Samsung's reign – this can include Simmtronics XPAD Mini, MTV Slate Tablet, Mercury mTAB Star, Simmtronics XPADX-722, iBall Slide 7334i, among other similar tablets.
What Indian buyers prefer would be interesting to note.
Key Specs
| | |
| --- | --- |
| Model | Samsung Galaxy Tab 3 210 7 inch |
| Display | 7 inches, 600p |
| Processor | 1.2 GHz dual core |
| RAM, ROM | 1GB RAM, 8GB ROM expandable up to 32GB |
| OS | Android v4.1.1 |
| Cameras | 3MP rear, 1.2MP front |
| Battery | 4000mAh |
| Price | 12,399 INR |
Conclusion
The device does seem like a good option for those who do not trust domestic quality or are looking for something better. However, the lack of 3G might cause some to think twice before going for it. Nonetheless, we at GagdetsToUse think that the device offers some decent value for money, and considering the customer support that Samsung offer in the country which is miles ahead of what you get from other domestic brands, we definitely give this device a thumbs up.