The concept of smartwatches is here, and it's official. Pranav Mistry, head of the Think Tank team at Samsung, headed the event where the first smartwatch from Samsung – the Samsung Galaxy Gear, along with their Galaxy Note 3, was unveiled to the world. The device promises an entirety of new experiences and functionality while aiming to make life easier for users.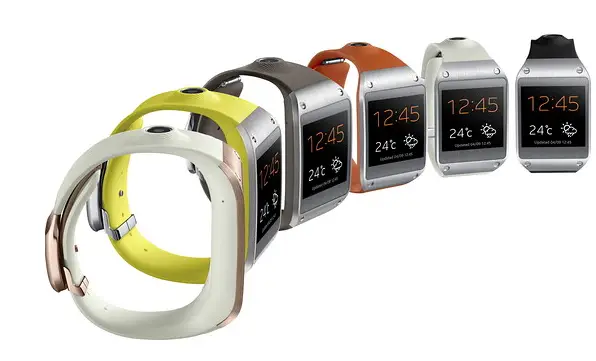 The device will come with a built in camera, a 1.6 inch screen, and other specifications which, if glanced at, otherwise reflect a 2012 smartphone. Let us go ahead with the quick review of this revolutionary device.
Camera and Internal Storage
Although the camera would probably be the reason behind you getting this device, but the Galaxy Gear does do an impressive job at this; the smartwatch comes with a 1.9MP camera that is able to shoot videos in 720p, which does seem more than a handful for a device of this calibre.
Since the device won't really be used to store files as such, Samsung have included only 4GB on board on the Galaxy Gear and it does seem logical to us. Being a smartwatch, there isn't a lot of space to include sensors and sockets, so the Galaxy Gear does without an expansion slot which means that you will be left with the 4GB that's provided on board.
Processor and Battery
Again, judging a device of this sort purely on internals isn't a great idea after knowing what it's really meant for. You would probably not be playing games on this one, so a high end processor isn't really needed.
The Galaxy Gear smartwatch comes with an 800 MHz processor which should be able to propel the device to do what it is meant for.This single core processor will come coupled with 512MB of RAM which again sounds adequate for the task.
The device will come with a 315mAh battery which according to Samsung will give you one full day of backup. Although the capacity does sound a little low, it may be possible that the device holds true to Samsung's words.
Display and Features
This smartwatch comes with a display of 1.63 inches. Being a Galaxy device, the smartwatch will come with a Super AMOLED display which should help not only in making the display more enjoyable, but also enhancing the battery life at the same time.The resolution on this 1.6 inch screen will be 320×320 pixels.
You will, however, be able to use this device only with the latest Note devices that include the Note 3 and the latest Note 10.1. In a few weeks, firmware updates to older devices including the Galaxy S4 will allow the devices to be used with the Galaxy Gear.
Looks and Connectivity
The device looks like how a smartwatch should. We don't have many smartwatches to compare this one with, however. The device has a rather simple look and feel to it, which might be subjective to one's taste.
On the connectivity front, the Galaxy Gear smartwatch comes with Bluetooth and WiFi which will let you stay connected to the internet as well as your peers.
Comparison
This is just the first generation of smartwatches that we are witnessing. There are many, many more to come with time. However, at this moment there aren't many devices that can be compared to the Samsung Galaxy Samsung Galaxy Gear smartwatch.
The handful ones which do qualify as smartwatches include Qualcomm's Toq smartwatch, and Sony's SmartWatch 2 which is quite an obvious name for a smartwatch. Apple is expected to come out with it's own smartwatch in the coming months which will intensify the battle manifold.
Key Specs
| | |
| --- | --- |
| Model | Samsung Galaxy Gear |
| Display | 1.63 inches, 320×320 |
| Processor | 800 MHz |
| RAM, ROM | 512 MB RAM, 4 GB ROM |
| Cameras | 1.9MP |
| OS | Android |
| Battery | 315mAh |
| Price | Rs. 22,900 |
Conclusion
Not much can be said about this new device simply because it is going to be among the first commercial smartwatches to be available commercially. The device is expected to do a better job in the market than the Sony SmartWatch, however. The fact that it'll only work with a handful of Samsung phones will definitely put many off this one. However, Samsung will bank on the popularity of their Galaxy series, while hoping the device does well.
The device is priced at $299 but its price in India as yet not been specified. This smartwatch will be available in India from 25th September onwards and will support many Indian regional languages.