I will not say that HTC One was a great hit in India but yes it gave a good fight to the Samsung Galaxy S4 in India. Now, HTC One Mini (Quick Review)probably the cheaper model of the phone has been launched in various parts of the world and now they are planning to launch this in India. Well the looks are almost the same but the strength of the parameters are reduced (but there is not compromise in the quality). Let us talk little about the major specifications of this device and rest of the details will be available in the Quick Review coming with in some time.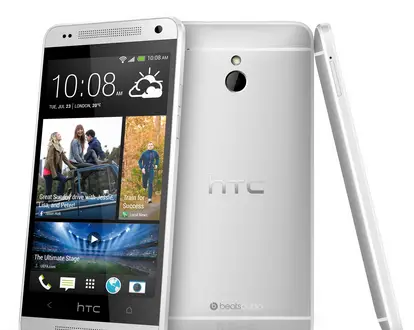 The display size is of 4.3 Inches and that too covered with the Corning Gorilla Glass 3 which will be have the HD resolution of 720p. The power of this phone is supported by a Dual Core Processer Qualcomm Snapdragon which has been clocked at the frequency of 1.4GHz. 1GB RAM adds to this performance and other memory allocation on this phone includes the 16 GB internal storage media. There is not word about the external memory card slot on this device.
The camera specifications include a primary camera of 4.1MP Ultra Pixel (we cannot compare this figure with any MP of any other device because the clarity of 4.1 UltraPixel camera is believed to give the clarity of 12MP camera on paper). The secondary camera is of 1.6 MP which is also capable of doing 720p video recording.
The smartphone operated with Android 4.2.2 and it has the battery backup of 1800 mAh (which is decent for the smartphone of such screen size and display resolution). As of now the price is being expected to fall in between 35k to 37k INR which is really expensive and it will obstruct its sales to a huge amount but that's just the conversion of the price of this device outside the country in India Currency. Stay tuned to know more about it.