Moto G is offering what no other Tier one manufacture is at a price range which appeals to most people in emerging markets like India. The true Android experience with assurance of timely updates along with premium hardware for price around Rs. 15,000 seems too good to be true.
Motorola closed its operations in India and most part of the world last year and that means full wrap up of its support infrastructure and minimal influence over the retail and supply chains in India and most other markets for that matter. But does that makes its prospects bleak in India?
We don't think so. Moto G is greatest value for money device right ( even more than Nexus 5) with its Body Design, build quality and Bright display getting a thumbs up in most initial hands on reviews globally.
The Issue of After Sales Support
Motorola after its Acquisition by Google has all the resources at its disposal. Motorola will most likely depend on third party sellers and distributors for after sales support or it might sign a contract with some well established tier one player and perhaps everything would be fine. In all cases, the fact that will play to the advantage of Moto G is the other domestic players, providing with similar hardware specs don't have much to offer in the Supports area either.
All Domestic players are offering competitive specs, but the fact remains that the after sales support for most still remains messed up if not outright dreadful. The global players will offer you better support but the specs are outdated. You can find customers dissatisfied with the after sales across all brands big or small.
In this trade-off it appears that many people prefer a better smartphone experience and hardware specs. That is what has led to the rise of so many domestic players. This is evident from the example of Micromax which stands tall as number 2 Smartphone Company in India, only after Samsung. Having said that, we expect Google to work around this issue and provide with great support befitting the brand name.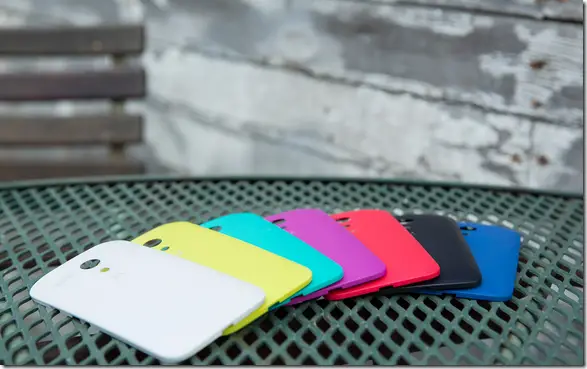 Moto G VS the Competition
Moto G will offer you with above average built quality and superior body design in its class, which will make it stand apart and above the Chinese knock-offs. The curved dimpled back panel with rubberized matte finish  and customization option will be a refreshing change.
The 4.5 Inch HD display bright and sharp display with 326 pixels per inches and a 1.2 GHz Qualcomm Quad core (having Cortex A7 based cores and not expected Krait cores) alternative to MT6589 gives us a lot to look forward too. The promised above average battery backup from its 2070 mAh battery and resource efficient Android 4.4 KitKat which Google claims can run smoothly even on 512 MB RAM makes Moto G a winner on paper.
The 5 MP camera and limited storage might be a limiting factor for many. You can also read our Moto G Quick Review for full insight on the hardware specifications and features. For those who are not Android lovers, phones in the Nokia Lumia Series will provide with a good option with comparable build quality and Battery assurance from Nokia. This includes phones like Nokia Lumia 520, Nokia Lumia 625 and Nokia Lumia 720.
The true picture and crucial pricing will be unveiled a couple of months from now, which is like a year in Tech-world. We expect the 8 GB and 16 GB variants to be priced on both sides of 15 K mark and we can expect this to be a game changer.