iPhone Rumor mill seldom takes a break. Rumors of the next iPhone have already started pouring in from every corner. The latest word is that Just like last year, when company presented two iPhones, iPhone 5s and iPhone 5c, this year too Apple is expected to launch 2 phones with different display sizes.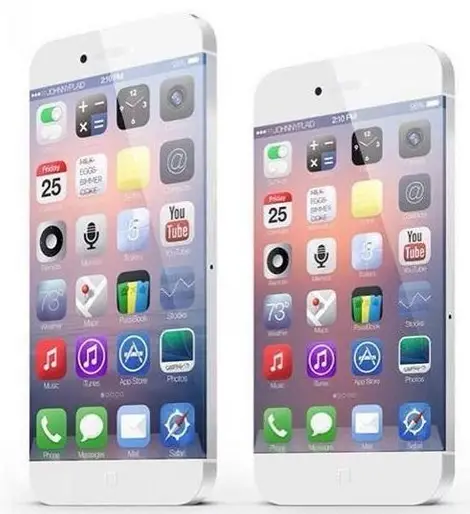 One will have a 4.7 inch display, which is where many Android users draw the line and other will be larger than 5 inch, with most rumors pointing to a 5.7 inch display. Apparently Apple's experiment with polycarbonate design failed to take off as both of the new iPhones will flaunt metal casings and include higher speed 802.11 ac Wi-Fi connectivity.
Reports claim that Apple will release the first iPhone with a 4.7 inch display at Apple's developer conference in June 2014 and the next 5.7 inch variant will follow close. The high-end phone is expected to feature a Low Temperature Poly Silicon (LTPS) IPS LCD Display which is more responsive, integrated and power efficient than conventional silicon displays.
Apple will also soon roll out an update for iOS 7, which will solve the screen crash problem in its latest operating system. Up till now the Apple phones have been designed keeping one handed usage in mind and a 5.7 inch variant will imply a major restructuring in company policy. We expect many more rumors and images will start popping up on the internet in coming weeks and we will update you if we come across anything substantial.
Not everyone likes a large display phone. If someone desires a small phone with high end specs, only option available is an iPhone. Android is also expected to catch up with the availability of phones like Sony Xperia Z1 compact in near future. It however remains an unquestionable fact that large display devices have gained mass popularity and it's about time that Apple goes bigger.