Nokia running on Android has been a dream for Nokia and Android loyalist and this is the reason why the phone managed to garner enough hype, even though it uses forked version of Android, which is heavily customized android, with support for various Android applications and Microsoft services.
Nokia X aka Nokia Normandy or RM-980 was first leaked in images published by @evleaks in November, but back then, it only appeared as a Lumia device. It was later confirmed by The Verge, that the candy shell design belonged to Nokia Normandy, Nokia's Android smartphone.
The specs that surfaced later on have revealed that the smartphone is meant for budget android segment and with entry level specs and is expected to be present between Nokia Asha and Lumia series lineup.
Nokia X RM-980 News, Leaks and Rumors
26th November 2013 – @Evleaks unveils the images of a Nokia device expressing uncertainty if it is an Asha device or a Lumia Device.
10th December 2013 – The Verge confirms this phone to be Android powered Nokia Lumia Phone based codenamed Normandy
8th January 2014 – Nokia Normandy's UI gets leaked by @EVleaks . The UI is mix of Lumia and Asha series devices. Nokia Normandy leeks started appearing more substantial after this leak. A leaked benchmark image also suggests Android 4.4 KitKat operating system.
13th January 2014 – Leaked engineering prototype of Nokia Normandy appears on Twitter.
15th January 2014 – Nokia Normandy Image leaks again on twitter
16th January 2014 – More images of Nokia Normandy UI surface online, thanks to @EVleaks. The UI in these fresh images reveal Normandy's resemblance to Windows Phone UI.
24th January 2014 – Nokia Normandy is rechristened as Nokia X, its official name according to trusted tipster @Evleaks
26th January 2014 – Nokia X was spotted on Antutu by GadgetsToUse with Benchmark scores of 7410. It is revealed for the first time that the phone will be a dual SIM device.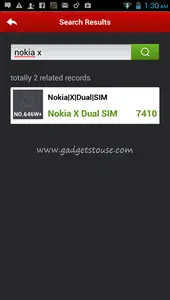 27th January 2014 – Nokia X is listed on a Vietnamese retail website, but the specs listed are not convincing.
28th January 2014 – Hardware specs of Nokia X are unveiled by @Evleaks which confirm that the phone comes with 2 x 1GHz Snapdragon, 4″ WVGA, 512MB / 4GB / microSD, 5MP, 1500MAh, Nokia Store + 3rd party, dual-SIM and 6 color variants.
7th February 2014 – The Nokia X spotted in CamSpeed Test database, which reports the primary camera to have a 3 MP sensor contrary to claims of trusted tipster @Evleaks
10th February 2014 – Wall Street Journal Confirms that Nokia will unveil its Nokia Normandy aka Nokia X at Mobile world Congress later this month on 24th February.
13th February 2014 – Nokia X gets listed on a Vietnamese store, this time with a price tag of $110 dollars.
The Nokia X is expected to launch on 24th February at MWC 2014 in Barcelona, Spain. According to our sources Extensive testing is going on at Nokia India for Nokia X and Nokia Lumia 635. Nokia is expected to hit the shelves in India sometime later in March with a price tag between Rs. 8,000 to Rs. 10,000 INR
Rumored Specifications
| | |
| --- | --- |
| Model | Nokia X |
| Display | 4  inch, WVGA |
| Processor | 1 GHz Dual Core Snapdragon |
| RAM | 512 MB |
| Internal Storage | 4 GB, Expandable |
| OS | Android 4.2 |
| Cameras | 5 MP |
| Battery | 1500 |
| Price | To be Announced |