Apple did catch everyone off guard when it announced its iPhone 5s with 64 bit ARMv8 (28 nm process) architecture and everyone knew that others will follow. Qualcomm today announced two more 64 Bit SoC, Snapdragon 810 and 808, which will move from 28 nm process technology to 20 nm Process technology, which means more power efficiency, which in turn means freedom for some more frequency scaling.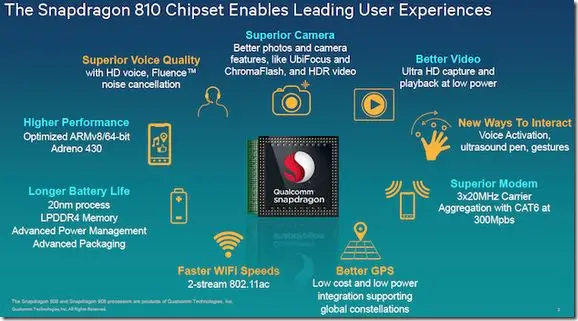 These chipsets will sport big.LITTLE architecture. Snapdragon 810 will feature 4 Cortex A53s and 4 Cortex A57s based cores, on the other hand Snapdragon 808 features four Cortex A53s and two Cortex A57s (Evolved Cortex A15).
The Snapdragon 810 houses Adreno 430 GPU (30 Percent faster than Adreno 420) and Snapdragon 808 will ship with Adreno 415 CPU. The Adreno 430 GPU will be 80 percent faster than Snapdragon 800's Adreno 330 GPU and that paves way for upcoming ultra high resolution displays.
Snapdragon 808 can support up to 2K QHD display and snapdragon 810 can support up to 4K display resolution.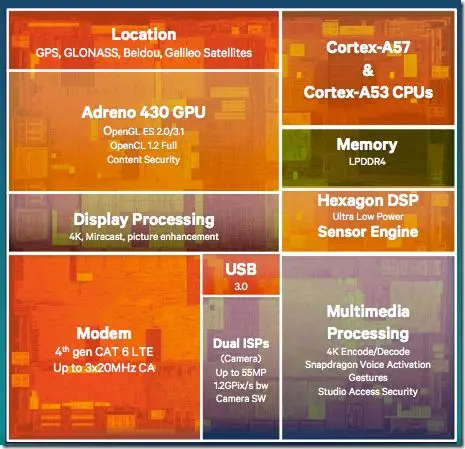 Both chipsets support LTE Category 6/7 modem. The memory interface in Snapdragon 810 is LPDDR4-1600 which is very impressive and superior compared to LPDDR3 933 used in Snapdragon 808. Only Snapdragon 810 has hardware HEVC encoder. HEVC codec is used can encode most efficient MPEG4 (one on BluRay) format and compress it to half the size which makes it very popular.
Overall, these new Snapdragon will show vast performance difference as compared to present Snapdragon 800 and 801 processors, something which can't be said for sure for other 64 bit chipsets like Snapdragon 610 and 615 which are yet to hit market. We can expect Snapdragon 810 and 808 to show up in devices in first half of 2015.