In view of ongoing Smartphone and Data revolution in India, more and more routine tasks are getting integrated within Mobile ecosystem and ofcouse, this requires digital transfer of money. If you feel insecure about sharing your credit card and other sensitive details online, you can transfer some cash to RBI approved semi closed Oxigen Wallet and withdraw from it for all other monetary transactions.
Using Oxigen Wallet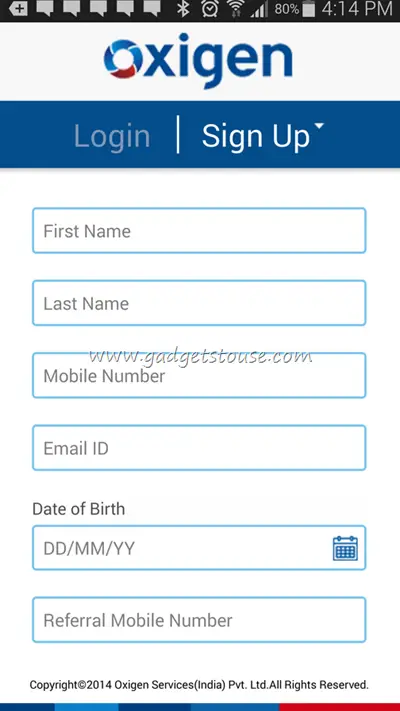 You can sign up with Oxigen wallet using your mobile number. Only one wallet can be made for one number. The wallet has maximum limit of Rs. 10,000 INR and incase you want to keep more cash in this wallet, you can submit know your customer documents to increase the limit to 50,000 INR. You can also recharge your wallet via Oxigen and partner outlets (like Mobile store, Chroma, etc). Here are a few important features of Oxigen wallet
Transfer Money to Bank Account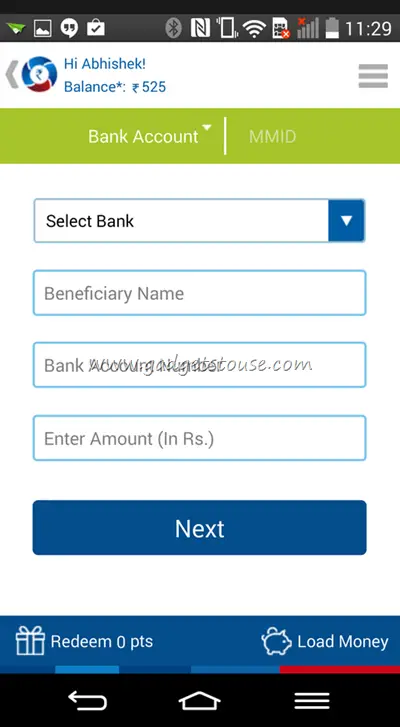 Transferring money to banks is a rare feature among Wallet apps. Using Oxygen Wallet you can transfer money to your friends bank account simply using your smartphone. This feature can be extremely useful if your bank does not support online banking. You won't have to go out of your way and face any queues to transfer money.
Send Money to other Mobile Phones
You can transfer money from your Oxigen wallet to any other phone number. This way you can handle multiple accounts by using just one credit or debit card. If you transfer the money to a number not registered with Oxigen wallet, the same number will receive an SMS alert to Sign-up for a new account. In case he fails to register in next 7 days, the money will be transferred back to your wallet account.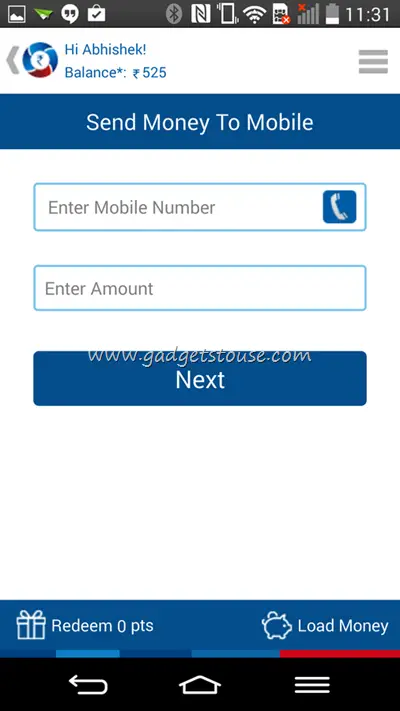 Recharges
Using the Oxi Cash in your wallet, you can recharge pre paid SIM cards, DTH accounts and Data cards. The option for Toll cards is also available in the application interface, but it is not active as of now. Oxigen will activate this feature soon. Unlike other mobile recharge apps, Oxigen wallet won't display the list of recharge plans offered by your telecom operator, which is disappointing.
Bonus Tip: If you have migrated your cellular operator, you will have to select the new operator manually to recharge your number.
Paying Bills
You can pay Mobile, Landline, Data card and electricity bills using Oxigen wallet. The operators listed under electricity bill are however restricted only to Delhi. The DTH operators are also limited to Reliance and Tata Docomo.
Transaction History
Oxigen wallet will keep track record of your transaction history and maintain full records. You can also choose to see transaction history between two particular dates to easily keep track of your investment for better control over your money.
Bonus Tip: You will get some points for each transaction and you can redeem 100 points for a discount of 1 rupee, which is not much, but is definitely a bonus advantage for long time users.
Conclusion
Oxigen Wallet is currently available only for Android phones. The best feature is that it allows you to transfer money to almost all major banks through out India. The wallet will however be more effective when number of partners increase, which is expected to happen over a period of time. The interface of the app is quite simple and easy to use, but there is no option for signing out, so others can  make transaction if you let them play with your device. Overall, we liked Oxygen wallet for all those added features and simplicity of operation.
Money Transfer Oxigen Wallet App Review, Features and Overview HD [Video]