With constant installing and uninstalling apps, modifying themes and tweaking systems, smartphones collect a big number of redundant files over time. If you don't know how and where to look for such memory exploiting files you will never be able to keep your phone clean. This is where memory cleaners come at your respite and help you keep your device neat and clean. In addition to that they keep the Android OS smooth Though there has been a long going debate as to whether these cleaners actually aid the speed of your phone or add to your miseries.
Cleaners help you wipe off those unwanted files and during the process you manage to save a lot of space. Let's take a look at these file and app killers which can boost up your phones speed.
App Cache cleaner is a quick tool to clean your cached files. This is a free app which will give you access to more ROM space. App Cache cleaner is for anyone who has memory issues with the phone.
The app has a host of good features embedded in it like – auto clear with one tap, auto clear at specified interval and auto exit after cleaning all cached files. The app has close to 10,000,000 downloads and 4.5 user rating with over 79,000 giving it a 5 star status.
Clean Master is the no.1 cache cleaner for Android users. The app has over 200,000,000 downloads with an average rating of 4.7. It now also comes with an antivirus built in it. Clean Master is an A class cache cleaner which not only improves device performance, removes junk files but also protects against Trojans, viruses and malware.
Clean Master comes with a new feature, you get a game boost option which clears up RAM when you are hooked onto your favourite games. Clean Master scores high on its User Interface which is clean, neat and provides many one touch features. On top of that Clean Master comes with support for 30 different languages.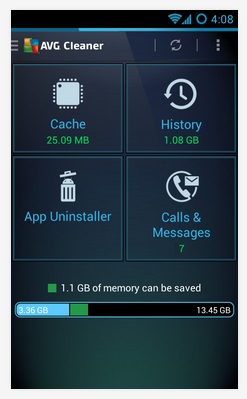 AVG is known for its antivirus that it offers across all platforms. Its cleaner app is also a hit with an average rating of 4.1. The app comes with a as a great new feature -App Uninstaller – giving you the tools to easily and quickly identify and choose which apps to remove by when you last used them, the amount of data and battery they use, and by their size.
Monitoring memory usage can also help you identify and stop unnecessary RAM cache processes. Stopping or removing such processes can assist in improving your device's performance and act as a performance and speed booster.
Cache cleaner easy is a product from Bazinga! Which cleans RAM and cache of your phone so that you don't run out of space. The app has the smallest size when compared with other similar apps. If your phone houses a small memory card, then the cache cleaner easy is always a good bet.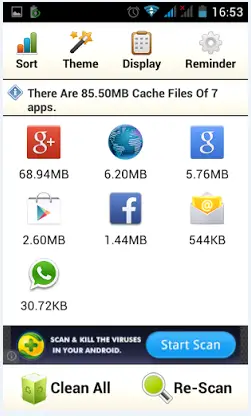 The app has grossed a total of 4.5 as average rating with majority rating it in the 4-5 star bracket. The app is perfect for basic cache cleaning and does not offer additional features like its counterparts.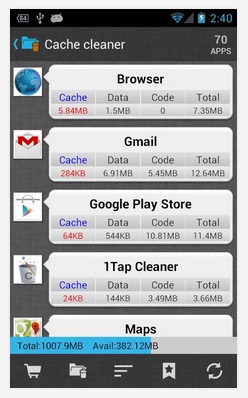 1 Tap cleaner incorporates 4 cleaners, cache cleaner, history cleaner, log cleaner and the defaults cleaner. So you have at disposal 4 different cleaners and you can activate any one of them by a single touch.
The app has 22 languages support which makes it widely recognized across the globe. Though downloads do not match that of the cleaner master but it still has over 4,000,000 downloads. The app also has an average rating of 4.3 which supports the productivity of the cleaner.
Other ways to stop UI Lag and Slow Transitions
Android users have an option to download a third party Android launcher so as to kill the lag they experience while using their phone. Several OEM add a custom UI over the stock Android OS, and sometimes that custom UI does no gel well with the hardware and you get a choppy ride on the OS. Thus these 3rd party launchers help you overcome the lag and give a brushed use experience. Some examples of such launchers are- Apex Launcher, Nova launcher and Inspire Launcher. You can take a look at some of the best Android launchers out there and try them for your self.

We recommend you to consider task managers and cache cleaners as your last resort and not the first. Your lag is more often than not because of a rogue app. If you can't identify and isolate it, you might as well accede to a task killer. Excessive use might cause several apps to misbehave or act weird.