There are plenty of wall paper apps on Playstore, but Muzei Live wallpaper is different. The App surprises you with a new wallpaper every day (or every few hours if you are impatient) according to your taste and thus leaves your home screen refreshed. You don't have to go through botheration and anxiety of glancing through several brilliant wallpapers out there and choosing just one. Let's take a look at top features of Muzei.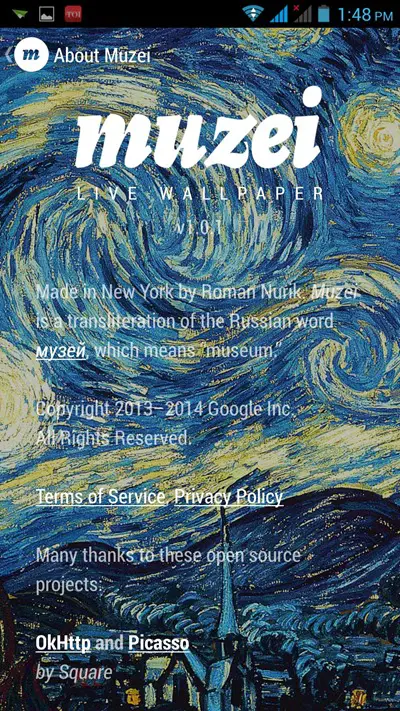 Dim and Blur Visual Effect
Muzei allows you to dim or blur your wallpaper so that it doesn't interfere with apps , widgets and other stuff that you like to place out there. The subtle effect appears very classy and in case you want to have a good look at your new wallpaper, just double tap your home-screen.
However this has a drawback. Those of you who like to navigate using gestures, will have to let go of much needed double tap gesture if you want this to work.
A Very Light App
Most live wallpaper apps are heavy on your hardware resources and untrustworthy. Muzei however breaks this stigma, as its ultra light and works efficiently even on dual core 512 MB RAM chipsets that we have tested with it. It won't be harsh on your battery. One thing to note here, is that Muzei will not show animated wallpapers as is expected from Live wallpaper apps, it will only show static images and rotate them after user defined time interval.
Muzei Plugins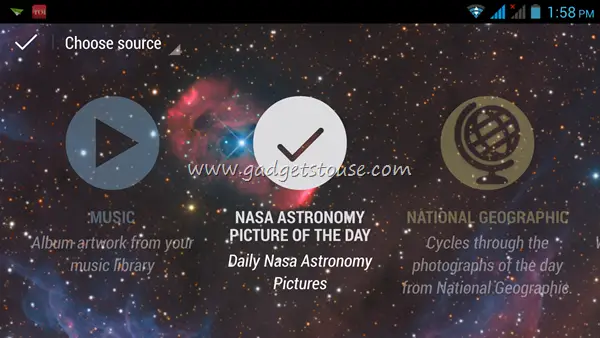 When you install and start using Muzei, you get to choose your wallpapers from 2 sources, A new art every day or your camera images. Now major wallpaper apps have a Muzei extension and you can download several such sources like National Geographic, APOD, 500PX, Flicker for Muzei, etc. You can also view your instagram images as Muzei Wallpapers using MuzeiGram.
MultiMuze
With so many great sources available for Muzei, you will be spoilt for choice. MultiMuze plugin allows you to select more than one source at once. You can also select time interval for rotation which can range from every minute to every day.
Open Source
Since the platform is open source, there won't be any shortage of such creative plug-ins or Muzei sources. We have listed a few and there are several more that you can try. Muzei is the second app from Google Engineer Roman Nurik of Dash Clock fame and his museum for Android home screen too owes its freshness and popularity to being open source.
Some Other Live Wallpaper Apps
Google Playstore is full of Live wallpaper apps and in case you are looking for options, you can try apps like Wave , Space Colony, Mountain Now, custom Beam, etc. Most of the good ones, which are light on your battery, will be paid apps.
Conclusion
The App is one of the best Live wallpaper app that we have come across in a long time. The App and all associated sources and plug-ins are free. You can use it without other sources, but your experience will increase many folds once you start using them. Overall, this must have refreshing app will allow best images sources to share their work on your Android for free.