The FIFA World Cup 2014 is almost here and the tournament will commence with a match between Brazil and Croatia. This will be followed by dozens of matches for four weeks and keeping a track of each match is a tedious task. Fortunately, there are a slew of applications that can help the football enthusiasts to stay updated of the status of each player, team and match all through the tournament. Check out the applications that we have handpicked to check the scores, match updates, schedules and highlights of FIFA World Cup 2014.
FIFA
FIFA's official mobile app is the best companion to rely upon for the Brazil 2014 World Cup. It features a new section that lists all the latest World Cup news and the users can find details of the coaches and players of all the 32 teams. Also, the app lists the complete schedule of 64 matches that will take place throughout the tournament. FIFA has claimed that an update for the same is about to be rolled out and that it will introduce 'minute-by-minute' action updates for all the matches and also fix the bugs that are causing frequent crashes and failed requests.
World Cup Brazil 2014
With the World Cup Brazil 2014 app, users can get to know all about the FIFA World Cup including live scores, details about country, team and games, real time updates and a chronicle of all the matches played. It includes a countdown for the fans to catch up with how long it takes to start the ball rolling in the Arena of Sao Paulo and it is soon to come with a new feature that will provide information on previous matches along with the historical statistics of clashes between two selected teams.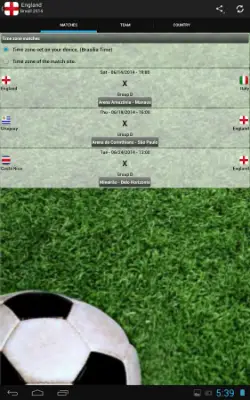 Jalvasco World Cup 2014
The Jalvasco World Cup 2014 app is similar to the official FIFA app. It integrates photos, videos, news and other information regarding the World Cup. There is a section on the history of the tournament that provides tons of data. It has a simple interface and users can access the content quickly as they are organized by means of tabs. Users can customize the required data by choosing teams, matches and players and also get to know previous results of finals.
FotMob – World Cup 2014 Brazil
FotMob has an impressive interface and the landing page takes the users to the point with three tabs listing yesterday's, today's, and tomorrow's matches. Users can tap the alarm button at the top to pick the matches for which they want to receive notifications. Every match in FotMob has some facts, betting odds and a live ticker with commentaries written by football experts. These are highly detailed and could be the next best thing for those who are unable to watch the matches live. FotMob also includes news, Brazil city guides, results from the qualification stages, team and tournament stats and squad details.
Google  Now
Google's voice assistant app – Google Now is one of the main applications that is designed to provide updates such as scores, hihglights and schedule to the football enthusiasts. Users of this serivce can contanslty track the details about their favorite sports team by means of automated cards that will highlight the scores and information about upcoming matches. All the user has to do is ask Google Now, "When is (next match)".
Sofascore World Cup Livescore
This special edition of SofaScore LiveScore – Brazil 2014 World Cup delivers live score results, groups, match schedules, top scorers for every match, videos, goal highlights, and tables. This is a live score sports app with an efficient widget. With this mobile app users can follow sport results and scores for all major leagues, tournaments and events. Also, users can create a list of their favorite teams and games and receive notifications and video highlights of those.
BBC Sport
The BBC Sport app has received an update lately to include a dedicated section for the 2014 FIFA World Cup. The users of this app can set match alerts for their teams including line-ups, kick-off, goals and half-time scores and results. The app will provide complete live coverage for all the matches and will offer highlights for every match. There will also be a special programme that is designed for mobile platforms dubbed World Cup Breakfast and this will be available every morning for download to enable offline viewing.
FIFA 2014 Live scores
Like the other applications, the FIFA 2014 Live Scores app will provide all the information such as live scores, match schedules and standings of every match that is scheduled to happen this World Cup season. The app also displays point tables and keeps the users updated with the latest news via FIFA RSS feed.
Forza Football
The Forza Football is a live score app that provides updates, scores and statistics of the football matches. It also offers football enthusiasts a platform to share their opinions and ideas. Users can track the details of particular teams, players, or matches and prioritize these updates according to their personal interest. For the World Cup, there is an interesting 'Live Bracket' feature that will display updated infographic to show the potential outcomes throughout the stages in real time. This update on the score will update the infographic offering a glimpse of how the next stage of the competition will look like.
Brazil Cup 2014
The Brazil Cup 2014 mobile application will keep the users informed about the FIFA Football World Cup 2014. It also provides an insight into the history of the World Cup and offers a detailed overview of the participating football teams and players. All the user has to do is select their favorite matches and be notified about when the matched will debut. With this app, users can also receive live results, current standings and team-statistics. The app also contains a countdown and provides details such as schedules and information about the stadiums and their locations.
Other Similar Apps
Besides the applications that we have mentioned above, there are many others on the Google Play Store including ESPN FC Soccer & Word Cup, Onefootball Brasil, Live Football Scores and World Cup 2014 Schedule
Conclusion
If you are a football enthusiast who wants to keep a track of all the updates regarding matches, teams, players and live scores, any of these applications will be of great help. Apart from these, there are applications for real time football games, wallpapers, live wallpapers and more.