Are you not satisfied with the default keyboard incorporated on your smartphone? There are a plethora of applications on the app stores and many of them are third party keyboard apps. One of the best and most popular such application is the SwiftKey app. This app is a popular replacement of the default keyboard and it allows users to type faster than ever before.
Earlier this week this paid application transformed into a free one with in-app purchase on Android. Well, the SwiftKey v5.0 gets rid of the one-time download charge to buy the app and instead it will generate the revenue by means of paid themes via in-app purchase. Also, the app has been launched on iOS for free, but it is compatible only to iDevices running on iOS 8. Before you head on to download this app on your device, here we list the best features of SwiftKey.
Emoji Prediction
SwiftKey uses a trademark prediction technology that is capable of suggesting suitable emoji from over 800 emoji. This is done proactively with specific words and phrases. This is pretty impressive as the new prediction feature learns what emoji is to be used in the message and does it automatically as the user types. To enable or disable this feature, navigate to Settings -> Advanced and check or uncheck 'Emoji Prediction' option.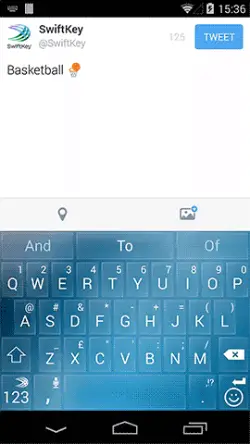 However, the catch is that the Emoji support is supported only on those devices running on Android 4.1 Jelly Bean and above. Considering that most of the entry-level smartphones run on Jelly Bean platform or KitKat, there should be no issue in this regard.
Default Theme
The latest update of SwiftKey includes SwiftKey Store that comprises of over 30 brand new themes that can be purchased via in-app purchase. It has been assured that the SwiftKey Store will be updated regularly with customizable content. Moreover, in addition to the new themes available in the Store, the keyboard also features a new and clean default theme 'Nickel' that will be available to all the users downloading the app. Nickel has been designed with importance to modernization and ergonomic enhancement to the popular SwiftKey Cobalt theme.
Number Keys
Usually, typing in smartphones and tablets could be a little tough for those who tend to use numbers a lot. Always, the user will have to choose the number keypad and then key in the numbers. Owing to huge demand from the users, SwiftKey 5.0 comes with an optional number keypad row for the users to access the number keys quickly without switching between the layouts.
Enhanced Prediction Engine
SwiftKey v5.0 incorporates an enhanced prediction engine that is efficient that ever before. This core technology of the app includes a slew of prediction enhancements such as support for complex languages, multilingual typing and improved capitalization. It is as smart as suggesting words by reading the user's mind and typing the words.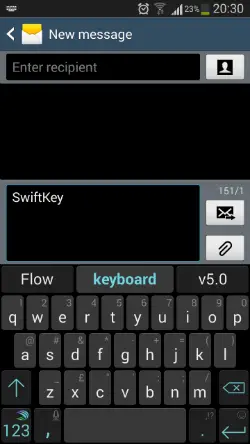 Improved Flow Traits
Users can choose between traditional keyboard typing, voice inputs or gesture based method called SwiftKey Flow. The SwiftKey v5.0 includes new and enhanced flow traits for an improved gesture based feature. This helps in better visibility and it is faster and more accurate in inputting text.
SwiftKey Flow gesture input allows users to type by sliding the finger across the keys. This way, users can input words and phrases without lifting the finger.
SwiftKey Cloud
With the SwiftKey Cloud, users can sync their personal typing profile to the cloud and make it feasible to benefit from a consistent typing experience across all the devices. This eradicates the necessity to train the keyboards on different devices. The SwiftKey Cloud feature functions in the background seamlessly, provided users enable it from the Settings menu before starting to type.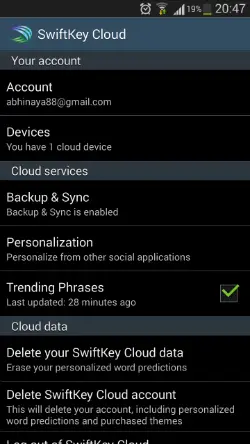 Other Keyboard Apps
The Google Play Store has a plethora of keyboard applications and some of them that will compete directly with SwiftKey are Google Keyboard, Swype, GO Keyboard, LG Ketyboard and others.
Recommended: Top 5 Fast Keyboard Apps
Conclusion
SwiftKey is one of the best keyboard applications available for smartphones and tablets, but as we have mentioned above this is not the only one. However, the application has advanced features such as Emoji prediction, additional number row, cloud syncing and many others. On the whole, you have to use it to appreciate it and now you can download it for free! so go ahead and try it out.