The highly anticipated FIFA World Cup 2014 has already debuted and its time for the football enthusiasts across the world to celebrate the same. Of course, soccer fans can stay updated with the live scores and highlights with the help of FIFA oriented applications. Also, to always keep up the spirit and to celebrate the tournament, there are many football inspired Android themes and here we have listed a few of them for you to download and use on your device.
Brazil World Cup LWP Wallpaper
The Brazil World Cup LWP Wallpaper is a free Android live wallpaper app designed for a fan. It has four stunning parallax 3D and reversible ball animations that deliver an enhanced world cup experience. There are over 30 different dynamic backgrounds that are will get along your world cup 2014 spirit. Also, the app includes four stadium shots of which 2 portrait shots are for both smartphones and tablets and 2 others are exclusive for tablets. Moreover, the Brazil Android live wallpaper can be customized based on your preferences.
FIFA World Cup Theme
The FIFA World Cup Theme is a great World Cup theme that is similar to a launcher. It has different themes such as Home, Open Home, FreshFace and PandaHome respectively. All you need to do if first install a home replacement app initially before downloading this application.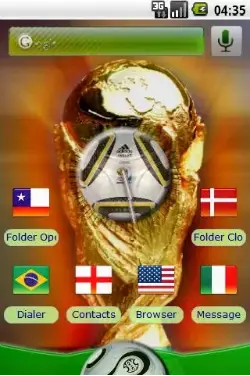 adidas 2014 FIFA World Cup LWP
The adidas 2014 FIFA World Cup LWP is a live wallpaper and clock widget app. Each time you unlock the device, this app that is set to the home screen will display a short animation that will deliver a great user experience. It also displays the official FIFA World Cup logo and the national flags of each country that takes part in this year's World Cup. It also features classic adidas footballs and you can choose five of them and the renowned FIFA World Cup to display on the home screen.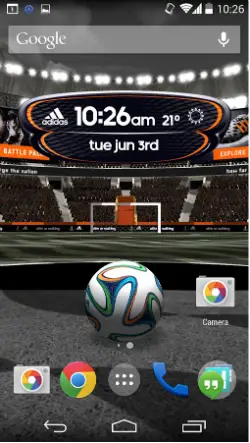 Xperia FIFA
The Xperia FIFA theme app is an all new service that will make your Sony Xperia device highly personal. With the help of this app, you can download elegant and superior quality themes that are exclusively developed for Xperia devices. This app lets you to change between numerous graphical assets that are easy to use. It also includes a launcher, lock screen wallpapers, Xperia Home, system colors, platform components and system UI.
2014 World Cup Live Wallpaper
The 2014 World Cup Live Wallpaper app allows you to enjoy the football tournament with wonderful the live wallpaper. You can choose between the national flags of the 32 countries that are participating in the matches for your device. All the flags are designed to be in HD quality and they are magnificent to experience. This simple to use app will enhance your overall user experience.
Other Similar Apps
Some of the other FIFA World Cup themed applications include Brazil Football Live Wallpaper, Brazil 2014 Live Wallpaper, World Cup 2014 Brazil LWP and Live Wallpaper World Cup 2014.
Conclusion
If you are a football enthusiast who likes not to let down the celebration spirit, you can download these applications that are listed out and try using them on your Android device. They will certainly help you enjoy the tournament with graphic rich themes and wallpapers that will be placed right on your home screen. Every time you access your phone, you will be pleased with the vibrant football themes and graphics. Of course, the Play Store has many other applications for the same purpose besides the ones that we have listed out.