The notification sounds on smartphones and tablets are very useful as they intimate about the incoming calls, messages, emails and other updates. Likewise, there are camera shutter sounds that also beep when an image is captured. Though these sounds are pretty useful in most cases, there are situations when you would like to mute these sounds. While certain manufacturers such as HTC and Sony provide a way to mute the camera shutter sound on their devices, the others do not incorporate such options. But, there are applications to use if you want to mute the camera shutter sound, if you like to sneak up something secretly. Well, here we come up with some of the spy camera apps that can be used on Android devices.
Mobile Hidden Camera
The Mobile Hidden Camera is the only SpyCam app that is compatible with all the version of Android platform starting from v1.1 to v4.0.3. The other highlight is that this app combines both camera and camcorder.  It is an efficient SpyCam with features such as no shutter sound, no preview and no flash. Furthermore, the app employs both the front and rear snapper to capture the images and allows you to shoot auto-continuous imaging with burst mode allowing you to capture 5 to 10 snaps per second. Also, the snaps can be shot at high quality along with FHD 1080p or HD 720p video recording. Also, there is support for background shooting, quick quit mode and other interesting features.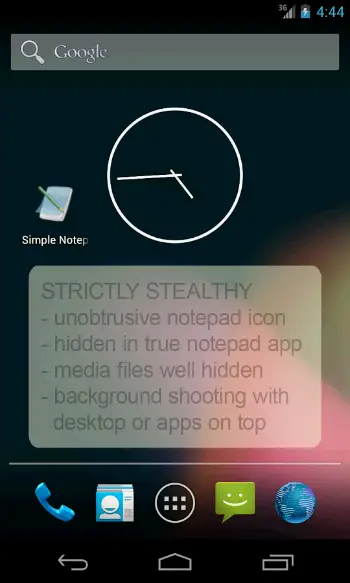 [High Quality] Silent Camera
The [High Quality] Silent Camera renders high resolution and superior image quality while most of the spy cameras lack these highly desired aspects. The app has two different modes of captures the spy images – one is Vibration mode that lets the phone to vibrate when a photo taken silently. The other is a Black Screen mode in which the screen turns black while taking such images. It also allows you to capture continuous shots and later decide which ones you want to keep and discard the rest.
Airdroid
Airdroid helps to control any service on your device remotely using cloud services in order to manage your data and change any thing on the device. One of the highlight features is that the app allows you to remotely access your device's camera from the web browser. Well, you can control both the front and rear cameras from your PC without even touching your device. There are options to mute the LED flash and provide real time streaming via PC.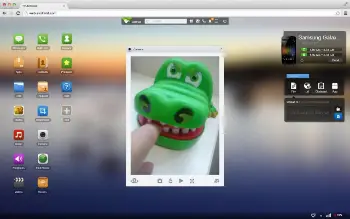 Spy Camera HD
The Spy Camera HD let you to take snaps like a real spy and it is an amazing tool that helps you in taking photos in a simple and fast way. It mutes the shutter sound and camera preview on your device making sure that nobody notices that you are taking snaps. You an also capture photos in the background while playing games, reading emails or carrying out any other task and also adjust the photo transparency during the same. You can choose to capture photos by pressing a widget, by shaking or whistling and hide the photos that you have taken to ensure no one else gets access to your spy shots.
SECuRET SpyCam
The SECuRET SpyCam comes with exclusive features compared to the other common spy camera apps as it is a visual motion triggered app. That is, you device can automatically capture any motion within its field of vision and share the same via email or tweet. The Disguise mode and Screen Locking mode makes it possible to capture the content without other's knowledge. With the SECuRET LiveStream, you can livestream the content remotely using your webcam or other camera making the device a serious surveillance solution with this feature.
Other Similar Apps
While the aforementioned applications enable capturing spy shots and videos using your Android device the same a capable hidden or secret camera, there are others such as Camera Silencer, Spy Camera OS and Secret Camera as well with similar features.
Conclusion
With these applications, you can have some fun with your friends or even help in finding some local theft activities that are going on around. However, sneaking up on someone else is a malicious intent and you need to be careful about doing the same as it can land you up in trouble.  When used appropriately, these apps will definitely be useful and beneficial.