The navigational applications are the best mapping solutions that would serve the users who are on the go. The Google Navigation for Android would be the first navigational app that would come to your thought soon as you think of one. But, what if you do not have a data connection? In such cases when you do not have access to the internet or when you are forced to save your data usage, these offline map applications would assist you for sure.
Sygic
Sygic is a navigation application with high-quality maps and it will let you use the map and the application with almost full functionality even in the trial period. Sygic boasts a variety of functions including normal navigation through the input of a desired address. In addition, a home address can be stored and you can get directions either to or from home quickly and easily. You can also search for past addresses, and places of interest or attractions. You will find all interesting places in the immediate vicinity under the "Nearby POI" option and the list includes sights, restaurants, shops, parking and much more.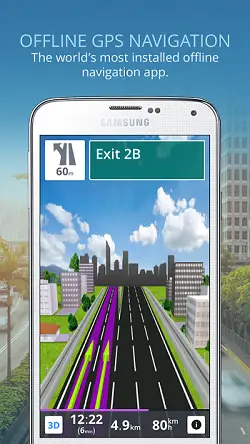 Here Maps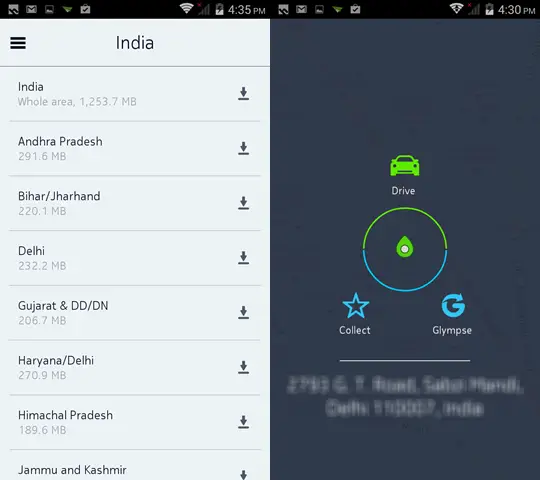 Nokia HERE maps are now officially available for all Android users in India. A few weeks back, the APK for the beta version leaked online, and now the official English language version is available for download from official webpage. Since the app isn't listed on Playstore, you will have to download apk and  sideload it. Nokia HERE Maps also offer turn by turn voice navigations and are absolutely free.
MapmyIndia
MapmyIndia is one of the most accurate and updated applications featuring interactive maps of India detailing house number and street level details. Now, it shows the information in the satellite view as well. It even displays step-by-step driving directions from your current location or between any two points in the country. You can search for businesses, localities, cities, or just about any other place simply by typing the name. MapmyIndia Maps ensures that you always travel smart and never lose your way.
NavFree
Navfree is another free offline GPS app that offers turn-by-turn directions, offline point-of-interest search and spoken directions. It looks very similar to a dedicated GPS unit. Some of the features require a data connection, but the basic map-viewing, navigation and point-of-interest features do not need one. It is a solid, well-put-together and full-featured application. When you are not driving, you can also switch to the walking mode.
OsmAnd Maps & Navigation
OsmAnd is an offline map and navigation application that features high quality data from OpenStreetMap (OSM). The acronym stands for OSM Automated Navigation Directions. The free version of OsmAnd includes 10 map downloads, whereas the full version, OsmAnd+ offers unlimited downloads. You can choose between six different search modes such as POI (point of interest), address, coordinates, favorites, history and transportation.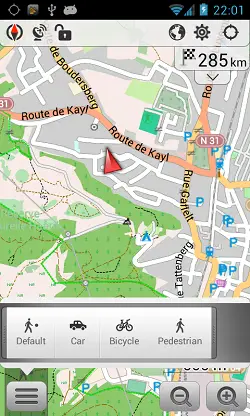 Other Similar Applications
The above options are not the only offline map applications available for Android. There are applications such as MapDroyd, Maverick and Maps.Me Offline Maps to mention a few.
Conclusion
These offline mapping applications would definitely be helpful whenever you need to navigate while you are not connected to the internet. They provide numerous features in addition to providing turn by turn navigations. Do any of them installed on your Android device when you are planning for your next trip.