To refresh your Android phone, you can always download a new launcher, assign some new gestures, shift things and of course download a new icon pack. To install an icon pack, you will need a third party launcher. Popular launcher apps like Nova, Apex, etc. are compatible mostly all icon packs.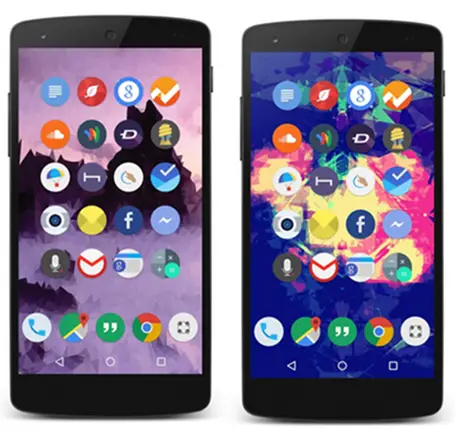 When you apply an icon pack, all icons will look different, but all launchers also allow you to replace individual App icons too.
Material Things Lollipop
One of the most desired of all Android Lollipop feature is the beautiful material design it pitches. Material Things Lollipop allows you to taste lollipop with around 600 icons. The icon pack is compatible with most popular launchers. You can try the free version and if you like it, you can go ahead and buy the complete package.
Belle UI Icon Pack
Belle UI Icon Pack is clean and attractive icon pack which includes over 950 free icons you can use with all popular third party launchers. The best part is the long list of custom icons in almost all third party launchers and the fact that all icons are available for free. The pack is 10 MB in size and does not include any wallpaper, though icons for most popular apps are included.
Crumble Icon Pack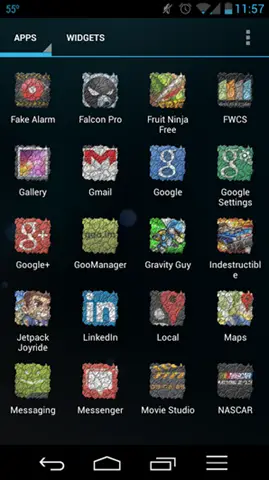 If you savor something funky, you can always download Crumble Icon Pack, which crumbles your normal icons and outputs wrinkly icons to your app launcher. This app is available for free on Playstore and works with launcher apps like ADW, NOVA, APEX, and HOLO. If you are looking for an App which doesn't simply change background color of app icons you should give this a try.
Recommended: Top 5 Ways to Make Your Android Smartphone Less Annoying and More Smart
Voxel – Icon Pack
Voxel brings forward a set of beautiful square icons and wall papers which are vibrant and cool. The app is free but can compete with most paid icon packs out there. There are more than 1300 simple icons available for your apps. It also has support for Muzei Live wallpaper app, Material design and an analog widget.
Outer Space Icon Pack
Outer Space Icon pack offers several cartoon like icons to break the routine monotony, but the number of icons is limited. The app is quite light in size and is worth keeping on your phone. If not the whole pack, you can use individual icons you like.
Conclusion
These are some of the free Android icon packs you can download. If you are willing to spend some money, there are several other cool apps offering 2000 or more HD icons to choose from like Retron, Stealth, Cyrcol, Sawyer etc. There are innumerable options to choose from. If you want to use icons from more than one pack simultaneously, that is an option too.