Internet lets anyone do anything without any restrictions. Internet has provided several opportunities to the people from inventions, discoveries, explorations and innovations. But, several countries are blocking access to many websites including Google YouTube, Facebook and so on. These websites sometimes provide you additional knowledge and they are very useful.
If you are facing such as restrictions, you can anytime connect to any website you want anonymously using the Proxy or VPN applications. These will ensure that your privacy protected when you browse the internet. This will also help you stay secured by preventing your Android device from getting hacked. Take a look at some of the proxy and VPN applications that we have listed for Android applications. You can also check your IP using smallseotools before using the VPN service.
Hotspot Shield VPN Proxy
Hotspot Shield VPN Proxy provides free Wi-Fi security, access to blocked content and restricted applications such as Facebook, Netflix, YouTube and Skype. It also ensures your internet and online privacy and security. With this application, you can access media, messaging and video apps from any part of the world even if they are blocked in your country. The app will hide your IP address, location and identity from the websites and trackers preventing theft of personal details.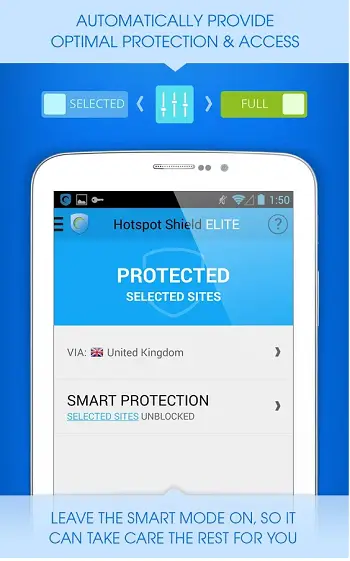 CyberGhost – Free VPN & Proxy
CyberGhost – Free VPN & Proxy is an application that will provide better online security, encrypted surfing and WLAN protection. This application lets you to surf the Internet freely, anonymously and securely. It protects your device from data espionage by website owners, data snoopers and advertisers. Your IP is changed and the internet connection is encrypted using 256-bit AES encryption. The proxy features lets you to access the internet without considering geo-restriction or censored online content. There is a premium version of the application with a monthly or yearly subscription providing access to more servers in many other countries, faster access and other benefits.
SpotFlux
SpotFlux is an application that can make it easier for its users to access the Internet anonymously and stay secured. This app was initially launched for PCs and it was a massive success following which it made its way to the Android devices. Spotflux offers a pleasant and user-friendly UI. This application provides privacy protection, anti-malware filters and bandwidth reduction. This way, you can say your data plan considerably besides being protected. Apart from hiding your IP address, this app encrypts and compresses your data as well.
Hideman VPN
Hideman VPN is a simple and easy solution for privacy and protection using VPN. You can connect to VPN in a single click with the widget that comes along with the application. With this app, you can easily hide your IP address to ensure that no one comes to know where you are from. You can also safeguard your details as you browse with the strong 256-bit encryption. The app offers five hours a week to access blocked websites and extra hours can be earned by completing ad surveys within the app. Alternatively, you can purchase hours as and when needed.
Orbot: Proxy with Tor
Orbot: Proxy with Tor is a free proxy application that authorizes other applications to use Internet in a secure way. It uses Tor to encrypt your Internet data and hides the same by bouncing across computers around the world. Tor is an open network that helps in defending against a form of network surveillance threatening personal freedom and privacy, state security known as traffic analysis and confidential business activities and relationships. It has the ability to create a highly private internet connection.
Conclusion
These are some of the useful VPN and proxy applications that are available for Android devices. But, these are not the only ones as there are several such applications listed on the Play Store. This way, you can enjoy a safe and private browsing experience without any restrictions online.