As smartphones are used by many for almost all the tasks of our everyday lives, checking emails using smartphone is also a common functionality. Almost all of us make use of our smartphones to check and send emails as it more convenient on the go. But, the stock email client that is preinstalled on Android devices might not quench all our desires. For this reason, there are several amazing Android email applications that can be downloaded on our smartphones.
If you are looking to download an awesome email app on your Android smartphone, here is a list of applications that you can try out. Each one has their own features and you will have to find the right app suiting your requirements.
CloudMagic
CloudMagic features some Material Design elements but they are minimal and that helps in giving a more efficient and useful feel to the application. It supports multiple email accounts from different email providers and renders all the standard features. The unique feature of this app is its integration with various tools such as Asana, MailChimp, Todoist, Pocket, Evernote and more. This will include your emails fluidly in your workflow making it useful. There is a paid version of this app that involves a charge for the subscription, but the free version should be sufficient.
Aqua Mail
Aqua Mail is an email client that is quite powerful with several peripheral features. This application lets you to add Exchange and IMAP accounts and also provides integration to Office 365, OAUTH2 for Gmail and supports Tasker, Light Flow and many other apps. The device has a fresh Material Design look and it stays up to date as far as design is concerned. The pro version allows of the application will let you add more than two email accounts and also helps in removing the promo signature that will be inclided in the outgoing emails.
K-9 Mail
K-9 Mail is one of the few email clients that is in existence for a long time. Despite being old, this email client has gained a good reputation among users. The application makes use of an interface that looks minimal and old resembling that of Reddit, but it is quite efficient and useful. The great aspect is that this interface is open source and the app comes with a slew of features that are good for those users who do not require anything that is too powerful or complicated.
Gmail
Gmail is the most popular Android email client as it is preinstalled in the Android devices. Many users do not want to go further when Gmail is installed on their devices. It features all the latest design standards that are announced by Google and it is complete with the support for Google Drive cloud storage and Google Now assistant. The app receives frequent update to render a stable user experience. Recently, the app received the support for handling multiple accounts, Microsoft Office and Android Lollipop optimizations.
MailDroid
MailDroid is a multi-service application that supports handling several email accounts. But, there is no way to unify all the accounts under a single inbox. It supports combining different emails from a person into conversations thereby making it easier to read the emails as a chain. It is a powerful application that lets you to control signature, split screen support for tablets, create Quick Responses and set up numerous template responses when you are in a requirement to send the same reply several times. The free version of the application supports ads, whereas the Pro vision is too expensive.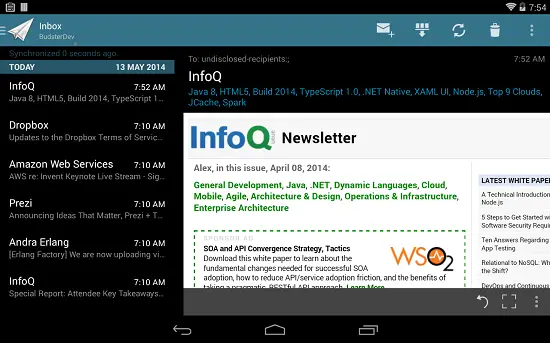 Conclusion
These are some of the best email applications meant for the Android devices. These applications have different aspects, but they are powerful enough when it comes to handling emails. You will have to try them out to find the one that suits your requirements the best.