The travel industry in India has been growing at a fast pace. In spite of the availability of a large number of options, train travel seems to be the most trusted and preferred mode. An estimated 24 million people travel by train on any given day. So, absence of proper planning could be a cause for a lot of hardships. One of the most possible reasons being, not able to get the right information at the right time. This is where mobile apps designed for this sole purpose come to our rescue.
There are plenty of apps available for Android aiming to provide railway information, however, not all of them are user friendly. Most of them don't have their own tracking system, they just lead you to the official websites. Here are a few authentically original and trustworthy apps that can help you plan your travel better.
NTES
This is the first ever official app from Indian Railways. CRIS – Centre for Railway Information Systems – has recently launched the app for all 3 major Mobile Platforms Android, iOS and Windows phones. The app aims to to provide real time status information about all trains in India.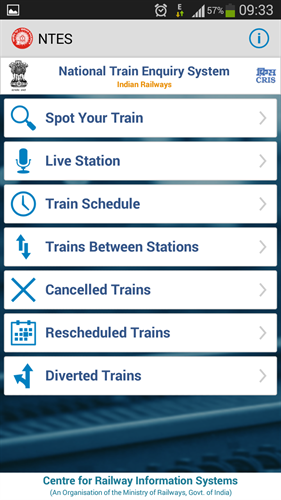 The app is pretty small in size and supported on Android 2.3 and above. So most of the Android devices out there are supported. The app is quite basic in nature, but it does everything is meant to do. You can easily search for the real time status of your train.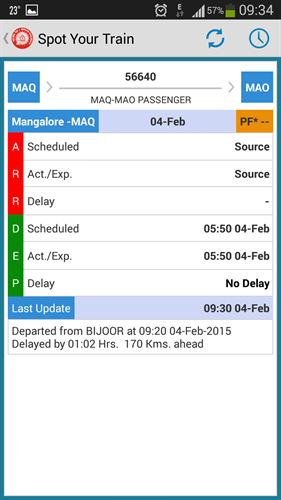 The app uses National Train Enquiry System servers for updating the status of trains. You can also obtain up to date information of the cancelled and diverted trains.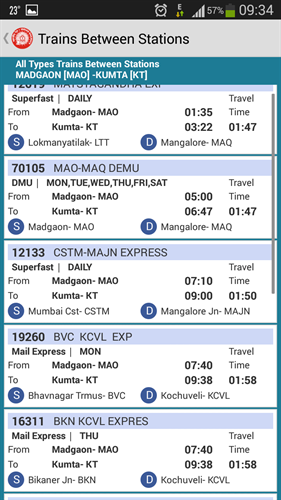 Pros
The app is so small in size that it will not hog your memory.
It is faster in providing the information you need.
Inspite of being a free app, it does not have ads.
Cons
The app has no additional features.
It has no option for changing the preferred language
It misses a homescreen widget for easy access.
Rail Yatri
This app from Stelling Technologies is my all time favourite. One must say this is the ultimate railway app. It has some nifty and creative features like route changes, new train launches at your location and detailed information about the surrounding areas of a station among others.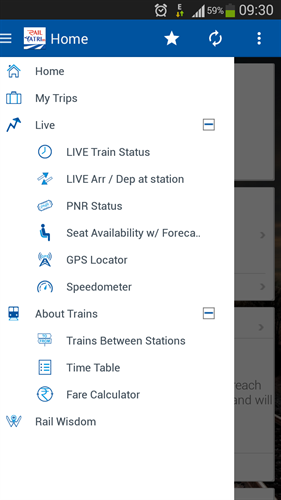 The app has its own train info tracking system and as such provides most accurate real time status about almost any train. The data is regularly updated with the timely alerts on newer trains introduced for your location. Once you check your train and set it as your favorite, you get real time updates and alerts about any route changes, cancellations and delays pertaining to your train. The app uses GPS locator to find out real time location of your train. You can add your favorite trains, stations and routes for future reference. You can also set a multiple of your regular travels as favorites so that you keep getting updates.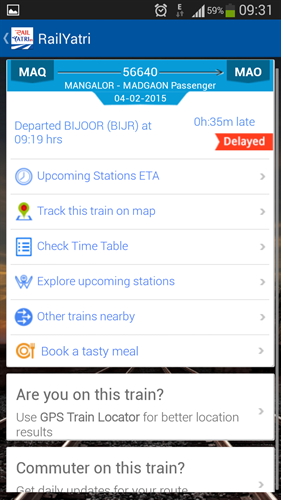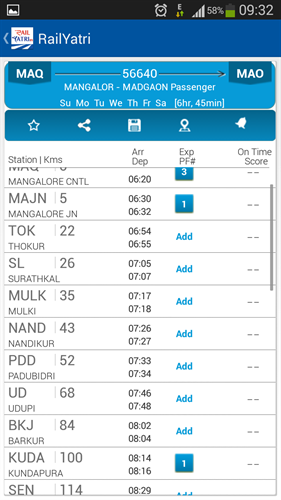 One of the best features I like with RailYatri is the section called Rail Wisdom. It gives you useful information about the location your train is at right now. You can also search for the station of your choice and find such information about the station.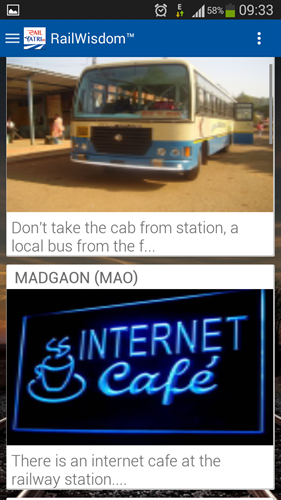 Pros
The app is very useful and trustworthy
Loaded with useful features
Cons
Not yet available for iOS
IRCTC connect
This is another official app from Indian Railways. Coming from IRCTC itself, it currently offers basic features, but with frequent updates that are coming up recently, we can get additional functionality in the upcoming versions.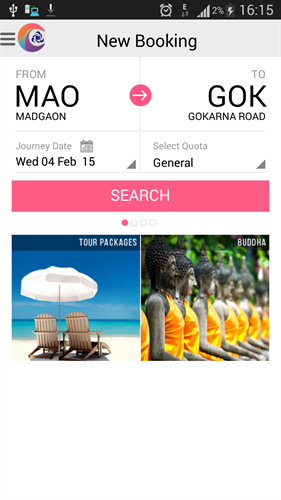 The app can be used to search for and book train tickets. You can cancel tickets as you would on the IRCTC web portal. It also provides upcoming journey alerts.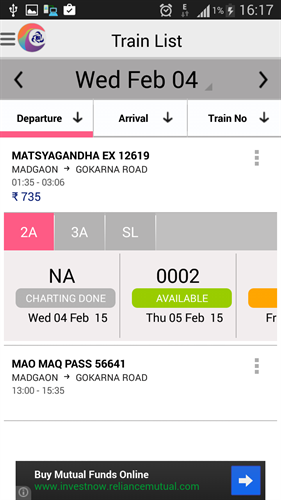 The app is available for Android 4.1 and above, so people with lower older phones may not be able to use it. You need to have your IRCTC credentials to use the app. However you can create a new account directly from the app.
Download Android, iOS, Windows Phone

Pros
The app interface is simple and intuitive.
No lag is observed in the app functionality.
Cons
If you forget your password, no way to retrieve it from the app.You need to access web portal itself for this purpose.
It does not show tickets booked from website, it gives access to only those tickets booked from the app.
The app is still basic in nature and needs a lot of development. Proper sync is also needed between the website and app so that one can access his IRCTC account seamlessly across web version and mobile app.
ClearTrip
Cleartrip wants to be your one-stop shop for all things travel related. The app lets you book hotel rooms, bus, flight and train tickets — though train bookings need an IRCTC login ID. Cleartrip has a really neat user-interface, and has a host of features that lend well to international travel and overseas customers. Payments can be made using net-banking, debit and credit cards. It's the only app that lets you book tickets with an international credit card, and shows fares in local currencies for GCC customers.
Download: Android, Blackberry, iOS, Windows Phone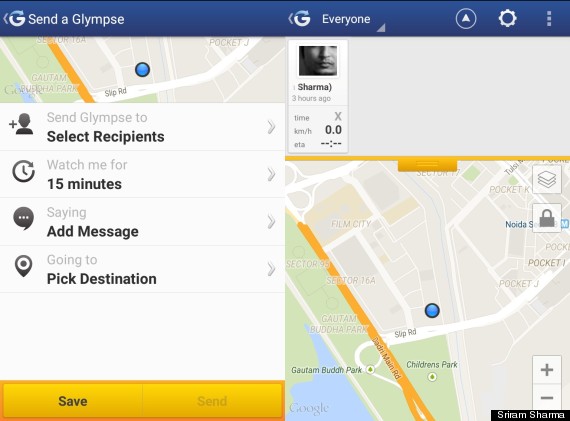 Pros
Available on 4 platforms
Can do more than train booking
Cons
The app is't as good as the website
in app some features are either missing or limited compared to website.
Indian Train Alarm
Ever wasn't able to sleep half of your travel because you didn't want to miss your destination station at 3:00AM, well I have. Who doesn't like a nice sleep and to help you with that, here is a simple app from Anagog India. The Indian Train Alarm app allows you to set alarm when you train is 5km or 25km from a specified station.
Indian Train Alarm app features
Set location based alarms for railway stations
No need for internet connection for the alarm to work
Error margin of around 1/2 km
Low battery consumption
Download: Available for free, works on Android 2.2+ devices
Pros
Works Really good
Works offline with the help of GPS
Cons
Limited to just a couple of features
Error margins is around 1/2 Km which is a bit high in current technology.
Wrap Up
The apps described above are unique in their own right and have their own merits in terms of usability, features and interface. Though I would rate Rail Yatri as the best among all of them, but there is a special aura of being Official apps for IRCTC Connect and NTES. App Stores also has many more apps catering to this genre, but I would rate these as the Top 5 Indian Railways Travel Apps Must Have on Android, iOS and Windows Phone.