Umi – a low scale Chinese manufacturer that has not been in the industry for many years, but has been known for their good understanding of smartphone technology. UMi is trying to make a name for them by releasing compelling products. UMi has recently released a rather interesting device called the UMi Iron.
Earlier, the company caught a lot of attention with its Zero model, which sported premium materials and decent specs at an affordable price. This is a again an interesting smartphone which is made out of metal and offers really compelling specifications on the inside. Anyhow, let's take a look at what the UMi Iron has to offer.
UMi Iron Quick Specs
Display Size: 5.5 inches 1080p LTPS display (403 PPI)
Processor: MediaTek MT6753, 1.3GHz, octa-core, 64-bit
RAM: 3 GB
Software Version: Android 5.1 (Lollipop)
Primary Camera: 13 MP (Sony's IMX214 sensor),  dual-LED flash
Secondary Camera: 8 MP, LED Flash
Internal Storage: 16 GB
External Storage: Expandable via microSD card slot up to 32GB
Battery: 3350 mAh li-polymer(non-removable)
Phone Dimensions: 152.3 x 76.5 x 7.9 mm
Phone Weight: 150 g
Connectivity: Bluetooth, 3G, 4G, GPS, WIFI, GSM,EDGE, GPRS, UMTS, HSPA, HSPA+
Others: Dual SIM – Yes, USB OTG – Yes, LED Indicator – Yes
UMi Iron India Unboxing, Review and Everything You Need To Know [Video]
UMi Iron UI
Umi Iron runs Android 5.1 with a light Umi skin on top of it out of the box. So far, the experience of using this device for a few weeks has been good. I didn't have much lags or hiccups while doing regular usage, like browsing the web, Facebook, texting etc. In addition, all the apps are opening up and closing fast (except few high end games), transitions are smooth and speedy.
I am pretty happy with the overall UI performance as it is working fast and snappy almost all the time. The Settings menu looks as it does on stock Lollipop, same goes for the notification tray. It is almost a stock Android experience and a lot of users should be happy with it.
EyeprintID
UMi Iron offers an EyeprintID unlock feature, this felt really new to use. The detection was accurate 3 out of 5 times but one can surely not depend on it for regular use. Well, you have to be in good lighting conditions meaning that the camera may struggle scanning your eyes indoors. If you are not in the ideal position for the front facing camera, the EyeprintID feature may become annoying.
Double Tap & Gestures
You get the knock-to-unlock option on it (which works great by the way), as well as some other gesture features, you can write the letter 'm' on the screen while the display is in standby and the phone will launch the messaging app. The response quite is accurate and fast, but still not the best we have seen so far.
Design and Display
The device comes with a 5.5 inch display, which is very bright, sharp, and vivid. Also, it has great viewing angles and natural looking colours. Watching HD videos and playing games is a quality experience. Overall, it is a pleasant panel for a budget device and it can be noticed the moment display is turned on.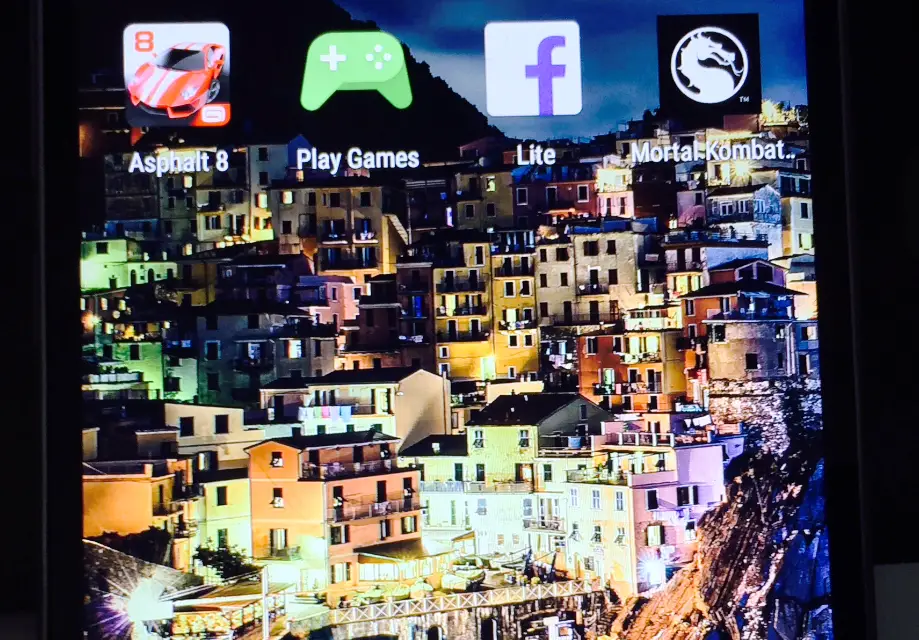 This model is called Iron because of its back plate which is made out of metal. It definitely feels like a high quality material and gives a premium look and feel. However, the top and bottom parts are made out of plastic as this is the solution Umi chose to get a subtle antenna reception. The metal shell continues around to the sides of the device and is secured to the rest of the body with visible screws, which also provides a nice looking raw design.
On the top side there is a proximity sensor, 8MP camera sensor, earpiece and front firing LED flash for night selfies. In addition, on the bottom side there is a really nice looking notification LED light, which has a great looking pulsing effect. It flashes green for notifications and red for charging/low battery by default but it can be customized as per your wish.
On the bottom side there is an UMI logo along with the speaker lays on the back of this phone, along with a 13-megapixel camera and a dual-LED flash, both of which we'll talk about later on.
Another thing worth mentioning is that both power / lock and volume rocker buttons are located on the left-hand side of this phone, and only the dual-SIM / MicroSD tray is located on the right side of the UMi Iron.
UMi Iron Photo Gallery
Performance and Heating
This handset offers a really solid set of specs, the MediaTek MT6753 64-bit octa-core SoC is a mid-range chip, but it performs really, really good. Let me start this off by saying that as far as general navigation through the system, opening up apps, multitasking and everything of that sort is concerned, you won't have any issues with this device whatsoever. The UMi Iron blasts through such tasks like a champ, MT6753 is more than powerful enough for that, and 3GB of RAM ensure that the system is buttery smooth. Speaking of the system, UMi Iron is powered by Android 5.1 Lollipop with very few pre-installed apps on top of it, which is one of the reasons this device offers such performance.
As far as heating is concerned, I fired up 3 games on this phone, Mortal Combat X, Asphalt 8: Airborne and Dead Trigger 2. Asphalt 8: Airborne was loaded on medium details by default, and the phone performed admirably during my testing. It did have issues when tuning up the details to high, but that was also to be expected. As far as Mortal Combat X, it took a little long to launch the game but once you are in the game, the phone did really well in this test too; taking down opponents was a breeze. The UMi Iron did heat up to a certain level and was quite warm after some time of playing, but never got unbearably hot during my testing.
Benchmark Scores
| | |
| --- | --- |
| Benchmark Standard | Score |
| Quadrant | 15849 |
| Antutu | 33378 |
| Nenamark 2 | 51.8 fps |
| | |
Camera
As previously mentioned, the UMi Iron features a 13-megapixel rear-facing shooter. UMi has implemented Sony's IMX214 sensor, which is quite good if used in the combination with the right software. So, is the UMi Iron's camera any good?
Well, I'd say it's not bad, but not that great too. The camera is rather fussy, I was actually unable to take really good looking shots outside when the lighting wasn't perfect. That being said, if the lighting is good when you take shots with this camera, the pictures will look much better. Clicking indoors when the light was not that good and the camera seemed to struggle when it comes to white balance from time to time, but you can't really expect this camera to perform any better under such conditions.
The 8-megapixel front-facing shooter pack in OmniVision's OV8858 sensor and the camera is not impressive for a front-facer. The white balance, exposure and color accuracy were a bit off. Anyhow, if you'd like to check out some UMi Iron camera samples, have a look at the gallery down below, there are quite a few images for you to take a look at.
Camera Samples
The 13MP camera on the back is can take some good looking images outdoors. The images have a good amount of details and are quite sharp. The pictures seem to be a bit sharper due to software tricks, which lead to upscaling images to 20MP.  The colour production is not that appealing. However, usually the corners of the images are out of focus and look a bit blurry. Also, the dynamic range is usually off. Still, the daylight images are good for a budget device.
Battery Life and Internal Storage
The battery in the Umi Iron is being fully saturated, which means both a strong battery and a charging system strong enough to push it to full. The Umi Iron charged from 1% to 100% in almost 3 hours with location and data running.  I played Asphalt 8 for 10 minutes on this device and there was a 5% battery drop where, while watching full HD video for 8 mins, I recorded 2 % battery drop.
The UMi Iron features a 5.5-inch 1080p display, and a not-so-small 3350 mAh battery powers this device. That being said, the battery life isn't that great, but it's also not bad either. I managed to get over 3 hours 30 mins of screen-on time with the UMi Iron, but only barely. The battery life results weren't all that consistent from day to day though, it all depends on how you use your device. I also wasn't able to get to 4 hours on one occasion, but in a vast majority of days I tested this device, it lasted over 6-7 hours on a regular day.
Internal storage is 16 GB, out of which around 11.72 GB is available for apps and media. This is a decent storage capacity for a phone of this range and has an option of expansion up to 32 GB, which is way more than the need.
Conclusion
So, is this phone worth INR 11,000?
It definitely is, at least in my humble opinion. The UMi Iron has a lot of plus points, but there a couple of negatives in the package as well. The phone performs exceptionally well, it will power through anything you throw at it. The animations and transitions are smooth, and the phone opens apps in a blink of an eye. If you're a gamer, you're probably going to download the latest and the greatest as far as hardware goes, but UMi Iron can hold its own as far as this is concerned.
The style of the Iron with its metal back piece and sides is specially notable, and adds a factor of wow when checking it out. The build quality is spot on, and the display is also quite crisp and bright. If you're not buying a phone primarily for its camera, this device is a steal. Even taking into consideration its downsides, the UMi Iron can really perform well.