Coolpad is a well known Chinese OEM that entered into Indian market in recent time. With limited number of phones released in the Indian market, Coolpad has always aimed at offering something unusual in the least possible budget. Coolpad entered the Indian smartphone market with the Coolpad Dazen 1 smartphone on May 28 2015.
Coolpad India Customer Care Toll Free Number
Toll Free Number : 1800-1027-159
International Heloline Number- 0091-22-304-30101
Website: http://coolpadindia.com/
Timings : 09:00AM – 6:00PM Mon to Fri
Customer Support 1800-102-8571

Popular Phones By Coolpad
Coolpad Note 3
Coolpad Note 3 is priced at INR 8,999 and features a fingerprint sensor. The Note 3 is powered by a 1.3 GHz octa-core processor with a MediaTek MT6753 chipset and is accompanied by 3 GB RAM and 16 GB of inbuilt storage. The Note 3 comes with a 5.5-inch IPS display with a resolution of 1280 x 720 pixels.
The primary camera is 13 MP, f/2.0 with LED flash and front camera is a MP. The phone also has a 3000 mAh battery and will support 4G. Futhermore, the phone has dual SIM slots.
More About Coolpad Note 3
Coolpad Note 3 FAQ, Pros, Cons, User Queries, Answers
Coolpad Note 3 Quick Camera Review, Photo, Video Samples
Coolpad Dazen 1
It features 5 Inch 720p HD IPS LCD display, powered by 64 bit Snapdragon 410 quad core chipset clocked at 1.2 GHz with Adreno 306 GPU. There is 2 GB RAM and 8 GB internal storage. For imaging it has an 8 MP AF rear camera with f2.2 lens and LED flash and a 5 MP front camera powered by a 2500 mAh battery.
More About Coolpad Dazen 1:
Coolpad Dazen 1 Question Answer FAQ – Doubts Cleared
CoolPad Dazen 1 VS Xiaomi Redmi 2 Comparison Overview
Coolpad Service Centers
A detailed list of Coolpad sevice centers around India is listed below. Please refer to the images, they include the Name, Full Address and Contact numbers of different service providers in cities around India.
Note: Click two times on the Images to enlarge in full size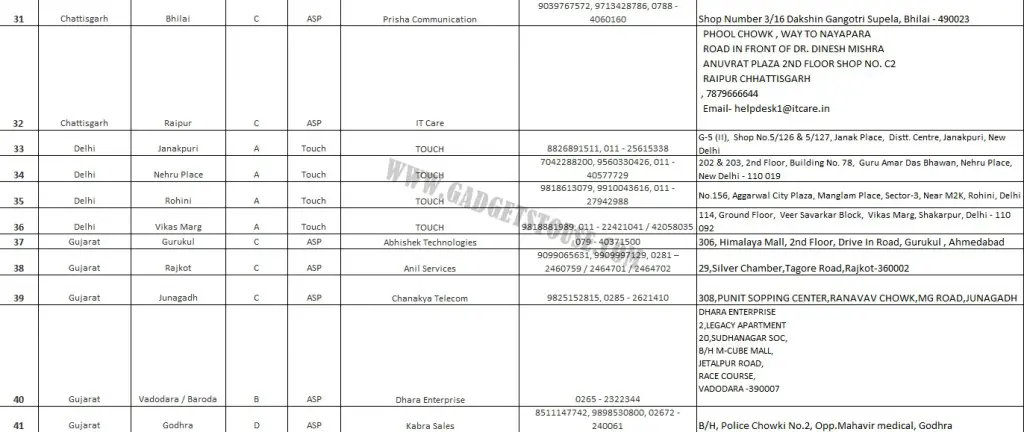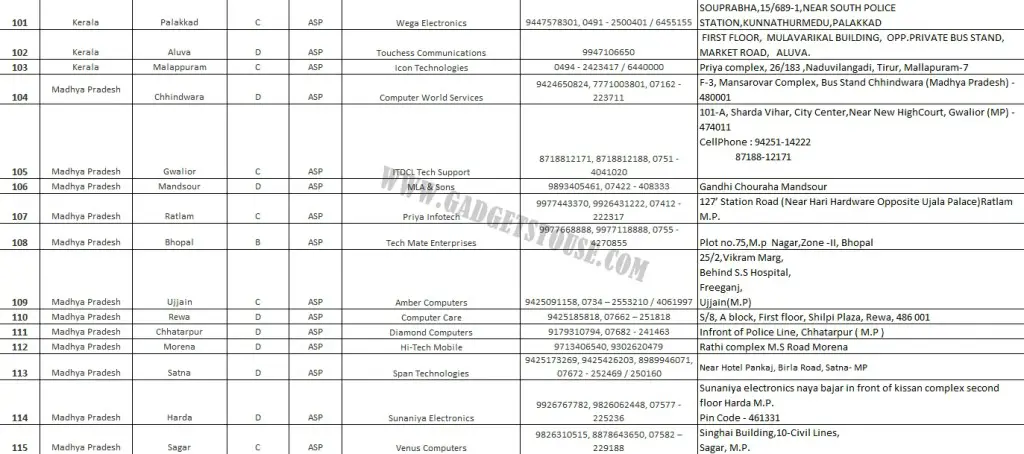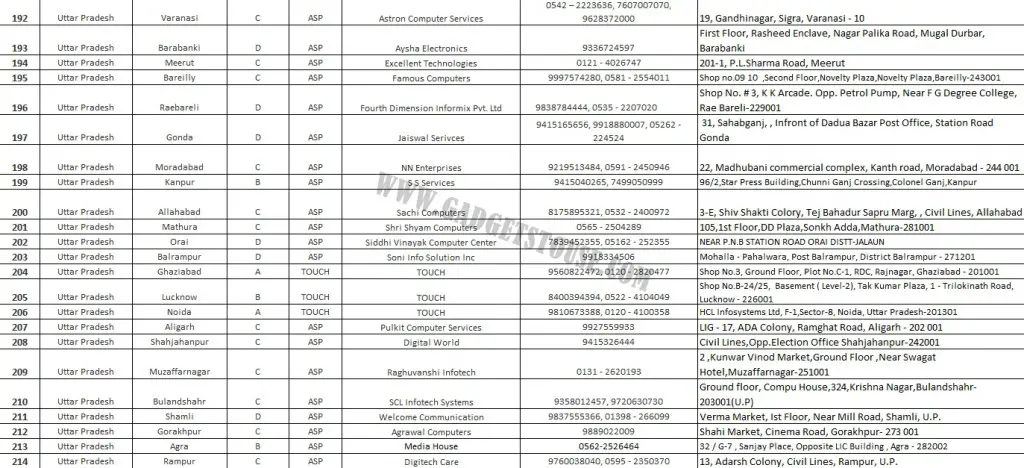 How to Locate Service Center Nearby?
To locate the nearby Coolpad service centre:
Go to http://www.coolpadindia.com/customer-care.html
Scroll down the page till you find this option
Select the State from the drop down list.
Select the city from the drop down menu on its right.
It will display the exact service centre location on the map below.
Turn Around Time
Since Coolpad is very fresh in Indian smartphone market, we cannot ensure the exact turn around time for now. We will soon update this space with the information once we experience the services.
Service Feedback
No feedback about the Coolpad services for now, as we aim to provide all the factual details to the consumers and assist them with genuine information.  We would welcome your feedback and suggestions relating to the service experience at Coolpad.
Note: Use of obscene language in comments is not advised. Any comment including objectionable language will not appear below.
Official Website, Official Address & How To Contact
The official website of Coolpad does not have much information but they do have a contact page.
Coolpad Corporate Office Address (China):
Yulong Computer Telecommunication Scientific (Shenzhen) Co.,LTd HQ Location:
Coolpad Cyber Harbour,2nd Mengxi Road,Hi-Tech Industrial Park (North),
NanShan District,Shenzhen,P.R.C.
China Base Office: +86 075583301199
DISCLAIMER: Information on this page is subject to change at any point of time without prior notification.