Oukitel is a China-based smartphone OEM. It is among the fresh entrants who have recently showed up in the phone making business. Most of the smartphones were affordable and offered decent specs with some uncommon features like extensive batteries and sturdy built quality. In this post, we'll be taking on the new Oukitel K4000. This device is still not available in India but it can be ordered online and shipped to the country. It is a big battery phone, featuring 4000 mAh inside. Let's start with the review and find out more about the device.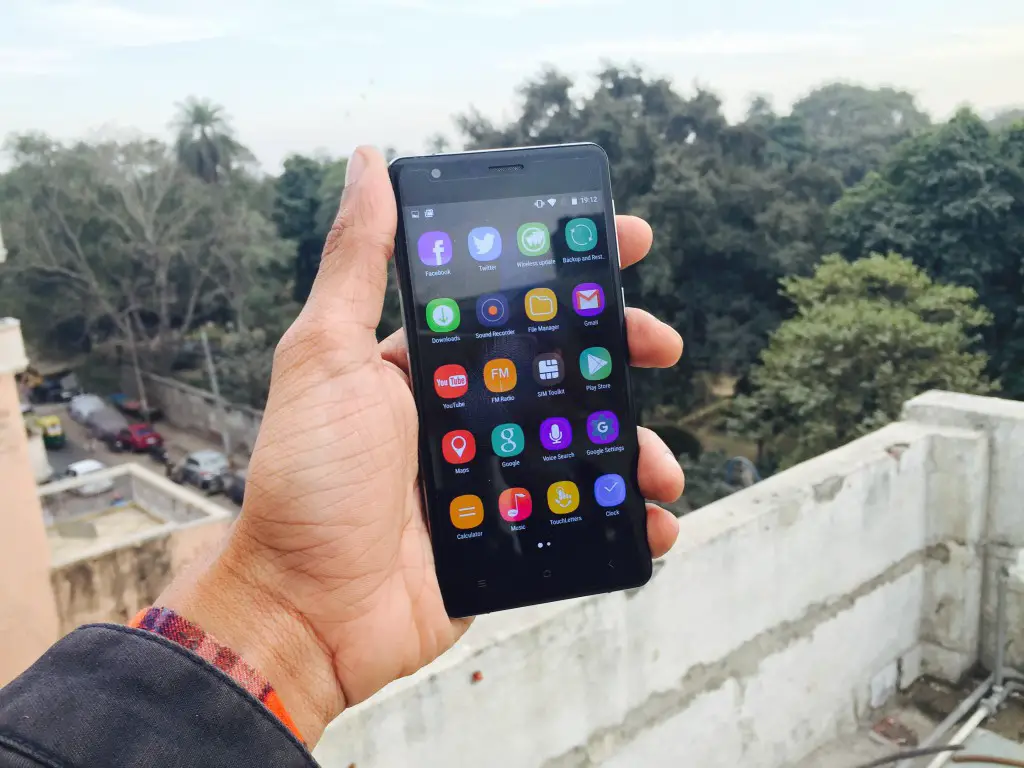 Oukitel K4000 Full Specs
[table id=281 /]
What are Usage Review, Tests and Opinion?
This review is based on our quick tests and usage done with the phone, we try to push the device to its limits and find out the results which will matter if you plan to buy this phone. We hope this review helps you to get your queries answered about the device.
Oukitel K4000 Unboxing and Quick Review [Video]
Box Contents
The box contents with Oukitel K4000 are handset, battery, in-ear headset, plastic back cover, charger, USB cable and a screen guard.
Performance
This device is powered by a MediaTek MTK6735P chipset with quad-core 1.0 GHz processor, and comes with 2 GB RAM and 16 GB internal memory. It also has a Mali-T720 GPU. It is not exactly a power packed smartphone but still does well enough for general usage.
App Launch Speed
The apps took normal time to launch and almost all the apps took usual time to load and launch.
Multitasking and RAM Management
Out of 2 GB RAM, 1.5 GB was free on the first boot. The phone was able to multitask without a hitch; still you can expect occasional lags which are not too annoying. RAM management is also good; it was easily handling the entire task we threw at it.
Heating
There was no abnormal heating during regular usage, the plastic back cover with matte finish acts well to restrict the heating. This device does not possess any heating issues in casual usage, but a mild and bearable heating was noticed after prolonged gaming sessions.
Benchmark Scores
[table id=293 /]
Camera
The Oukitel K4000 comes with an 8 MP rear (13 MP interpolated) camera with a 5 MP front camera. This is a very basic set of cameras and we do not expect very high quality pictures from this module. But the camera is much better than what we actually expected from it.
Photo Quality
The rear facing camera is quite well in decent light, though the colours were not good overall, it sometimes misses the warmth and the images look colder than they should. When the light is not good, it does not perform that well, as expected. But this does not mean that you cannot get good looking shots from this camera, you may not get the best shot at once, taking multiple shots can help you to come up with a good photo.
Selfie Quality
The front camera is average performer, or even slightly below average. The images look unclear and lack details.
Oukitel K4000 Camera Samples
Battery Performance
It packs in a 4000-mAh removable battery. When it comes to the battery this phone is a boss, the main selling point of this device is its battery.
Charging time
It takes around 2-2.5 hours for a full charge.
Screen On Time
We recorded 4 hours and 10 minutes of screen on time after the phone was left with 22% battery.
Looks and Design
The Oukitel K4000 has a very different approach when it comes to build quality and design. The first thing that you will notice about the device is its bulk and solid built. The Oukitel weighs 208 grams and it is 11 mm thick, which is a lot more than what we see in smartphones these days. It feels very solid due to the weight but carrying it in pocket will always make you feel it.
Oukitel K4000 Photo Gallery
Quality of material
Oukitel K4000 is made up of all the sturdy stuff around, the folks at Oukitel have ruthlessly tested the durability of this device. The material used in the phone has tough glass coating on the front panel and a rock solid frame made of metal. Oukitel claims that you can use your K4000 as a hammer in case you want to.
Ergonomics
With a 5 inch display, the Canvas 5 weighs 208 grams and measures 143 mm x 70.6 mm x 11 mm. The dimensions of the phone are not what we usually see on 5 inch phones, but the hefty battery, durability and strength are the reasons why Oukitel has decided to go with such shell.
Display Clarity, Colors & Viewing Angles
It comes with a 5 inch IPS display, with a HD resolution (720×1080 pixels) and pixel density of 294 ppi. This display is the most common type of display we have seen in other Chinese smartphones. The majority of users will be satisfied with this panel as its colours are balanced and viewing angles are also not bad. The touch sensitivity is quite good and we did not face any issues while using the touch.
Outdoor Visibility (Max brightness)
Outdoor visibility is good and it is easily viewable in almost brightest of the lights.
Custom User Interface
It comes with Android 5.1 Lollipop out of the box. Oukitel did not try to load the device with a bunch of bloatware or anything of that sort, but some design changes can be noticed for sure. Rest of the parts of this phone is same as the stock Android. Other than the icon designs it also has few gesture options.
Sound Quality
The sound from the Oukitel K4000 is pretty loud, not very crisp but it is loud enough. In fact, if you turn the volume down to the lowest, it will still be louder than it should. The loudspeaker is placed on the back side of the phone, but that does not restrict the loudness.
Call Quality
Call quality was good; the voices on both the ends were clear and audible.
Gaming Performance
We tried out a couple of games on this device, and in most of the parts, it did really well and impressed us. Modern Combat 5 is graphically demanding, but the game play was smooth and we did not face any issues during our gaming experience. We also tried out Dead trigger 2 on this device but in both the cases we did not turn up the graphics to higher resolutions. Overall, this phone is not for you, only if you expect too much in this regard.
Conclusion
Is Oukitel K4000 is a considerable phone for its price? Well, I'd say why not? If you are looking for a device with solid battery life and an iron shell, it is surely a great choice. Now, like every other smartphone, Oukitel K4000 has its drawbacks too but the phone does perform well and has all the decent hardware aspects to satisfy a regular smartphone user.