LeEco has made its debut in Indian market with the Le Max and the Le 1s and both the smartphones have gained heaps of popularity in a very short period of time. The real attention catcher was the budget offering from the company, the Le 1s. It comes with an impressive set of specifications at a very affordable price. We have done a lot of tests including gaming, battery and even a drop test with the Le 1s. In this review, we have summed up all the aspects to give you a proper idea of how it performs in real life.
LeEco Le 1S Full Specs
[table id=323 /]
LeEco Le 1S Unboxing, Quick Review, First Impressions [Video]
LeEco Le 1S Coverage
What are Usage Reviews, Tests, and Opinions?
This review is based on our tests and usage done with the phone, we try to push the device to its limits and find out the results which will matter if you plan to buy this phone. We hope this review helps you to get your queries answered about the device.
Performance
This handset runs on MediaTek Helio X10 2.2 GHz MT6795 octa-core processor coupled with PowerVR Rouge G6200 GPU. Performance was smooth, did not find it lagging and the heat-up was well under control.
App Launch Speed
The apps on the phone launch very quickly, I did not notice any unusual delay in opening or closing of apps.
Multitasking and RAM Management
When you boot the device, you'll find approximately 1.8 GB of RAM is free out of the 3 GB RAM. Having 1.8 GB of RAM free, it easily handles a lot of apps at once. You can continue your half played games right from the level you minimized it, it did not close or refresh the apps from the beginning. RAM management is good on this device, looking at the price and hardware; very few devices are able to offer such performanace.
Scrolling Speed
To test the scrolling speed of the device, I tried opening a lot of heavy webpages full of rich content on the screen. I did not find any stutters and the rendering of the webpage was quick and smooth.
Heating
Users may experience a little bit of heating up while gaming and recording 4 K videos but that is a pretty common occurrence.
Benchmark Scores
[table id=339 /]
Camera
Le 1s has 13 MP rear camera and 5 MP selfie camera with wide angle lens on top. You will get the same configuration on most handsets today, the camera hardware on the phone looks fine, at least on paper, but let us dive into the depths and know more about the camera.
Camera UI
The camera software on the Le 1S is pretty clean and laid out in a simple way. This allows you to take pictures easily, and switch between modes and formats easily as well. You are greeted with a slider at the bottom using which you can easily switch between various modes. Within the modes, you can choose different individual settings like HDR, Night Mode, Scenes etc.
There are a few camera modes in-built in the app, which include Slow Motion, Video, Photo and Panorama. Inside these modes, you can switch scenes and there are quite a few scenes available for you to choose from. Here's a list of all those modes.
Day Light Photo Quality
In natural lighting condition, the camera performs well. We were able to capture a lot of great shots in natural lighting, whether focusing on a distant object or on a nearby object. The detail in the pictures is also good. Even when you zoom inside the picture, you can see the object in focus easily.
Low Light Photo Quality
In low lighting condition, the camera again stutters a bit. It performs okay I'd say but it's definitely not up to the mark in Low Lighting conditions. It could definitely have been better, either with a software enhancement or with a better hardware, though the hardware doesn't seem to be the problem here.
Selfie Photo Quality
Our team at GadgetsToUse was definitely not happy with the quality of the front camera on the Le 1S. The camera performs decent, but it's not great. You can see a warmer tint in the images that you capture using the front facing camera. It performs like an average camera in natural lighting but performs below average in low lighting conditions.
LeEco Le 1S Camera Samples
Video Quality
The focus is quick videos are clean and crisp, and it can record 4K or 1080p videos. It can also shoot slow motion video at 720p as well.
Battery Performance
There is a 3000 mAh non-removable battery that does a fair job, still not as good as we expected it to be. It easily gives 4 to 5 hours of backup on continuous moderate to heavy usage on a single charge. Is comes with a USB Type-C fast charger. This 12V/2A charger is capable to charge this handset pretty quickly.
Charging Time
The charging time on the LeEco Le 1S is really impressive. It takes around 1 hour to charge from 0 to 100. This seems impressive for a device with 3000 mAh battery.
Screen on Time
The screen on time for the LeEco Le 1S was around 4-5 hours of screen on time depending on the usage.
Battery Drop Rate & Temperature Rise
[table id=368 /]
Looks and Design
One of the main highlights of the LeEco Le 1s is its design; it has got a premium design and build. Featuring a metal unibody, the smartphone has rounded corners and metallic frame on the edges. It is quite slim at and feels amazing to hold in hand. The front is almost black, and looks bezel less. Actually the display has a black border which makes the display look as it does not have any bezel. The back has got a shiny fingerprint sensor to catch the eyes.
LeEco Le 1S Photo Gallery
Quality of Material
The quality of the material used to build the LeEco Le 1S is the first thing that catches attention. It does not look like a 10K phone; instead it puts many of the premium offerings to shame. It is fully made up of aluminum, which is solid in every aspect, be it looks, strength or feel.
Ergonomics
The Le 1s feels very handy and single handed usability is pretty good, it weighs 167 grams with battery and dimensions are 74.24 x 151.14 x 7.36 (mm). 7.36 mm is a pretty thin shell considering the 3000 mAh battery.
Display Clarity, Colors and Viewing Angles
Le 1s comes with a 5.5 inch screen protected with Corning Gorilla Glass 3 and supports 1920 x 1080 pixels resolution. The display looks sharp and clear but the colours look oversaturated in some cases. Readability is good on this display and viewing angles are also extensive.
Outdoor Visibility (Full Brightness)
The Le 1s has 500 nits bright display, which is great for outdoors, and is brighter than the 450 nits display on the Lenovo K4 Note.
Custom User Interface
It comes with Android 5.1 skinned with company's very own EUI 5.5 on top. The interface is very distinct from the authentic Android experience. You will not the any shortcuts or tools if you swipe the notification panel from the top. It does not have an option to control brightness, toggles for WI-FI, Bluetooth, GPS and more. There is not app drawer either and all the icons are laid on the front screen and can be browsed directly by swiping away.
The UI has different icons and a totally revamped settings menu that is divided into two parts- App settings and System settings.
Sound Quality
I was amazed to hear the sound quality and loudness at first, sound output is very loud and clear.
Call Quality
In-call sound quality and clarity I found was much better than many of the high end handsets.
Gaming Performance
We installed Asphalt 8 and Dead Trigger 2 on this device and changed the default graphic settings from medium to high. Surprisingly, the handset was not showing up any issues in the game-play while playing Dead Trigger 2. Then we decided to run the Asphalt 8 and again the Le 1s was handling the graphics pretty nicely. We noticed a minor frame drops when there was action on the screen, but it was too small to count as an issue.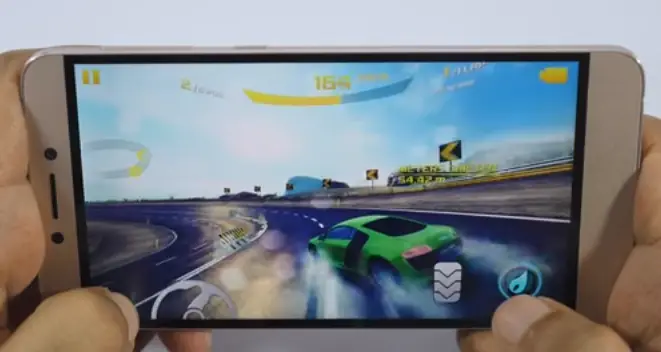 [table id=342 /]
Game Lag & Heating
As far as the heating is concerned, the device was having some minor heating issues while gaming. We noticed excessive after playing Asphalt 8 for 35 minutes without a break heating around the top of the display and also at the back. We did not notice any major lag while playing any of the games in medium resolution. Games like Nova 3 may show some glitches in when there is too much action on the screen.
Verdict
The LeEco Le 1s is a very attractive handset in terms of looks and price point. It is loaded with loads of features both hardware and software. The performance is smooth and the software optimization is also great considering it is a debutant from the company. It is good for mid-tier gaming and also the camera is up to the mark. Finger print scanner and IR blaster are added advantage. An excellent value for money.