After a lot of rumors, ups and downs, and disappointments, Blackberry CEO, John Chen finally revealed the all-new flagship smartphone. They are calling it the Blackberry Priv, and the "Priv" is actually the privacy and privilege that it offers to its owners. It is the first Blackberry smartphone to pack the mighty Snapdragon 808 processor and the biggest highlight about the smartphone is its operating system. Blackberry has finally moved from its BB 10 OS to the Android Lollipop on this phone.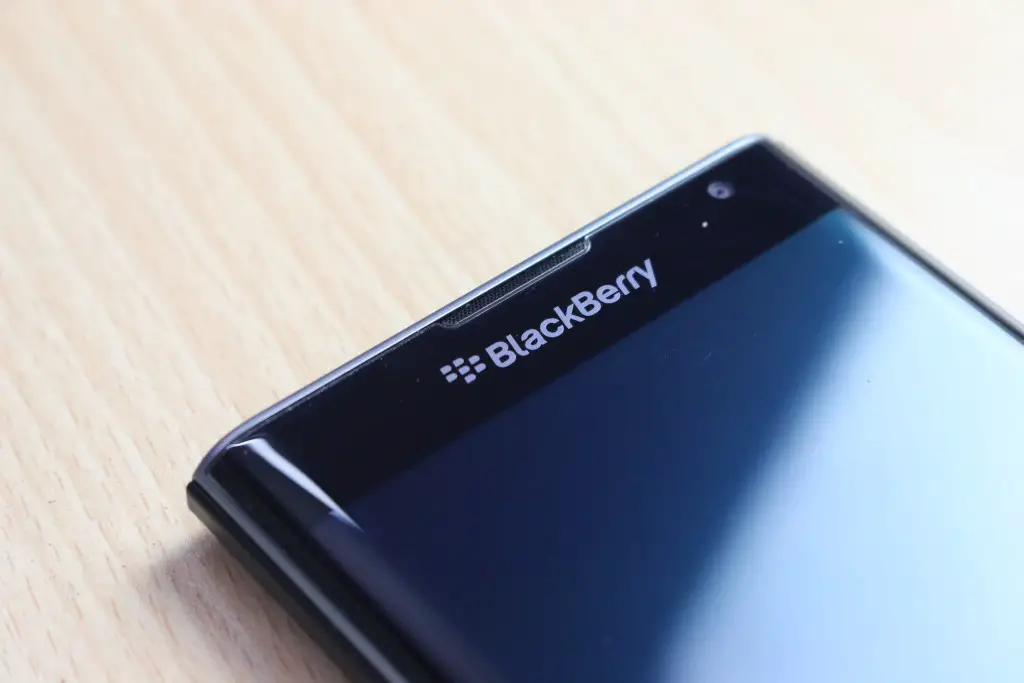 Blackberry Priv Full Specs
[table id=131 /]
What are Usage Reviews, Tests, and Opinions?
This review is based on our tests and usage done with the phone, we try to push the device to its limits and find out the results which will matter if you plan to buy this phone. We hope this review helps you to get your queries answered about the device.
Box Contents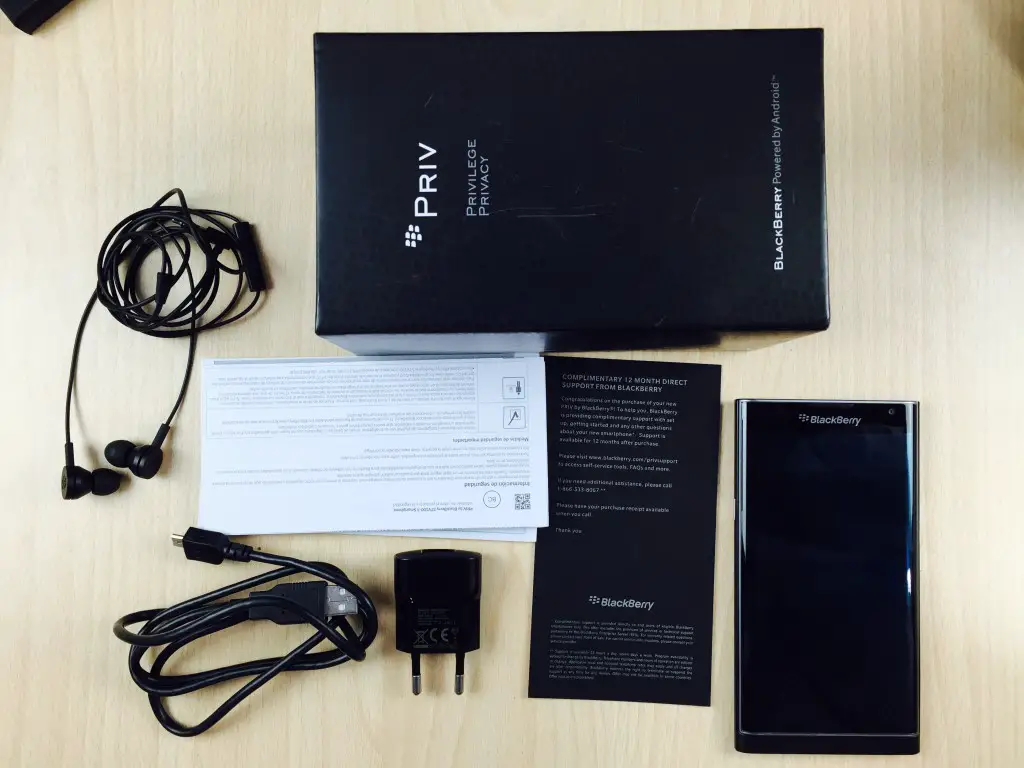 Blackberry Priv Handset
In-ear headset
User manual
Warranty card
2-pin charger
USB 2.0
Performance
It comes with a Qualcomm Snapdragon 808 processor, with six CPU cores, 3 GB of RAM, 32 GB of internal storage with the option of up to 2TB more using a microSDXC card. The hardware does a good job in handling the basic tasks and high end games.
App Launch Speed
The app launch speed is pretty quick and it took no unusual time to launch any of the apps, including the heavy benchmark apps or games.
Multitasking and RAM Management
With 3 GB of RAM, it easily handles number of apps at once. You can continue your half played games right from the level you minimized it, and also do not needs to load a webpage again and again once you have minimized it. RAM management is good on this device, but looking at the price, it should have been a little better.
Heating
Users may experience slight warmth while gaming and recording 4 K videos but that is a pretty common in almost every smartphone.
Benchmark Scores

[table id=472 /]
Camera
The BB Priv comes with an 18 MP Schneider-Kreuznach-certified imaging sensor. Moreover the rear camera has features like optical image stabilization (OIS), phase-detect auto focus and the ability to record 4K video at 30fps as well as the software-based live image filters that are already seen in older BlackBerry devices. The front-camera is 2 MP with 720p video capture and 2x digital zoom that can do panoramic selfies.
Camera UI
The camera software on the Priv looks neatly designed and easy to use. While holdin ght edevice in landscape position, you will find the settings, flash, aspect ratio, self-timer and HDR toggle on the left hand side. Whereas the right side has filters, modes shutter button, front camera toggle and the gallery shortcut.
It's good that Blackberry has not included the gimmicky camera modes to make it look clumsy and the limited camera modes include HDR, Panorama and Video mode.
Day Light Photo Quality
In natural lighting condition, the best thing about the camera is its colour production. Details were just average and everything looked ordinary where the colours were very close to natural. It's good that the camera software doesn't oversaturate the pictures but sometimes the pictures come out to be darker than normal.
Low Light Photo Quality
In low lighting condition, the camera stutters a bit. It performs just about average, honestly speaking; I have seen smartphone costing 10K that have the same low light performance. But that may not be the prime focus of blackberry, and we'll try to find out what it is.
Selfie Photo Quality
I was definitely not happy with the quality of the front camera on the Priv. The camera performs like a VGA camera that takes shaky and grainy pictures in artificial lights. We did not expect it to be great but, anyone paying 60K+ would definitely not entertain this camera unit on his phone.
Blackberry Priv Camera Samples
Video Quality
The focus is quick, videos are clean and crisp, and it can record 4K or 1080p videos.
Battery Performance
The Priv ships with a non-removable, 3,410mAh battery, and I was very impressed with the battery performance in day to day usage. It supports Qualcomm's Quick Charge 2.0 but the bundled charger does not support it, so you will have to buy one for yourself.
Charging Time
The charging time on the Blackberry Priv is really impressive. It takes around 2 hours to charge from 0 to 100 using a fast charger. This seems impressive for a device with 3410 mAh battery.
Battery Drop Rate & Temperature Rise
[table id=474 /]
Looks and Design
One of the main highlights of the Blackberry is its design. When I first saw the design, I was really impressed with what I saw, but later I found few flaws in the design when I started using it. It has a beautiful curved display on the front that gives it an amazing front look. The buttons are well placed but the feedback from the buttons was not something good.
Also the bottom there is a perforated speaker grille that resides at the chin. We appreciate how BlackBerry managed to bake a full capacitive physical keyboard in such a slim frame, but it does have its negatives too drawbacks.
The sliding physical keyboard that is what Blackberry is known for. So if you are someone who doesn't have a good time typing on the screen can consider this option. Something that I didn't like is that, if you want to slide the screen up, then you need to bring your thumb at the bottom and push it upwards.
Blackberry Priv Photo Gallery
Quality of Material
The quality of the material used to build the Blackberry Priv is purely plastic unlike any of the so called premium devices these days. The back feels has a soft rubberized feel over it, which looks and feels nice.
Ergonomics
As far as dimensions are concerned, the Priv measures 147 x 7.2 x 9.4 mm with keyboard closed and 184 x 77.2 x 9.4 mm with the keyboard opened. It is fair for one handed usage but you will have to use the second hand if you wish to use it with the keyboard open. It weighs merely 192 grams which is quite bulky, but looking at the design and heavy battery size, it is normal.
Display Clarity, Colors and Viewing Angles
BlackBerry has equipped the Priv with a 5.43 inch plastic AMOLED display with a 2,560 x 1,440 resolution and a pixel density of 540 ppi. It has brighter, warmer colors and the slight curve to the Priv's display, adds up to the beauty of display with accurate color reproduction.
Watching movies and playing high definition games on this display is a treat as you will notice dark blacks and vivid colours. The viewing angles are very good on this device.
Outdoor Visibility (Full Brightness)
The display is easily visible in sunlight, it has minimal reflections and reading on screen is not that tough.
Custom User Interface
The BlackBerry Priv comes with Android 5.1.1 along with some useful customizations from BlackBerry. Unlike other Android phones, Blackberry has filters for your notifications. The notification tray will show all your notifications together but you will find the icons of every app that has notifications and you can segregate between your notifications simply by tapping that icon. These icons also show the notification count for each app.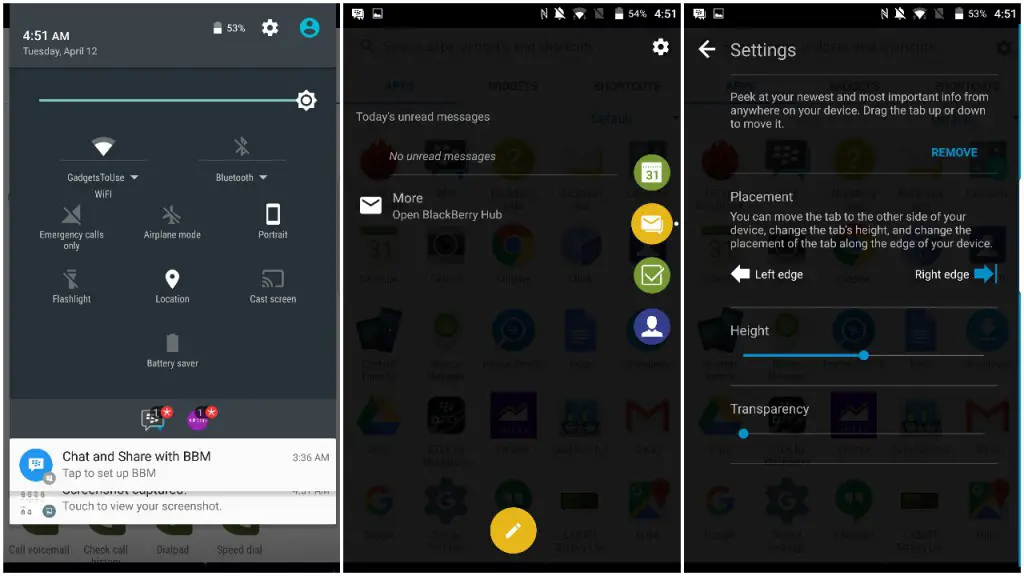 You can customize shortcuts, and link apps to particular keys on the keyboard. Blackberry hub is also included in the interface to manage all your texts mails and documents. It also has a productivity tab that can be found on the right edge of the display; you can add events, check calendar, access contacts or even call someone without minimizing your current app.
Blackberry has a lot more software features to offer its users and software is one thing that looks good but it will be catching up its shape with time. A good effort from Blackberry and we will look forward to the updates to improve minor flaws.
Sound Quality
I was amazed to hear the sound quality and loudness at first, sound output is very loud and clear.
Call Quality
In-call sound quality and clarity I found was amazing.
Gaming Performance
As far as gaming is concerned, I have no complaints with the gaming performance of this device. To test the gaming performance I ran 2 graphic greedy games, which were Nova 3 and GTA San Andreas. I played both the games for a week with all my accounts logged in and I was actually enjoying playing games on this phone. Nova 3 is a heavy game and demands a lot from a smartphone, but the Priv was providing just everything it asked for and the experience was buttery smooth.
When I was not convinced with this, I tried playing GTA San Andreas which is one game that has it all for testing any smartphone's performance, and to my surprise, it was also running flawlessly.
[table id=470 /]
Game Lag & Heating
There was slight warmth around the camera on the back but we did not notice unusual heating or any lag in between the game. Playing games on this display with such smooth performance is a treat for the gamers.
Verdict
Blackberry has done a lot of work on this smartphone and it's visible, but is it good enough to as for whopping price of Rs. 62,999? Definitely not, until you prefer using a physical keyboard, need a device with high on security and stuff, or just really be a Blackberry fan. It is a good product but Blackberry has missed out on multiple areas, which makes it too costly for its price. If the company comes up with a similar phone with some features missing at a lesser price, then it would have made a difference.
For now, Blackberry Priv is a nice try from the company and we'll be looking forward for more Android phones from them. And if you are planning to buy a productivity or business focused phone, then you can consider Note 5 any day over it.