Last year Samsung pushed out Android 7.0 Nougat beta testing on the Galaxy S7 and Galaxy S7 Edge in November. Few weeks back, Samsung announced that it has started rolling out the Android 7.0 Nougat update officially for the Galaxy S7 and S7 Edge. So after waiting, Samsung has finally started rolling out Android Nougat 7.0 update for Galaxy S7 and Galaxy S7 Edge in India. The new update brings some new features, UI improvement, performance improvements, and minor security improvements.
The update is of approx 1.3GB in size and includes features like always-on display, multi-window mode, security patches, improvements in TouchWiz UI and some other minor enhancements. It is worth noticing that Samsung Pay app also comes pre-installed with this Nougat update.
The Nougat update get the new multi-window feature which works almost same as on any other Nougat running device. You can basically runs two apps simultaneously on the same screen. Size of both windows can be increased or decreased according to the need.
Next new feature is the option to set the resolution of display. There are three options to choose with, which are HD (720p), FHD (1080p) and WQHD (1440p). By default it is set to the Full HD (1080p) resolution.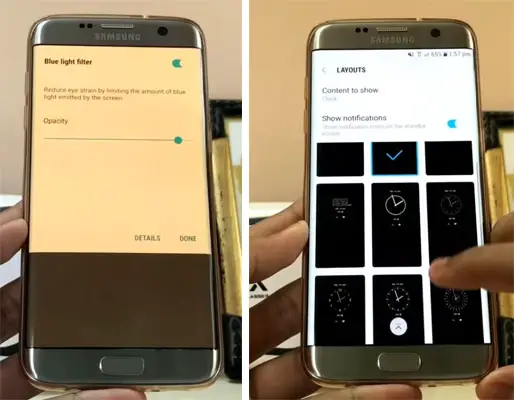 Now you also get an option to add blue light filter to the screen which helps you to prevent from eye strain. You can also control the opacity of the blue light filter screen.
TouchWiz UI has also been changed a bit. Now you will see some new animations, a fresh looking icons, more convenient notification toggles, blur effects in the app drawer and many more. Even the camera app has been changed a bit and has got some new options.
This Nougat 7.0 update is basically supposed for the Galaxy S7 with the build number G930FXXU1DQAZ and Galaxy S7 Edge with the build number G935FXXU1DQAZ. The update size on Galaxy S7 is 1285.64MB and 1290.74MB on Galaxy S7 Edge.