Back in 2014, Motorola started a trend in India with Moto G by selling a phone exclusively on an online platform. Maybe little did they imagine that it would change the course of Indian smartphone industry. Xiaomi was the next company to implement the same concept with Xiaomi Mi3. Though the concept was new to Indians, both the phones received an overwhelming response. These phones are iconic models, which will not be forgotten in near future.
Soon other OEMs took a cue from Motorola and Xiaomi's success and jumped on the bandwagon. It was a period when smartphone's growth rate started skyrocketing, so the market was able to accommodate many players. OEMs from different countries invested in lump sums to gain a stranglehold on the booming Indian smartphone industry. They sold devices with wafer thin margins to create a customer base in the country. In addition, e-commerce websites ran several offers to lure customers to their platforms.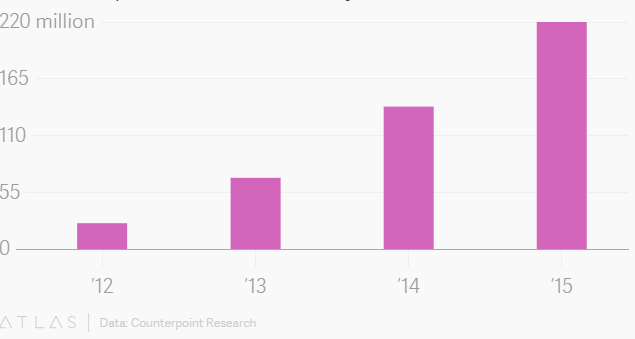 Indian Smartphone user base over the years according to Counterpoint
As a result, online exclusive smartphones saw a sudden surge in demand. There were situations where e-commerce websites crashed due to over traffic and people had to wait for months to get hands on the desired device. It is also worth noting that OEMs like Samsung, Apple, etc., who were initially reluctant and against the strategy also joined the party later. Now, Flipkart is one of the authorized online resellers of Apple products and Samsung manufactures some models to exclusively sell them online.
At the same time, the growth of online smartphone market sales didn't initially go well with the offline retailers, as their sales were dwindling due to disruptive pricing offered on e-commerce platforms. In December 2015, online market's contribution in the smartphone sales was as high as 37%. But the party didn't last long due to a myriad of reasons:
Dried up discounts due to new laws.
Companies like Samsung, Apple, etc., streamlined the pricing of their products to make sure they are sold at the same price on both offline and online channels.
Strict rules in place for replacement or refund.
OEMs like Xiaomi, Yureka, LeEco, etc., who used to sell mobiles only on e-commerce platforms started selling mobiles offline.
Offline retailers like Reliance Digital, Croma, etc., also started tieing up with banks to offer discounts.
Aggressive marketing by OEMs who rely more on offline channels.
OEMs like Oppo and Vivo have leveraged these shortcomings to their advantage. As a fallout, the combined market share of these companies soared to 18% in the previous quarter. Also, Oppo alone pushed Xiaomi to the fourth spot in the market share. It is quite evident that online smartphone market is seeing a down trend that is unlikely to be reversed soon.