After offering free services to the users for almost half a year, Reliance Jio has released the prices of its plans that it will implement after March 31 this year. With the Happy New Year Offer ending this March, the operator has already gained 100 million users. The company is aiming to retain a large user base with another set of offers but, with a price tag now. Among the announced offers by Jio, the one which caught everyone's attention is the JIO Prime Offer.
5 Awesome Things In The New Jio Prime Offer
Here are the 5 awesome things that will attract the users in a significant manner.
Lowest Charges For 4G Data
Jio Prime member will be required to pay Rs. 3636 + Rs. 99, i.e., Rs. 3735 in total for services from April 1, 2017 to March 31, 2018 to avail unlimited free calls and 1GB free 4G LTE data daily.
When we further bisect this plan, the per day prices roughly comes to be Rs. 10 per GB which is the cheapest in the market. Considering the competitors, BSNL is offering 1 GB 4G net for Rs 36 while Vodafone has a plan of 1GB for 24 hours at Rs 97. Clearly, the Jio Prime users have an added edge.
Unlimited Data For 1 Year
The cheapest data rates is not the only perk you will get with Jio Prime but, you will be also entitled to 1GB 4G data per day for a year. Currently, no other telecom service provider offers such plan for its users.
Better Speed Over 3G
The existing rates of 3G data for most of the telecom service providers are very high when we compare the 4G rates persisting in the market. Not only this, you get better speed than 3G which makes your internet surfing experience much better. The internet speed offered in the Happy New Year offer of the company is performing decently and with paid services, it is expected that the speed will be better than the existing.
Unlimited Voice Calling
Though there are multiple internet calling options available in the market but, voice calling is one particular service that most of the users require the most. Jio Prime members will get unlimited voice calling that will directly have a positive impact on most of the users. There are many places where internet services are not quite well and at such places, free calling will act as a boom for the users.
Unlimited Jio Apps Usage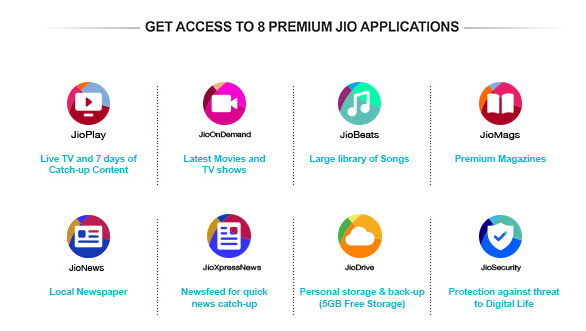 In an era, where most of the activities are performed by using an app, Jio is offering a range of services that are related to music, entertainment, payment wallet and much more. All these apps at free of cost is being offered with Jio Prime, again Jio Prime offers added advantage over its competitors.
By looking at the above-mentioned factors, Jio Prime is surely a good deal which most of the existing users will take forward to continue using the services of Jio. Jio has already adopted an effective strategy to make a large user base and according to reports, Jio users are using approximately 50% more data than all of China.
With Jio finally entering the tariff war with its competent offer, it will be interesting to see how the other telecom service providers will transform their existing plans to keep their customers intact.