Reliance Jio's free offers are coming to an end on 31 March 2017. If you want to continue enjoying high speed 4G data after 31 March, you will have to subscribe to one of the company's plans. Recently, Jio announced the Jio Prime Membership.
You can subscribe to Jio Prime membership from 1 March onwards. Under this, you can choose from different tariff plans. Mukesh Ambani had announced only one plan of Rs. 303 per month during the announcement.
As per new reports online, Jio could be offering tariff plans starting from Rs. 149 to Rs. 9,999, hitting many major price points. Users will have to pay Rs. 99 between 31 March and 31 March to activate the Jio Prime service. All the plans come with unlimited Local and STD voice calling to all operators along with free roaming. So you will not have to spend a single Rupee on voice calls. As an introductory offer, Jio Prime Subscribers will also get Jio Apps Subscription for 1 year.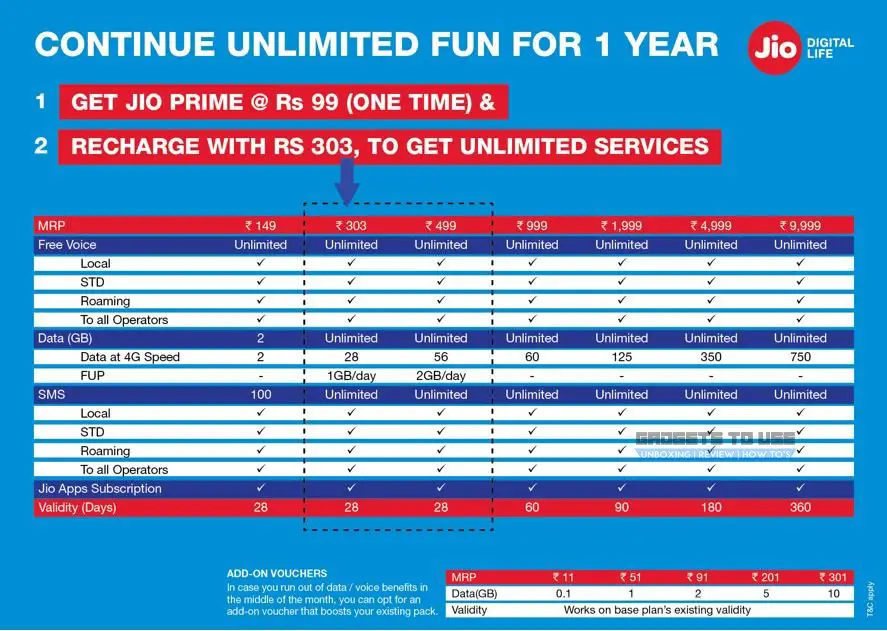 As we can see in the picture, the Rs. 149 plan will offer 2GB 4G data without any FUP, the 2GB data will be valid for 28 days. Beyond that, you won't get any data, even at slower speeds. You will get 100 SMSs per month in this plan.
The Rs. 303 plan that Mukesh Ambani had announced, is similar to the Happy New Year offer and gives the user 1GB/Day for 28 days. You will get reduced speed if you reach your daily FUP limit of 1GB. The total 4G data limit is restricted to 28 GB for 28 days. There is no limit on number of SMSs that can be sent on this plan.
Another interesting plan is the Rs. 499 plan. It is valid for 28 days and comes with a daily FUP of 2GB and beyond that, the user will get reduced speeds. There is no limit on the total data that can be used but users will find it difficult to browse after crossing their daily FUP limit.
The plans beyond Rs. 499 come without any FUP limit. They are more costly so casual users may not like them. They are available at Rs. 999, Rs. 1,999, Rs. 4,999 and Rs. 9,999. The 999 plan will give users 60GB data with a validity of 60 days, the 1999 plan will give 125GB data with a validity of 90 days, the 4999 plan will give 350GB data with a validity of 180 days and the 9999 plan will give 750GB data with a validity of 360 days. There is no daily FUP limit on these plans and they come with unlimited SMSs.