Reliance Jio has surely made more than 100 million Indians addicted to the internet. After providing free benefits for more than six months, the company now aims towards monetization. The Jio Prime membership is a clever way to persuade its non-paying subscribers into paid customers. However, we do accept that the benefits offered by Jio more than justifies the asked price.
The tricky part is that you will not be able to purchase the Jio Prime membership anytime you wish. There is a certain time limit. The enrolment procedure for Jio Prime starts today and will go on only up to March 31, 2017. As a prime member, you will not only get access to the Rs. 303 unlimited plan, but also receive additional benefits from every tariff plans of Reliance Jio. As you might already know, the Jio Prime membership costs just Rs. 99.
So, how to sign up for this Jio Prime membership? Apparently, there are three different ways to it. First through the MyJio application, secondly, from the Jio.com website and lastly by visiting a Reliance store. We are explaining these methods one by one below.
Ways To Sign Up For Reliance Jio Prime Membership
Using MyJio App
How to Sign Up for Jio Prime Using MyJio Application?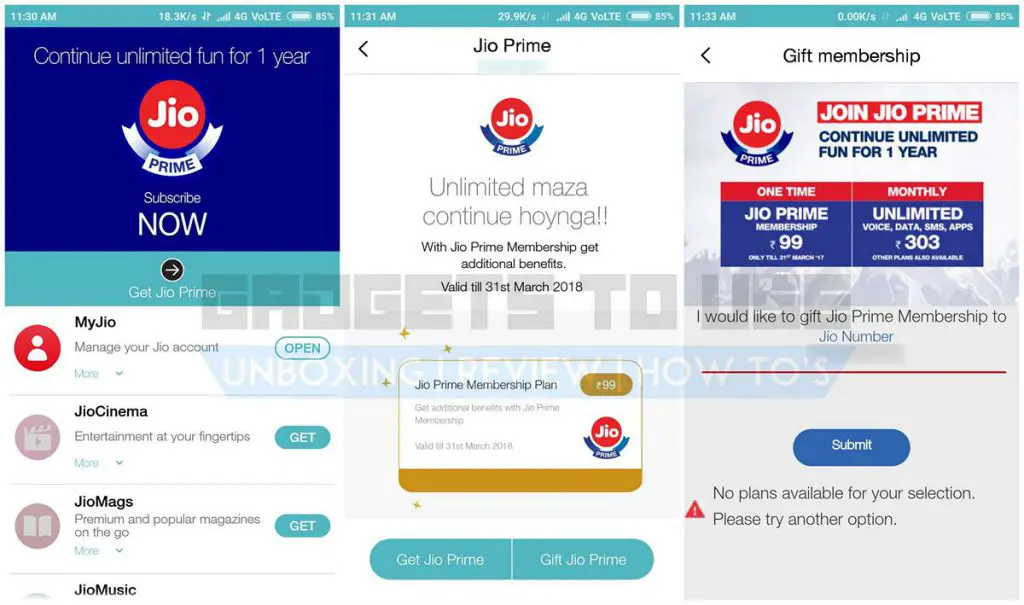 The very first thing you need to do is to update the app to the latest version that is V3.2.27 or later.
Then, after opening the application wait for a couple of seconds to let the window automatically slide towards the left. Then you should see the "Get Jio Prime" button. Click on it. If you can find this, don't worry. Press the open button beside MyJio. Then, sign in and click on the menu icon which is placed at the top left corner of the screen. Here you will surely find the Jio Prime button right at the top.
As soon as you click on the Jio Prime option, a page will open asking you to 'Get Jio Prime' or 'Gift Jio Prime. While the first is to buy your Prime membership, the latter is to purchase it for others.
Click on your desired option and follow the instructions and pay Rs. 99 to become a Jio Prime member. If you are not getting the Rs. 99 purchase button, don't panic.
Due to extreme demand, the server may be overloaded. Just wait for some time or try after some days as the offer is available until 31st March 2017.
Do note that you don't need to buy the Rs. 303 pack right now as the free offers are available until the end of this month.
By Logging in to Jio.com
How to Sign Up for Jio Prime from Jio.com?
Sign in with your Jio account on the website.
Click on the 'One Time Jio Prime Membership" and pay Rs. 99 through debit/credit cards, internet banking or JioMoney to buy it.
This facility may not be working right now due to immense pressure. So, wait for a couple of days and try again.
Through Reliance Digital and Digital Xpress Mini stores
How to Sign Up for Jio Prime through Reliance stores?
If you are unable to purchase the Jio Prime membership through any of the above methods, then you may also visit a Reliance store. Go to a Reliance Digital or Xpress Mini store along with your device and Jio SIM card and pay Rs. 99 to avail the membership plan.
Let us know if you have any questions related to signing up for Reliance Jio Prime offer, or anything else about Reliance Jio Prime plans.