Paytm Payments Bank is finally arriving for beta testers of the Paytm app. Announced back in May, the Paytm Payments Bank will allow you to open a Savings or a Current Account with Paytm. The key features of Paytm Payments Bank are zero fee on online transactions, no minimum balance, and a free Virtual Debit Card.
One97 Communications owned Paytm, is a mobile wallet application that allows you to make and accept payments using your Paytm account. With Paytm Payments bank, you will be able to enjoy additional benefits while your Paytm account remains as it is. The Paytm Payments Bank is available only for beta testing as of now.
About Paytm Payments Bank
To know about Paytm Payments Bank, you first need to understand what are Payment Banks. Payments Bank is a new vision from RBI. These are Banks which can offer Savings or Current accounts with up to Rs. 1 Lakh deposit per-user. However, the only limitation here is that these banks cannot issue credit cards or loans for that matter.
Paytm Payments Bank is one such bank and you will be able to deposit up to Rs. 1 Lakh in your Paytm Payments Bank account. You will get a free virtual Platinum Rupay card and all online transactions including IMPS, NEFT, and UPI will be free of charge. You can even get a physical debit card or cheque book issued for a nominal price.
Also, Paytm Payments Bank offers you a 4% annual interest on your savings and invests the deposits with Government Bonds only, keeping your money safe. Apart from all the benefits of a regular Savings or Current Account, you can totally go digital with Paytm Payments Bank.
How to apply for Paytm Payments Bank?
Firstly, you will need to get your KYC verification done in order to open a Paytm Payments Bank Account. You can request an invite to show your interest in Paytm Payments Bank here. Simply put, Paytm Payments bank will allow you to use your Paytm wallet as well as added benefits like carrying a virtual Debit card and free online transactions.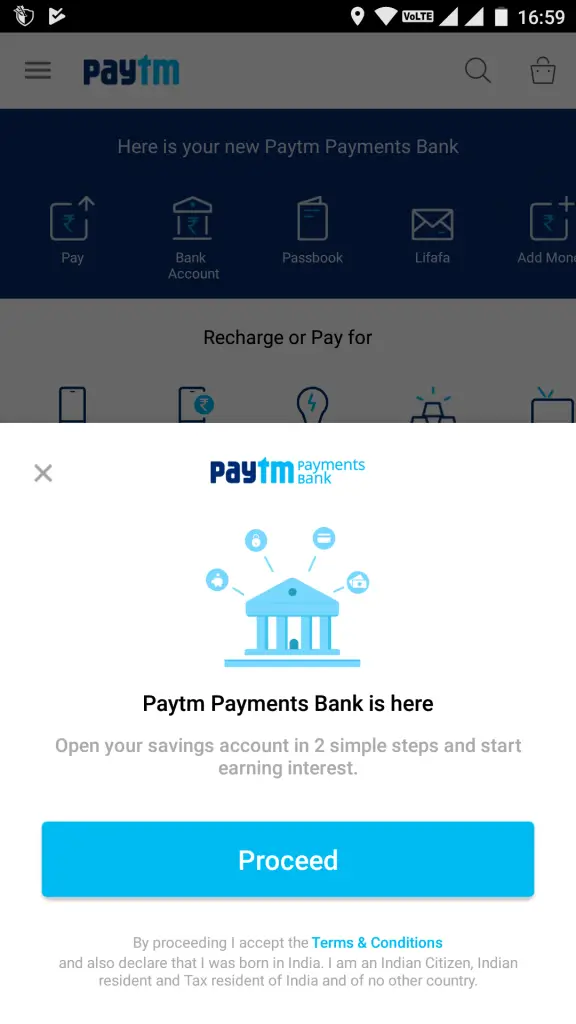 After applying for Beta Testing here, you should be able to update your Paytm app via Play Store. When you open the app, you will see this screen. After this screen, proceed as the app guides and you would've opened your Paytm Payments Account soon.
As of now, the function is available only for the beta testers of the app. If you wish to open an account now, sign up as a beta tester and open an account.