Reliance Jio has once again topped the 4G data speed chart. According to TRAI reports, Jio has been recorded as the fastest 4G data provider in India for the month of July. Jio has achieved this position for the seventh consecutive time.
Reliance Jio tops in download speeds
TRAI's MySpeed app revealed that Reliance Jio 4G data speed for the month of July was recorded at 18.3 Mbps, nearly double the speed of other incumbent telecom operators. Vodafone once again came second in the July chart with an average speed of 9.325 Mbps, followed by Bharti Airtel which recorded 9.266 Mbps of average speed. Idea Cellular was the last at 8.833 Mbps speeds.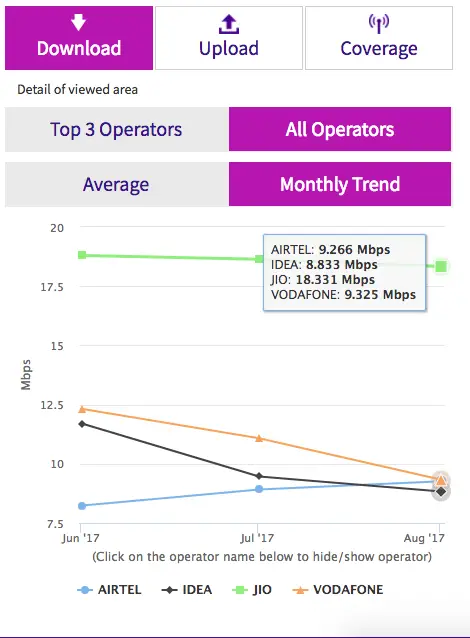 In terms of 4G speeds, July has been a disappointing month for the telecom sector in India. Despite topping the chart, Jio's 4G speed has slightly dropped down compared to the earlier month. The company recorded a speed of 18.9 Mbps in June. The data speed of almost all the major telecom operators has dropped, apart from Airtel.
Idea tops in upload speeds
Similarly, like last month, Idea Cellular again remains the best when it comes to 4G upload speeds. Idea recorded an average speed of 6.292 Mbps for uploads in July. Vodafone stood at the second place with 5.782 Mbps speeds. Reliance Jio retained its position at the third place again, with an average 4G upload speed of 4.225 Mbps. Airtel again remained on the fourth spot with 4.123 Mbps in 4G upload speed. In July, all the operators saw a dip in average upload speed too.
In the 3G segment, Vodafone topped the chart with an average download speed of 4.319 Mbps, followed by Bharti Airtel with 3.852 Mbps download speed. Idea Cellular is at the third spot with 2.766 Mbps. Surprisingly, Aircel registered an average download speed of 2.356 Mbps, which is followed by BSNL with 1.903 Mbps speed.